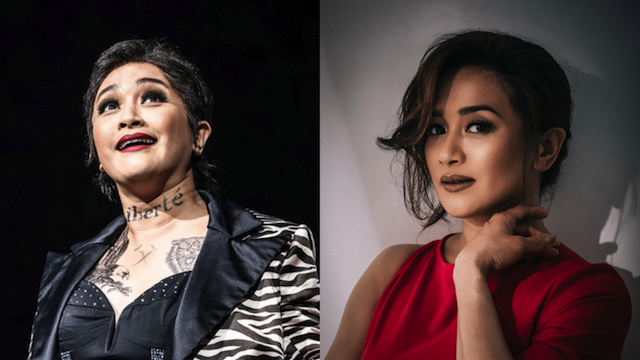 Joanna Ampil: At Home On Stage
The theater maven gushes about her recent Miss Saigon stint, local productions she's a fan of, and headlining CCP's Anywhere We Sing Is Home concert.
Anyone who has watched and fallen in love with theater in the Philippines knows Joanna Ampil—after all, she made her theater and West End debut as Kim in Miss Saigon at only seventeen years old (even admitting in interviews that she was too young and had to lie about her age when auditioning!). Since then, Joanna has starred in notable productions of Les Miserables, Jesus Christ Superstar, Cats, Rent, and many more. 
It seems like there is no end to this talented Filipina's accomplishments. Joanna recently played the first-ever female Engineer in a reimagined production of Miss Saigon in the United Kingdom, and will be headlining the Cultural Center of the Philippines' 54th anniversary gala, Anywhere We Sing Is Home, this September. 
TheaterFansManila.com got the chance to interview Joanna and talk about the theater role which feels the most "at home" for her, performing for audiences in the Philippines and abroad, and her advice for young theater artists. 
Do you remember what sparked your interest in theater? 
I watched a production of Joseph The Dreamer at the Meralco Theater when I was 16 years old and I fell in love with theater from then on. That was my very first time. I mean, I've seen stuff before that, like a zarzuela I saw when I was in grade school. I was always fascinated by live performances. But I think it was Joseph The Dreamer that made me feel like I want to do this. Not thinking that it's for the rest of my life, but, you know, I want to do something like that. I want to try it out. So that's when it happened.
Do you have a particular memory of being onstage that really felt like you were "home"?  
Always. I don't know why, but it does feel like I'm in my element every time I'm onstage. It's almost like praying, when I sing songs and when I act, because it's so cathartic. I always associate prayer with anything theater—performing live in theater. 
Could you pinpoint a particular role that feels the most at home for you? 
It's funny, because that used to be a very hard question for me. But it's very easy now, because it's going to be [Miss Saigon's] The Engineer. It's definitely The Engineer. I felt so happy playing her. And now I realize why a lot of actors want to play it. Because it's so meaty, it's so colorful. In my case, I get to cry, I get to delve into the most vulnerable side of my engineer. 
And it was such great research for me, because apart from knowing Miss Saigon very well, my husband is also a huge fan. We were both doing the research together. So I had a lot of help from him, as well as the creative team that I worked with. They were very collaborative. They were always listening to what we had to say as actors, so it was such a fun process. The actual building [of] the character of The Engineer was just so much fun for me, and playing her too.
What was it like being able to play that role and also playing Kim earlier in your career?   
It was very weird and wonderful at the same time. It was weird in a way because our Kims were still learning the show, whereas I know the show like the back of my hand. So when they would be doing a scene and forgetting they have to enter in this particular song or line, I would usually prompt them. Or I would panic. But no, I tried not to do that too much because I didn't want them to feel uncomfortable at the same time. 
But it was wonderful in a way because our Kims are so incredible in our production that you're almost like…you're rooting for them, and at the same time, you know how secure the show will be because they're so incredible. So it made me feel that way. And it was so easy to interact with them. 
Were there discussions about a next run? Would you want to play The Engineer again?  
Well, Cameron [Mackintosh] was pleased with it. So I'm hoping, you know, that [there will be]. That's what we are championing—female empowerment. The run was quite successful. The critics were very kind to us, and people embraced the production. So we are hoping that there will be a life beyond Sheffield Theatres for our Miss Saigon, the reimagined one. There's a lot of interest from different producers to take our show elsewhere. So we are hoping that that's going to happen, but there's nothing concrete yet. We're waiting, whether it's going to happen or not, that would be a bonus. That's for sure. 
And for the other question about playing her again, definitely, I would want to do it again. We're not done with it. When we finished the show, we were all having separation anxiety. And at the same time, we were all like, "Yep, see you in the West End. See you here and there". We're being so positive about it and sending it out to the universe. We ended up on a high so it's a good thing.
Were there fellow female theater artists who, after seeing you play The Engineer, told you that they also want to play the role in the future? 
A lot! And that made me very, very happy. Because it just means you're doing the right thing. There's something in the character that they see that, "oh, yeah, I can see myself doing this". And that's the whole point, that's the goal. I'm glad that we took precedence in mounting this production. I mean, it was a make-or-break, right? At the end of the day, it was experimental. But I really made sure that this needs to be a make, rather than a break. Because there are so many people whose eyes are gonna be on us. So we just wanted to make sure that we did everything right. 
You're a role model for Filipinos, especially to young women who want to pursue the creative arts. Growing up, who was your role model or mentor? Who did you look up to? 
Gosh, I mean, like in theater? Because [Miss Saigon] was my first theater experience. So I guess it was just the directors I worked with like Nicholas Hytner, the creative team, Claude-Michel Schönberg and Alain Boublil. The resident director at that time, Tash O'Connor. Yeah, a lot of them, they were my very first mentors. 
A person I looked up to…gosh, I was so into pop music. I just loved [listening to] Mariah Carey. I didn't know anything about theater prior to getting into Miss Saigon. 
Also my mom, my sisters. And my parents. Actually my dad as well, because my dad loved theater. He passed on already. And he was so into live performances. So I guess I got it from him, somehow.
The upcoming CCP concert is entitled Anywhere We Sing Is Home. What does this phrase mean to you as a performer?
For me, the word "home", especially in that context, is theater, or live performance. Because anywhere you are, as long as you're in theater, you're in your element—where I'm in my element. So that's how I would interpret that. It doesn't matter which city, it doesn't matter which country. If you're in theater, or if you're on stage, it is home. 
We're curious: what is it like to perform for a Philippine audience versus an audience abroad? 
It's really different. It's different in different countries as well. But in the Philippines…there's a bit of pressure. I'm not gonna lie. Because Filipinos are so amazing in this art form, and they're amazing singers. So you know that the standard is high. And they know their thing, they know what sound they want, what look they want. So there's that pressure, but at the same time, there's a connection from your heart to theirs. They know what you're going through when you're singing a song or when you're interpreting a particular song. They feel it because you have the same background.
Do you have a Philippine production that you've seen where you thought you'd want to be a part of that? 
Gosh, just thinking off the top of my head. I've seen a few. I've seen some at the UP Theater. One's about comfort women—Nana Rosa. I liked [getting] all the information that I didn't know anything about. And it's just the way they presented it, I remember being quite impressed. You can see the passion in their performances. I mean, we don't have much money, and we don't have much resources, but the creativity was there. I liked how they created the whole thing out of what they had, which was, you know, very little. And I just love that. I love anything that's minimal. They made it so huge and so creative. So you appreciate those things, especially in the Philippines, a lot of productions in the Philippines, because we don't have many resources. So we tend to be more creative with what we have. And I think that's very admirable.
And there's another one, there was a lot of controversy around it, The House Of Bernarda Alba directed by Alex Cortez. We had Stella [Cañete Mendoza], playing the lead in it, as well as Frances Makil-Ignacio. I love watching Filipino performers, especially when it's in Filipino. There's a lot of connection. There's a lot of heart.  
What would you advise young Filipino women who want to follow your footsteps and pursue an international career in theater?
You're gonna have to do the work, that's for sure, because sometimes it's not easy. You have to persevere. If you really, really want to be good at your craft, you have to keep rehearsing. You have to find the right teachers to help you and the right training. I know not a lot of people can afford this, but you have to constantly watch things and learn from that. Sing songs that you like and constantly rehearse it and be better at it, then you're halfway there. And then hopefully you can be lucky enough to get scholarships somewhere to get further training. 
And another thing is, in this business, it can be quite harsh. This is easier said than done: you can't really take things personally too much because that can drag you down. So you just have to keep focused and make sure that you know your goal. 
Anywhere We Sing is Home: The CCP's 54th Anniversary Gala will be staged on September 9, 8pm, and September 10, 3pm, at the Samsung Performing Arts Theater. Joanna will be joined by fellow theater artists Gab Pangilinan, Aicelle Santos Zambrano, Sheila Francisco, Reb Atadero, Gerald Santos, Arman Ferrer, and the Philippine Philharmonic Orchestra, with musical direction by Ryan Cayabyab and stage direction by Floy Quintos. 
*Answers have been edited for clarity. 
Comments