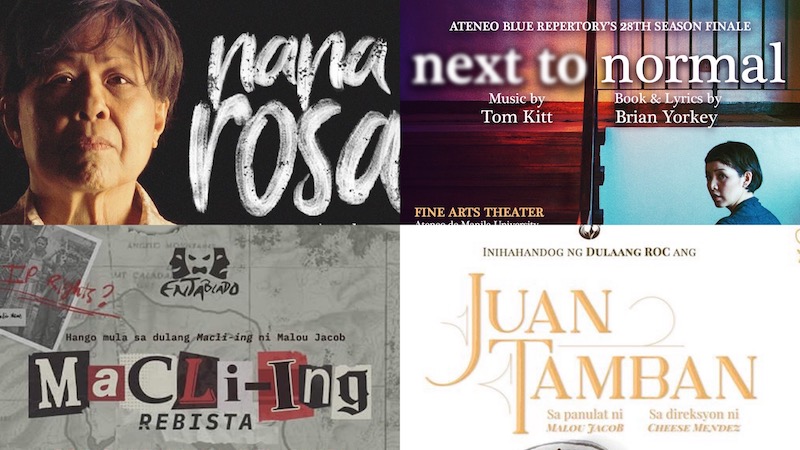 10 University and Community-Based Theater Productions this March 2020
A Broadway musical, an anticipated rerun, two plays by Malou Jacob, and many more round up this March's university and community theater scene.
1. Next to Normal by Ateneo blueREP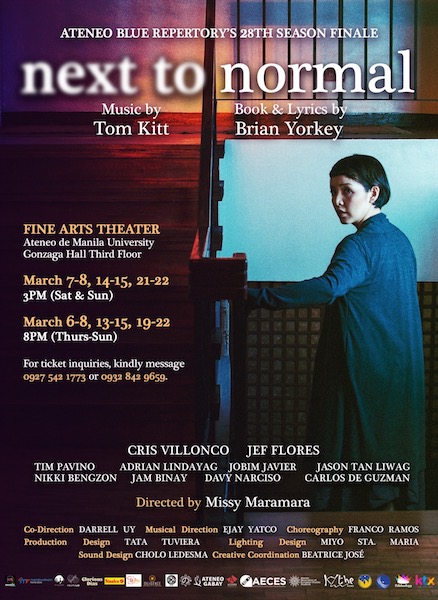 Ateneo blueREP will be staging the contemporary rock musical Next to Normal for its 28th season finale. Written by Brian Yorkey (book and lyrics) and Tom Kitt (music), the Broadway musical follows Diana Goodman and her family as they cope with mental health, drug abuse, and grief. 
The cast features Cris Villonco as Diana Goodman, Jef Flores as Dan Goodman, Tim Pavino and Adrian Lindayag alternating as Gabe Goodman, Nikki Bengzon and Jam Binay alternating as Natalie Goodman, Davy Narciso and Carlos De Guzman alternating as Henry, and Jobim Javier and Jason Tan Liwag alternating as Dr. Madden/Dr. Fine.
Next To Normal is directed by Missy Maramara and co-directed by Darrell Uy. Joining them in the artistic team are Ejay Yatco (Musical Director), Franco Ramos (Choreographer), Miyo Sta. Maria (Lighting Designer), Cholo Ledesma (Sound Designer), Tata Tuviera (Production Designer), and Bea Jose (Creative Coordination). 
The show will run from March 6-22, 8pm on all dates except Sundays, with additional 3pm shows on weekends, at the Gonzaga Fine Arts Theatre of Ateneo De Manila University. For tickets, go to ktx.ph or contact Jazmin Reyes at 09275421173.
Next to Normal is presented through Music Theatre International.
2. Nana Rosa by UP Playwrights' Theatre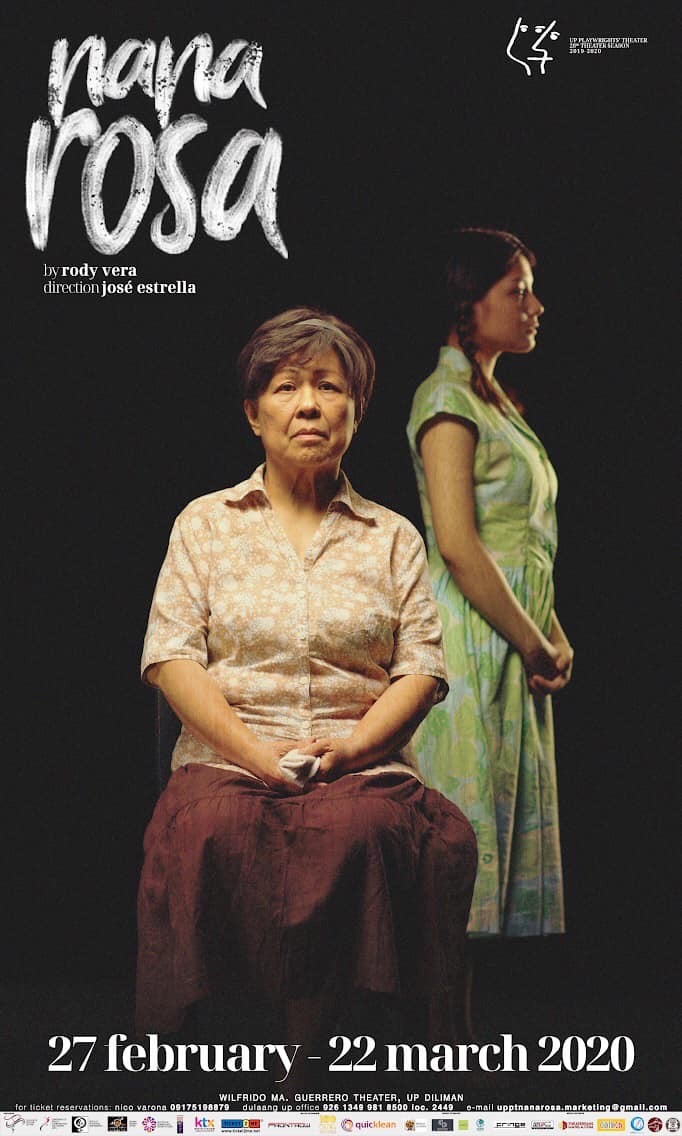 UP Playwrights' Theatre's Nana Rosa, which opened on February 27, will be continuing its run until March 22 at the Wilfrido Ma. Guerrero of UP Diliman. Initially opening last year, featuring Peewee O'Hara and Upeng Galang Fernandez alternating in the titular role, this year's rerun features Bibeth Orteza, who alternates with O'Hara for the titular role.
Written by Rody Vera, Nana Rosa is based on the life of Maria Rosa Luna Henson, the first Filipino Comfort Woman to make her story public. The production touches on the brutality of war, the traffic of women in war, and the repeated attempts of denial and erasure of Comfort Women in history.
The play is directed by José Estrella. Other members of the artistic team include Barbie Tan-Tiongco (Technical Direction and Lighting Design), Carlo Pagunaling (Set and Costume Design), JM Cabling (Choreography), Jon Lazam (Sound Design), Ina Azarcon-Bolivar (Dramaturgy), and Joyce Garcia (Video Design).
Tickets are priced at P500. You can buy tickets at ktx.ph.
3. Macli-ing Rebista: Binalangkas na mga Tinig na Pinagniniig ng Lupa by Ateneo Entablado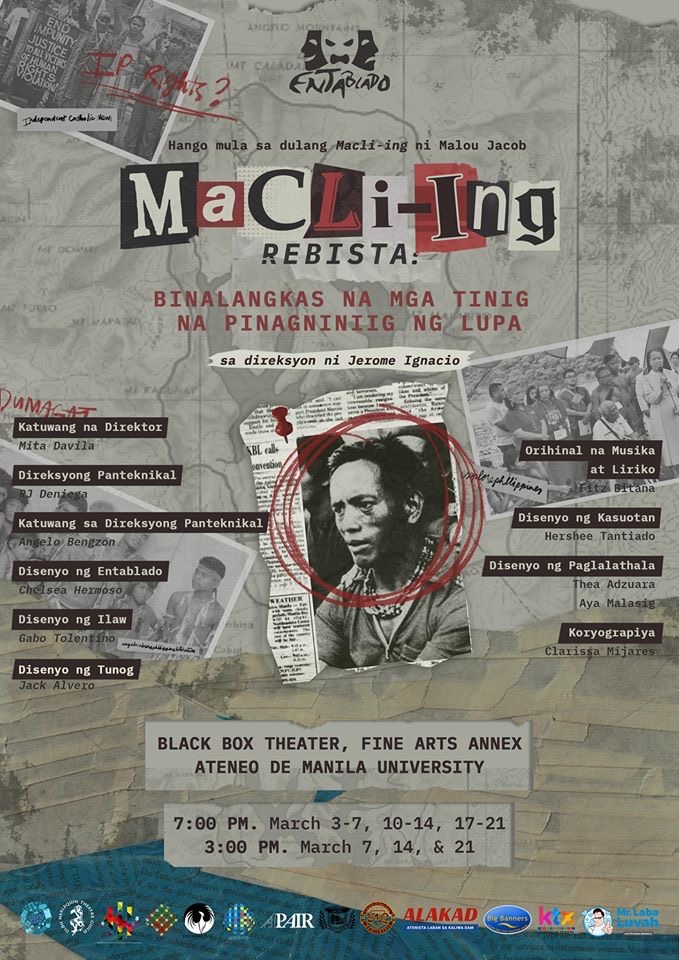 Ateneo Entablado, the premier socio-political theater organization of Ateneo de Manila University, will be staging Macli-ing Rebista: Binalangkas na mga Tinig na Pinagniniig ng Lupa, from Malou Jacob's Macli-ing, at the Fine Arts Annex Black Box Theater (Old Communication Building, Ateneo de Manila University) ​from March 3 to March 21, 2020​.
Malou Jacob's Macli-ing takes place eight years after the death of Apo Macli-ing Dulag, the leader of the Butbut tribe. An unexpected presence in the form of a flower appears on his tombstone. Many are troubled by its presence, but one thing remains clear: despite Macli-ing's silence, he has a vital message to impart, one that may re-open the wounds of the past.

Apo Macli-ing, one of the key figures who opposed the construction of a dam on the Chico River during the Marcos administration, was assassinated by the military. His death instigated the rise of the resistance and the subsequent discontinuation of the building of the dam.

The show is directed by Jerome Ignacio. Joining him in the artistic team are Chelsea Hermoso (set designer), Gabo Tolentino (lighting designer), Jack Alvero ​(sound designer), Fitz Bitana (music designer), Hershee Tantiado (costumes designer), and Issa Mijares (choreographer). 
For tickets and inquiries, contact Matthew Rotea (0915 583 1159), Danielle Carlos (0917 540 3839), or Adrian Soriano (09178462951). You can also buy tickets at ktx.ph.
4. Juan Tamban by Dulaang ROC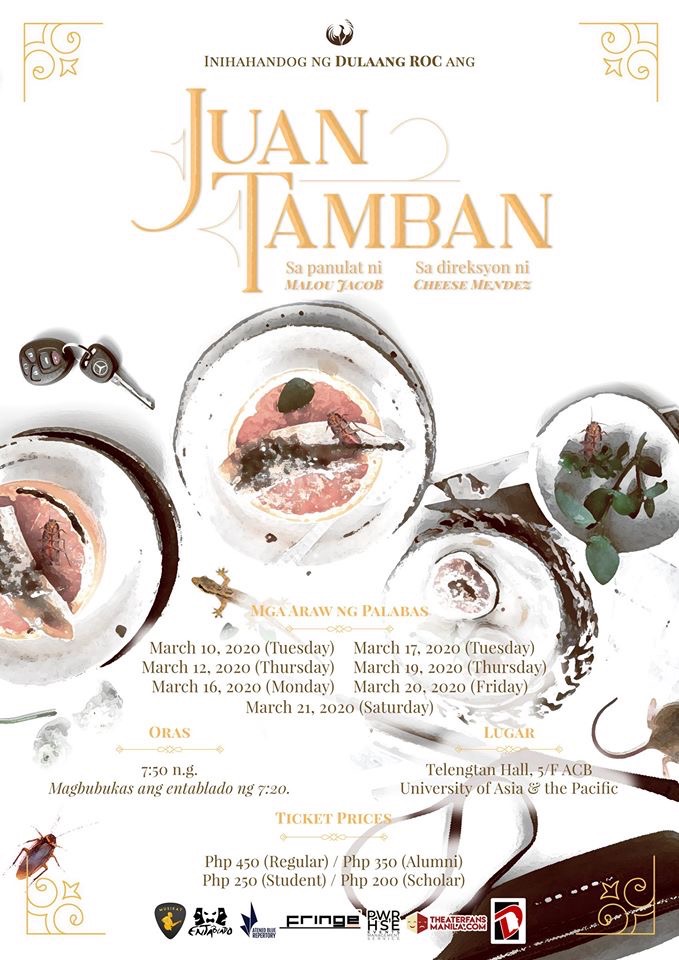 Dulaang ROC, UA&P's pioneer non-profit theater organization, will also be staging a play by Malou Jacob. Juan Tamban, which follows a misfortunate 12-year old boy named Juan, will run from March 10, 12-13, 16-17, 19-20, 7:30pm at UA&P's Telengtan Hall. 
Juan Tamban tells the story of Marina Torres, a graduate student and social worker, who is assigned a case of the street urchin, Juan. It is through this case that she perceives the life of the lower class through their eyes. The production aims to shed light on issues that have not changed since its initial debut 41 years ago. It will feature students from UA&P and members of Dulaang ROC.
The play is directed by UA&P alumnus, Cheese Mendez. Ticket prices are P450 (Regular/Outsider), P350 (Dulaang ROC Alumi) P250 (UA&P student), and P200 (UA&P scholar). For ticket inquiries, contact Marianne Marcelo at 0916-218-0698.
5. Top Girls by Tanghalang Ateneo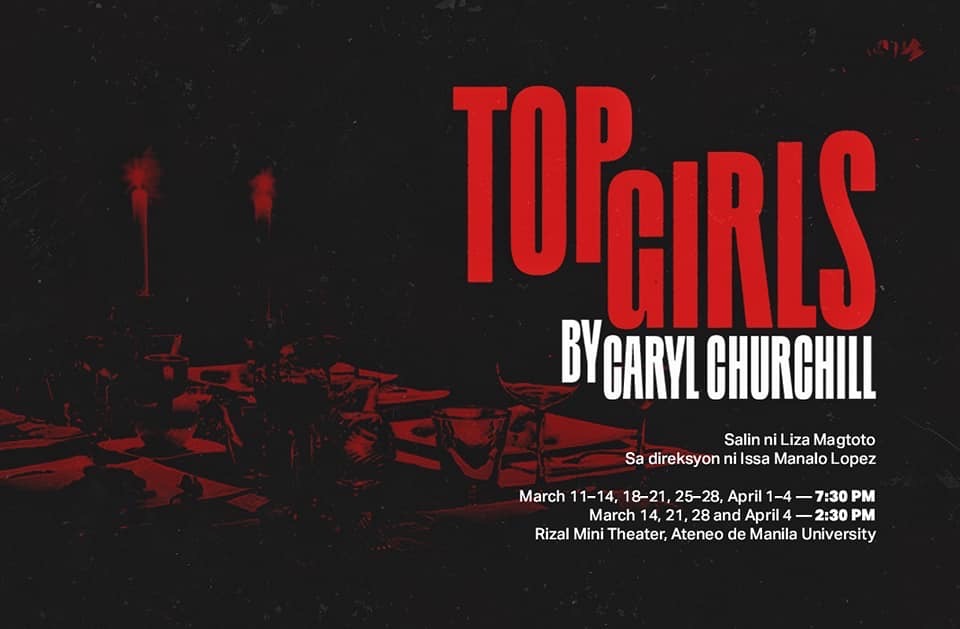 Tangalang Ateneo will be staging Caryl Churchill's Top Girls on March 11-14, 17-21, 24-28, 31, April 1-4 at 7:30pm, with 2:30pm shows on March 14, 21, and 28 at the Rizal Mini Theater of Ateneo de Manila University. 
Adapted by Liza Magtoto, Churchill's original play, which was originally set in 1980's London, is now set in the Philippines in the year 2010. The play is directed by Issa Manalo Lopez.
The cast features Kakki Teodoro and Marj Lorico alternating as Marlene, Wenah Nagales and Lara Agay alternating as Teresa Magbanua, Joyce, and Mrs. Kalma, Catherine Lubangco and Aleiana Duque alternating as Dull Gret and Angie, AJ Umali and Camille Abaya alternating as Lady Nijo and Win, Kyra Soriano and Bienne Dator alternating as Pope Joan and Louise, Joyce Buen and Erika Rafael alternating as Sisa, Nell, and Jeanine, and Kathrina Dizon, Nicole Chua, and Lars Salamante alternating as waitress, Kit, and Shona.

You can buy tickets at ktx.ph.
6. Rashomon by ViARE
ViARE, a student theater organization from UA&P, will be staging Rashomon this March. Adapted by organization co-founder Carlos Carino, the production is based on Ryunosoke Akutagawa's short stories, In a Grove and Rashomon. Originally produced by UA&P's Kultura-OSD, Rashomon follows the rape of a woman and the murder of the woman's husband, who happens to be a warrior. Different accounts from the woman, a bandit, a policeman, and a woodsman lead to contradicting testimonies, blurring the truth behind the rape and the murder.
This staging, which is directed by UA&P alumna and former ViARE President and Kultura Head, Tinette Villanueva-Miciano, will be featuring a soldier, a guard, and a smith in lieu of a warrior, a policeman, and a woodsman, set in a post-apocalyptic world. The show will run on March 26, 28, 30, 31, April 3, and 4, from 7:30pm to 9pm,at UA&P's Development Communications Building Garden (DCB Garden).
7. TamDula 3 by FEU Theater Guild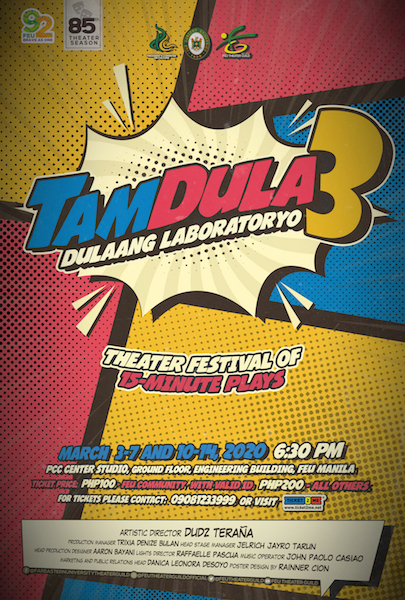 FEU Theater Guild will be staging TamDula 3, a series of six 15-minute plays written and directed by members and alumni of the organization. 
The plays include Detour – a story of cynical friendship; Yellow Paper – a light-hearted play of family life; Laro – a dark depiction of child trafficking and murder; Politicab – a driver-rider educated political discussion; Karakter – a writer's internal conflict realized; and BJ – a story of contempt between uncanny partners. 
The laboratory production will run from March 3-7, 10-14, 6:30pm at the PCC Center Studio, Ground Floor, Engineering Building, FEU Manila.
8. DuLa Salle2K19: Bogus Pokus by DLSU Harlequin Theatre Guild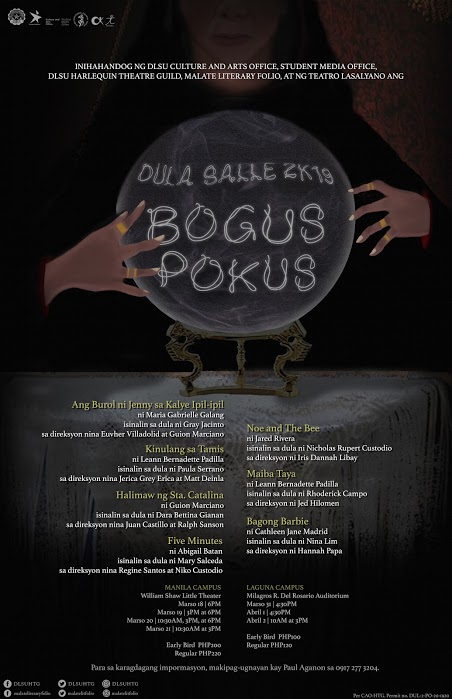 DuLa Salle is DLSU Harlequin Theatre Guild's annual production, which features seven original one-act plays. In collaboration with Malate Literary Folio, the official literary and visual arts publication of the university, the production will run from March 31-April 2 at the Milagros R. Del Rosario Auditorium – Laguna Campus and on March 18-21 at the William Shaw Little Theatre, De La Salle University – Manila Campus.
The Laguna Campus will feature three plays– Noe and the Bee by Jared Rivera, Maiba Taya by Leann Bernadette Padilla, and Ang Bagong Barbie by Cathleen Jane Madrid. The Manila campus will feature four plays– Ang Burol ni Jenny sa Kalye ng Ipil-ipil by Maria Gabrielle Galang, Ang Halimaw ng Sta. Catalina by Guion Marciano, Five Minutes by Abigail Batan, and Kinulang sa Tamis by Leann Bernadette Padilla.
Ticket prices to the Laguna campus are P120, while ticket prices to the Manila campus are P220.   
9. Summer Solstice by Dulaang Laboratoryo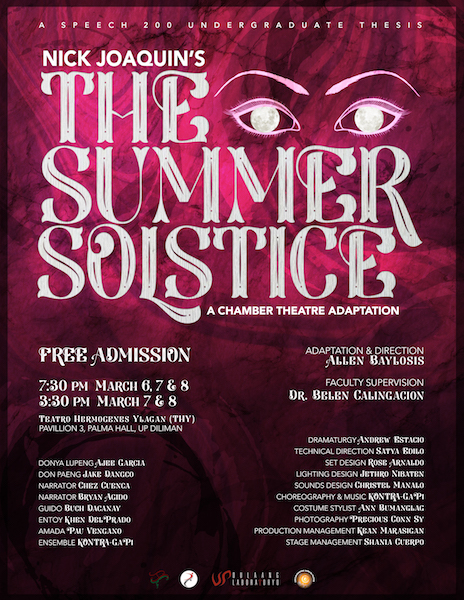 UP Dulaang Laboratoryo will be staging Nick Joaquin's Summer Solstice as a chamber theater performance (adapted by Allen Baylosis) this March 6-8 at the Teatro Hermogenes Ylagan (THY), Pavilion 3, Palma Hall of UP Diliman. The production will be performed by an all-student cast.
Set on the feast day of St. John in the 1850's, the story features controversial themes about the three-day Tadtarin ritual, where women celebrate their femininity and fertility. After Entoy's wife Amada is possessed by the Tadtarin spirit, Doña Lupeng is stirred into skepticism. She mocks men in the procession and listens to Guido, her husband's cousin, who tells her about the supremacy of women. Don Paeng, her husband, claims that women should need love and respect, not adoration. Doña Lupeng eventually decides to join the ritual while Don Paeng submits to her presence.
10. Ikarus Pocket Plays by Ikarus Theater Collaborative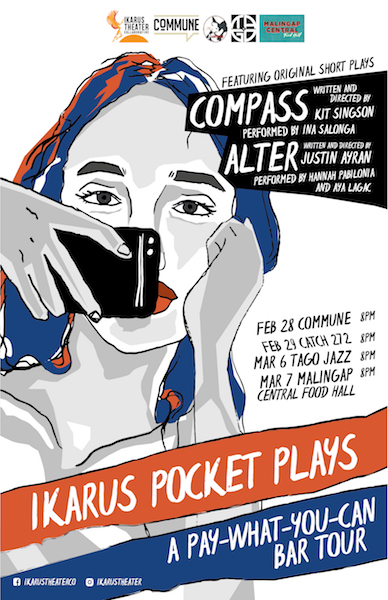 Ikarus Theater Collaborative, a Marikina-based community theater group, will be staging two original short plays– Compass, written and directed by Kit Singson, and Alter, written and directed by Justin Ayran. Both tackle the subject of living in a rapidly advancing technological age.
Performed by Ina Salonga, Compass follows a young woman's search for her identity as she looks into the history of her online accounts. Performed by Hannah Pabilonia and Aya Lagac, Alter is a love story which highlights the binary difference between online dating and real-world dating.

Audiences can pay what they can. You can catch the production in the following venues: Commune (Feb 28 at 8pm), Catch272 (Feb 29 at 8pm), Tago Jazz (March 6 at 8pm), Malingap Central Food Hall (March 7 at 8pm)
Comments