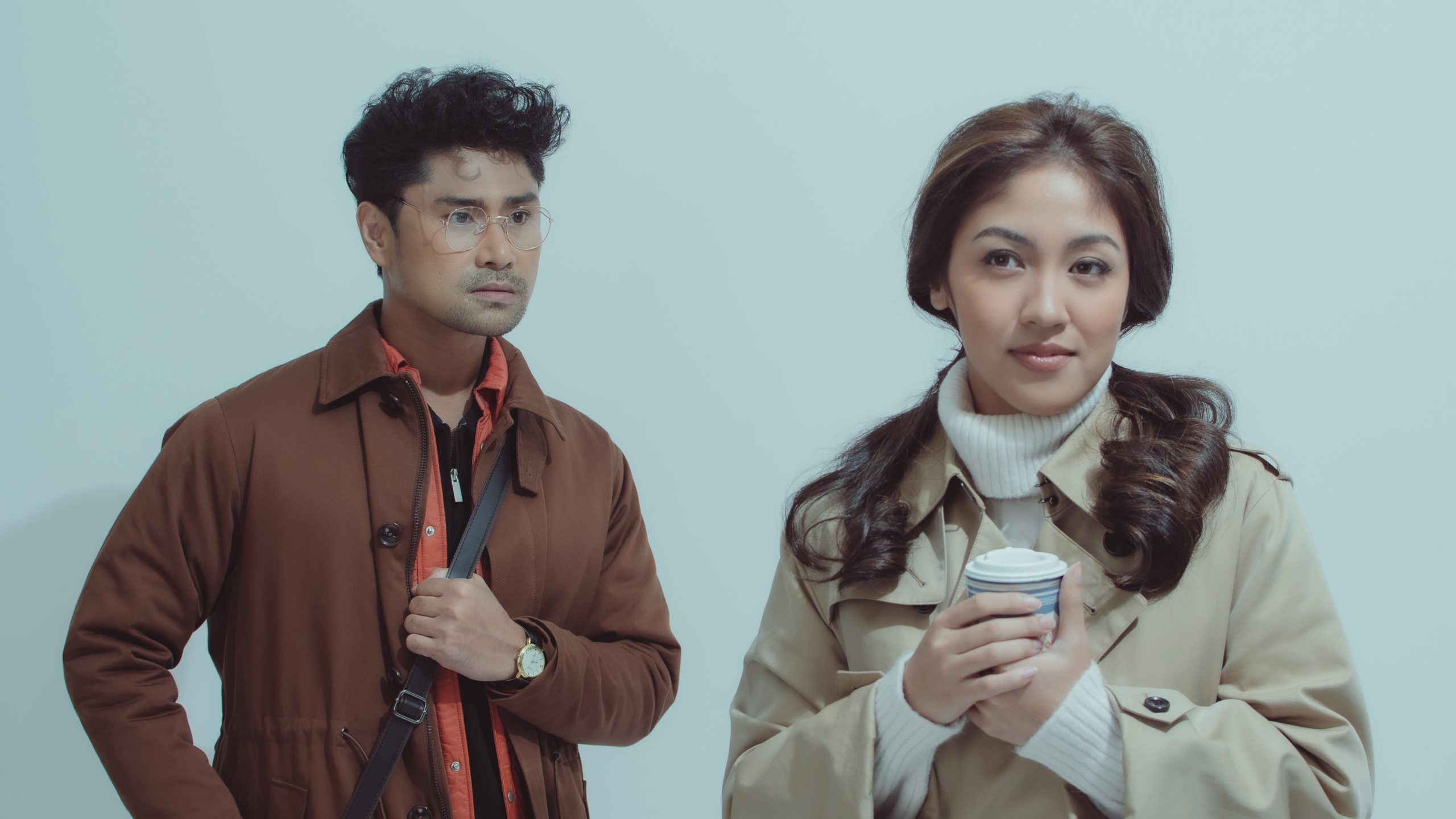 'The Last Five Years': A Candid One-on-One with Gab Pangilinan and Myke Salomon
Barefoot Theatre Collaborative's (BTC) staging of The Last Five Years, the musical written and composed by Jason Robert Brown, is set to open on September 29 at the Power Mac Center Spotlight in Circuit Makati.  

The musical has been staged in Manila twice before, the first time in 2003 by Actor's Actors Inc. starring Menchu Lauchengco-Yulo and Audie Gemora, and the most recent one in 2014 by 9 Works Theatrical starring Nikki Gil and Joaquin Valdes.

In this 2023 staging, director Topper Fabregas has cast Gab Pangilinan as Cathy, a young, struggling theater actress, and Myke Salomon as Jamie, a rising novelist. The musical is told in two intersecting timelines, where Jamie's timeline goes forward, while Cathy's timeline goes in reverse. In the course of the musical we see how their relationship starts, evolves, and dissolves within a span of 5 years. 
In our one-on-one interviews with Gab and Myke, we learn more about their journey with the show as fans of the material, as actors in the show, and as co-producers, being fellow members of the BTC producing team.
One-on-One with Gab Pangilinan
What is it about The Last Five Years?

Gab: As a kid, there were specific musicals or there were specific shows that as a theater enthusiast at a very young age, na sobrang gusto kong magawa one day or gusto kong mapasama. So The Last Five Years has always been in my top five, as in kasama doon Once on this Island, Wicked, The Last Five Years. And it has always been there ever since I can remember listening to musicals. And I think, if I'm being specific, medyo 13 years old, 14.
Super bucket list siya talaga. I didn't even know then kung kaya ko siyang gawin or whatever. In my head lang parang, oh my gosh, it's a show that I really fell in love with and I really felt like something that I wanted to do.

Throughout the rehearsal process, did you learn anything new about your character Cathy?
Gab: For sure. Actually, I don't think I've said this before. I always appreciate people who are vocal about their dreams for others. When there are certain people that are like, 'Oh, my gosh, bagay ito sa iyo.' I remember there was this guy, he was a theater fan, and he was actually Myke's nephew. He passed away a few years ago.

Maybe 5 to 7 years ago, he was one of those first people, ensemble days ko pa siya, but sabi niya sa akin, 'You would be a perfect Cathy.' Tapos never ko siya makalimutan tapos hindi niya alam na dream role ko rin siya. So I always kind of go back to that memory, and I'm like, 'Oh, my gosh, it actually happened.'
From what people see from watching The Last Five Years, one of the things that they've seen or that they automatically judge about Cathy is that she's like a needy, selfish girl. But if you look at the story, like they always say, relationships are a two-way street. In a way, it's a he said, she said kind of musical. So I recognize her faults, but I also recognize that the relationship just didn't work, and the both of them had their own ambag to why it didn't work.

And also, I don't want Cathy to be kind of like that hopeless needy girl that a lot of people seem to think that she is. There's so much more to her. It's not a black and white thing. There are so many things that happened in between, and there are so many reasons why they are where they are and why everything played out the way it did.
You're playing this role opposite Myke Salomon, who's your husband. Are you drawing from your personal experience with him?
Gab: I think with any role, there is a line, but at the same time, as an actor, you try to be as truthful as you can. So you kind of have to tap into personal experiences. But it's part of your job as an actor, also, to be empathetic towards your character, and you're not allowed to judge your character and her decisions. You just have to play the role as truthful as you can. 
It's exciting kasi in a way, may pagka-meta talaga siya because Myke and I are both artists, and of course, we're not going to separate. (laughs) But I think I resonate so much with how Cathy is as a theater… I mean she's a theater actor, literally. More than the relationship, they're both artists trying to make it in this world. And how relatable is that? It couldn't be more relatable than that specifically as a theater actor. 
Even for Jamie, I think successful artists, I mean, any artist, no matter how successful, will always second guess yourself. And it's fun exploring all these possibilities and all these weird experiences.
Topper has told the funny anecdote of being hired to direct the show in five minutes, where he messaged you and said, 'Someday, I would love to direct The Last Five Years with you and Myke'. Five minutes later, you asked who his dream team was. (laughs)
Gab: Yeah, it was kind of everything aligning for us. I consider myself so lucky to be in this position. We get to tell stories, and we get to collaborate with artists or with theater people that we've always wanted to collaborate with. And Topper, personally, I've always wanted to work with him as a director. As in, I've auditioned for three out of five of his plays. And Topper said, 'It just wasn't time yet.' Of course I loved his plays. Sa Red Turnip iyung favorite play ko sa kanila, [Topper directed it], iyung Tribes. And he is a dear friend, but when you talk work-mode,  I think a lot of us kind of have that, 'The opportunity to work? Game!' When he mentioned it to me, I was really like, 'Wait, are you sure? Are you serious? Because if you're serious about that, game ako. We'll see what we can do.' And nagkataon na another Barefoot Theatre Collaborative partner, si Rona Gutierrez, in her head, if there was a foreign musical that Barefoot could do, for her, it was The Last Five Years. And so when I mentioned it, I was like, 'Topper mentioned to me that he would love to cast me and Myke in The Last Five Years if possible. Do you think it's something that we could do? Do you think it's something that's possible for us?' And of course for Rona, G agad.
We were at that point na parang, 'Game. Let's do it.' And then I was like, 'Oh, my God. Okay Topper, parang game sila. Would you be okay with, let's say this period in time?' Then it was like, okay, it's happening. And then nalaman na lang namin, they said on the day of our wedding, that was when it was final. It was happening.
When I went back to Topper, I asked him 'Who do you want to be on board?' And then nagkataon…these were people, like Rony [Fortich], it's my first time… I mean I've known Rony since I was a kid. Workshop days pa, he was my teacher. But it's my first time ever to be in a full musical with him. And then si Myke naman, he's been hoping to be musically directed because he hasn't been in a while.

Things aligned for us. So it's kind of been a passion project/ dream project/ labor of love from us working together. And of course, [production designer] Joey [Mendoza], he was my director in Anna in the Tropics at naudlot iyun because of the pandemic. Initially, Topper wasn't sure if he could get Joey because he's in New York. 
And then Topper super loved [choreographer] Delphine [Buencamino]'s work in Dani Girl as a movement designer. Ako fan din ako 'nun. So being in a room or in a space where fan ka lang ng lahat ng tao. You kind of have this mutual respect and admiration for one another. So it makes the process even more thrilling and nakakakaba. 
Even when we announced and iyung reception ng mga tao. We were in [Ang Huling] El Bimbo. Iyung overnight talaga na parang, 'Wait what what's happening? What do you mean it's sold out? Like, for the opening weekend. What? What's happening?' So kami rin parang, teka lang… So may fear, may pressure, but at the same time, excitement. So ganun iyung whole journey so far.
It has only been, like ilang weeks pa lang pero iyung feeling na, parang ang tagal na namin ginagawa because we've literally been thinking about… there was a time hindi pa kami nagre-rehearse, and Myke and I were already dreaming. Literally, like, having nightmares.
Would you say this staging uses a minimalist approach?

Gab: I don't know about minimalist, but it was more like Topper kind of fixated on the relationship as a timeline. Even with how it's written, it's a two-hander, so you literally have just two people telling the story. So he didn't want all the frou-frou and he really just wanted the storytelling, I guess, to come from us both. But also the music. When we were discussing it with Rony, he said everything is in the music, and everything is in how Jason Robert Brown wrote the musical.
So it is more, the timeline. It's played out right in front of you. You'll just take in each story or each moment for what it is. Dahil nga memory siya, I mean, it's a relationship that's happened. It's now up to the audience to decide, 'Are you revisiting it? Are you remembering it? Are you watching it play out?' Like with any memory, again, how Cathy remembers things may not be the same way Jamie remembers things. The audience has the space to kind of decide that.
Bahala na iyung audience with how they take it or see it but we will lay it out on the stage.
Title pa lang, The Last Five Years. Are we telling the story? Are we remembering it? Are we playing it real time? We'll see how it affects the audience. 
One-on-One with Myke Salomon
Have you always been drawn to Jamie and to this material particularly?
Myke: No, to be honest, no. And that's a beautiful challenge to me. I've seen a lot of versions of this. Ang dami niyang pwedeng interpretations. It depends on the direction. Like in the movie, it became the POV of Cathy. Iyun iyung bato niya sa akin. And they made Jamie into a douche. So they tried to go there.

So what is your take going to be?

Myke: Iyun iyung masaya. It's trying to find that perfect spot, that perfect balance of why she was like that and why she did that, or why he said that or why he did that. Things like that. Ang daming details eh. Iyun iyung beauty 'nung story. Depende sa kung paano mo siya kinekwento per song, mag-iiba na iyung ibig sabihin. So maybe in 5 to 10 years, if someone will stage this again, iba nanaman iyung register niya sa atin. Iyun iyung masaya dito. It's a malleable storytelling. 
So you can make Jamie a complete asshole or you can… I'm not saying to justify Jamie's actions, but we all went through being hammered and being beaten by traumatic, abusive family members, friends. And in this story, it's the partner.
Gab has always wanted to do this show at the back of her head. Did you envision yourself doing this with her?
Myke: Not really. 'Nung kinasal kami, parang doon lang nag-come across sa akin na, ano kaya gawin natin 'to. (laughs)
You've been both musical director and actor in so many shows for so many years. This will be the first time since Godspell in 2017 that your sole responsibility is playing the lead actor. Is this a good show to come back to doing that?
Myke: Parang ako nag-grade one again. Iyun iyung iniisip ko. It's a hard piece! I've been listening to the Spotify since, I don't know, 2008, 2009 along with Once, In the Heights, and Spring Awakening. Pero ito talaga iyung nag-stick sa akin kasi iyung musical instincts ni Jason Robert Brown is just really out of the box and really refreshing. When we went back to studying it again this year, parang doon nga nanggaling lahat ng mga reharmonization ko sa AHEB. (laughs) Maraming influences. 
Ang saya niya panoorin pero ang hirap niya gawin. Kasi hindi lang naman siya songs eh. You have to deal with a lot of things. You have to deal with the intricate storytelling, or else it will just become a concert.
My process is, I have to make this character, who is not me, and then I make chismis to 280 people na ito iyung taong 'to. And once I know this person 100% well, then that's the time I get to wear the Jamie jacket.

*The interviews have been shortened for clarity.
Comments