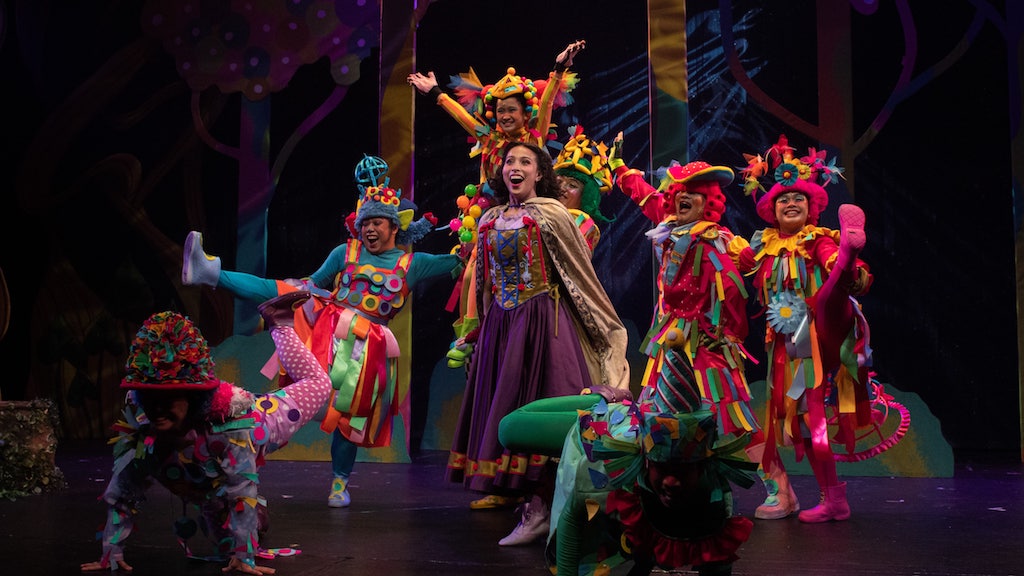 REVIEW: 'Snow White and the Prince' is a magical escape from reality for kids—and adults
Mirror, mirror, on the wall, aren't happy endings made for all?

If you want to escape disturbing news reports, the high cost of living, and your repetitive 9-5 job even just for a little bit, there's nothing better than watching a children's musical. An hour and a half of spells, magical creatures, and good triumphing over evil? Sign us up, please! 
Directed by Joy Virata, Snow White and the Prince is Repertory Philippines' Theater for Young Audiences' first production after the height of the COVID-19 pandemic. It's also Rep's only theatrical offering this year and will be the company's last production before leaving Onstage Theater, which has been its castle—I mean, home—for the past two decades. 
This musical comedy by Janet Yates Vogt and Mark Friedman puts a new spin on the classic fairy tale we all grew up with: Snow White meets and falls in love with a charming Prince on her birthday. But their love story is cut short when a magic Mirror tells her stepmother the Queen that Snow White has replaced her as the fairest in the kingdom. With the help of her Nursemaid, Snow White flees from the palace and encounters seven friendly Dwarves. 
Kids falling under Snow White's spell
If reactions from the opening performance's younger audience are any indication, kids will love the production's interactive nature, the suspense as Snow White gets lulled into tasting a poisoned candy apple, and, of course, the Prince and Snow White's "true love's kiss". 
Plus, the characters and sets legitimately look like they came straight out of a children's picture book! Who doesn't love seeing a dashing prince in a crimson red cape? Or colorful dwarves living in a charming little house in the forest? Raven Ong, who also designed Repertory Philippines' costumes for "Rapunzel! A Very Hairy Fairy Tale", and set designer Kayla Teodoro captured that essential magic.  
When it comes to the performances, the vain Queen "of fright and spite" played by Carla Guevara Laforteza will remind you of Mother Gothel in Disney's Rapunzel. She was just the right amount of scary for children, but was also really funny! Guevara Laforteza undeniably knows how to command a stage. Kiara Dario as Snow White and Neo Rivera as her prince were definitely a cute couple, with child-like chemistry that made the audience look forward to their happily ever after (at one point in the show when Snow White was in trouble, a young girl in the audience worriedly asked her seatmate why the prince wasn't with her). Dario looked and moved every bit like a princess, but admittedly could've been stronger vocally for that day's performance. 
"Reflecting" on the show as adults 
Now you might be wondering: what will keep adult viewers—parents, aunts and uncles, ninangs, kids at heart—hooked? Well, you'll have sarcastic quips and hilarious facial expressions from the Mirror (played by Sebastian Katigbak) and the Prince's butler Rupert's (Dingdong Rosales) to look forward to. 
Mirror has his own number about how much he loves being away from the Queen. His banter with her and his never-ending mirror puns will have adults chuckling in their seats. Rupert, meanwhile, takes us through the arduous journey of getting his head-over-heels master reunited with Snow White. When you're a "grown-up", you realize just how much supporting characters carry a story and how they're actually the ones with the funniest, most relatable lines. 
The romantics (and period drama lovers) out there will love the scene where Snow White dances with the Prince for the first time. You'll adore the awkward meet-cute, the flowy gowns and choreography, and the inevitable realization that these two people have fallen in love at first sight. 
This version of Snow White is a little flighty and may give "damsel in distress" vibes, but come on, it's a children's story. Yes, princesses can fight their own battles, but it's nice to see a prince and loyal friends like the dwarves fighting by her side too.  
RTYA's shows are always a reliable introduction to theater for children. And while we know happily ever afters in fairy tales don't really exist, it's nice to keep that fantasy alive for the kids—and Snow White and the Prince does a pretty *magical* job at doing so.

Tickets: 

Php 800 - Php 1,500  


Show Dates: 

September 16 to December 17, 2023


Venue: 

Onstage Theater (Greenbelt 1) 


Running Time: 

1 hour and 30 minutes, with a 15-minute intermission


Credits: 

Janet Yates Vogt and Mark Friedman (Book, Music, and Lyrics), Joy Virata (Director), Cara Barredo (Assistant Director and Musical Director), Stephen Viñas (Choreographer), Kayla Teodoro (Set Designer), Raven Ong (Costume Designer), John Batalla (Lighting Designer and Technical Director), Ayam Eckstein (Production Company Manager), Patricia Gregorio (Assistant Production Manager), Jojo Amboy (Stage Manager), Ronnie Cruz (Assistant Stage Manager), Pol Roxas and Arnel Carrion (Sounds Technician), Pabling Salvador (Lights Technician), Tess Andalaza (Costume Mistress), Bonsai Cielo (Costume Maker), Rene Cubar (Set Execution), Mang Adul (Scenic Artist), Angie Digna (Hair and Makeup), The Makeup Academy (Photoshoot Hair and Makeup)    


Cast:

 Kiara Dario, Jillian Ita-as, Pappel, Anyah (Snow White); Neo Rivera, Rapah Manalo, MC Dela Cruz (Prince); Carla Guevara Laforteza, Pinky Marquez, Julia Serad (Queen); Sebastian Katigbak, Franco Ramos, Chino Veguillas (Mirror); Cara Barredo, Abi Sulit, Ring Antonio (Nursemaid); Dingdong Rosales, Chesko Rodriguez, Diego Aranada (Rupert); Ralph Oliva, Kenny Isidoro, Barbara Jance, Jay Barrameda, Omar Uddin, Basti Santos, Nelson Caruncho, Reese De La Vega Iso, Tiago Santos, Sophie Banaag, Mica Fajardo (Dwarf); Liway Perez, Matel Patayon, Ashley Lim, Fay Castro, Jacqui Jacinto, Sean Nolasco, Jay Pangilinan, JV Fulgencio, Rofe Villarino, Mark Anthony Grantos, Deo Dela Cruz, Cheska Quimno, Czar Dacena, Axia (Ensemble)   


Company: 

Repertory Philippines




Comments