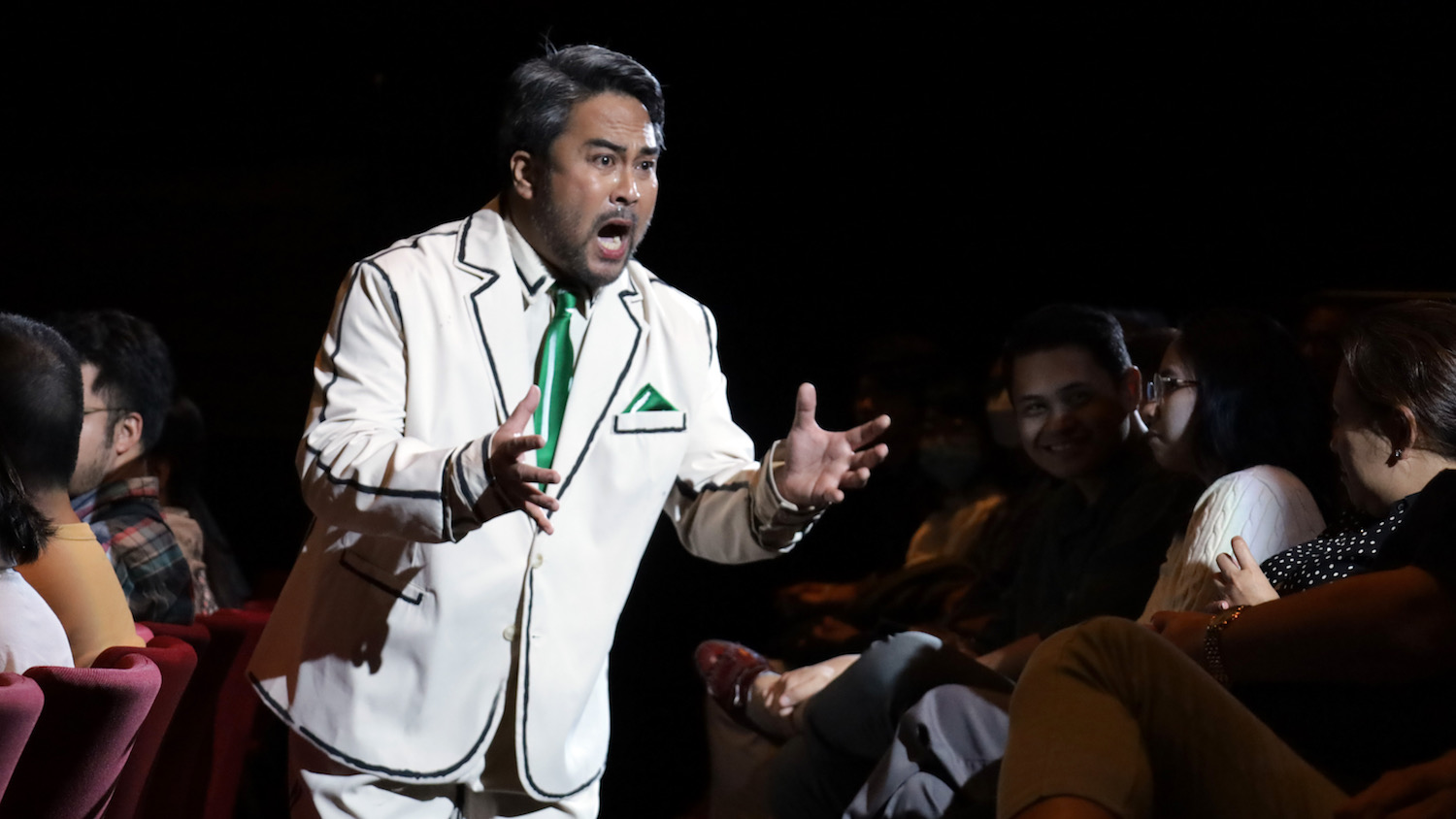 REVIEW: 'Figaro! Figaro!!' boldly blends opera and musical theater, sung in the vernacular
Figaro was a naughty manservant who never seemed to know his place, who became the subject of three plays and two well known operas. Rossini's The Barber of Seville and Mozart's The Marriage of Figaro are popular because of the sheer number of top hit arias in each opera. They were deemed revolutionary in their time, and it's good to remember this as we reflect on the unique experience that the CCP brought us: a back-to-back performance of the operatic duo featuring singers from two different backgrounds – opera and musical theater.
Revolution in reconciliation
For too long, a Great Wall stood between opera and musical theater. This production boldly attempted to bridge the two. It was a surprising joy to witness musical theater veterans essay roles that traditionally were given to classical singers trained in bel canto. 
Noel Rayos and Floyd Tena (or Figaro I and Figaro II) were delightful, with Rayos notably singing one of the most difficult arias in the repertoire (Largo al Factotum) with an agility that astounds, and Tena the only one singing recitatives, as well as the simpler arias with passion and conviction. Together, they breathed life into the antics of Figaro, a charming all-rounder who helps a nobleman get a wife, only to plot against him in the second opera because the same entitled nobleman wants to seduce Figaro's own fiancee.
Complex plots, drama often propelled by letters tucked into sopranos' bodices, and flamboyant acting: these are the hallmarks of comic opera. They come alive particularly with Farley Asuncion's elegant piano accompaniment, where he skillfully substitutes for an entire orchestra using just two hands.
Opera in the vernacular
Directed by Jaime del Mundo and translated by Dennis Marasigan, the bright a's and rolled r's of the Italian match those of our own language, and so the singers were able to sustain golden notes in long vowels, similarly to what they would have done in the original. 
It's amazing how much time is saved when one removes characters and recitatives, and replaces arias with pop songs (sorry to those waiting for Voi che sapete; the director replaced it with A Whole New World from Aladdin, sung by Diego Aranda). In another scene, Roxy Aldiosa sang My Heart Will Go On from Titanic, displaying impressive vocal and stylistic range on top of acting chops as she sang the powerhouse ballad as effortlessly as she did her aria Una voce poco fa, translated as "May tinig na narinig." 
While this may leave purists clutching their pearls, director Jaime del Mundo was keeping with operatic performance practice called aria insertion. Only this time, he did it with Celine Dion and Disney instead of other pieces from the classical repertoire. 
Jokes uttered in Filipino have a more hilarious punch, even with several lines uttered at breakneck speed that couldn't be heard even from the second row. Still, audiences laughed gleefully at the hilarious direction, with commentaries like "Ay pucha, Susanna!" and "Walang ensayo? Anong klaseng voice major ka?" 
To underscore the historicity of the evening, Jonathan Tadioan (Bartolo) says, "Nung panahon ko, ang opera ay opera… at ang lalaki ay soprano," referencing the archaic (and now illegal) practice of castrating male singers in order to preserve their high voices so they can perform female roles.  
And then you have glorious sopranos like Bianca Lopez-Aguila (Countess Rosina) and Angeli Benipayo (Susanna) singing the sublimest Mozart melodies. One gives thanks merely to be in the same room with that heavenly music-making. When Lopez-Aguila launched into Dove sono, and her part during Contessa perdono, we held our breath, not daring to break the sacredness of the moment. 
Notes in a minor key
Combining two art forms means that the choice was made to put the narrative above all else, even the music. 
All singers sang without microphones, a brave choice only possible in a smaller performing venue like this one. Operatic singing style was sacrificed, with arias performed like they were in The Phantom of the Opera and actors literally running across the stage in some parts, while singing. This was done with varying degrees of success, depending on the vocalist's mastery of technique.
The show displays opera buffa at the height of buffoonery, if not musicality. And if there were times its slapstick humor seemed overly heavy handed, even during moments that would have required stillness in order for Mozart's harmonies to speak to our souls, most of the audience seemed to appreciate it still (based on the roars of appreciative laughter at the bawdy-and-bordering-on-crass humor). This show is not for the opera purist. 
An opera lives and dies by the quality of its singers. Sadly, not all the vocalists in the cast were able to fully sing out all the notes in their assigned role. Most were blessedly able to both act and sing, however, others prioritized the acting at the expense of the singing, with a few straining to hit notes evidently out of their range.
Opera is also a visual art form. Much of the performance takes place with three layers of curtains painted over with a seemingly haphazard manner, such that they looked unfinished. Thankfully, the last scene in the garden set by Ohm David was truly beautiful, so we ended on a visual high note.
Blessed are the bridgemakers, those who seek to reconcile two opposite camps and tear down walls built by previous generations. But all bridges need strong bricks, lest a weak one threaten to collapse the whole thing. Both musical theater and opera benefit when artists learn from and collaborate with the other camp, raising the singing skill of one and the acting prowess of the other. The post-pandemic art world demands unity, and we have this production to thank for embracing this cause so bravely.
Tickets : P1,500.00
Show Dates: August 25-26, 2023 (3:00 pm and 7:30 pm)
Venue: CCP Black Box Theater (Tanghalang Igancio Gimenez)
Running Time: 3 hours (with a 10 minute intermission)
Credits: Gioachino Rossini (Music of The Barber of Seville) Wolfgang Amadeus Mozart (Music of The Marriage of Figaro), Dennis Marasigan (Lighting Design and Filipino Translation of the libretti by Cesare Sterbini and Lorenzo Da Ponte), Ohm David (Set Design), Raqs Regalado (Costume Design), TJ Ramos (Sound Design), Farley Asuncion (Musical Direction), Jaime del Mundo (Stage Direction)
Cast: Noel Rayos (Figaro I), Floyd Tena (Figaro II), Roxy Aldiosa (Rosina I), Bianca Camille Lopez-Aguila (Rosina II), Nerissa De Juan (Susanna I), Angeli Benipayo (Susanna II), Ruzzel Clemeno (Count Almaviva I), Nomher Nival (Count Almaviva II), Tad Tadioan (Bartolo), Roby Malubay (Basilio), Diego Aranda (Cherubino) 
Comments