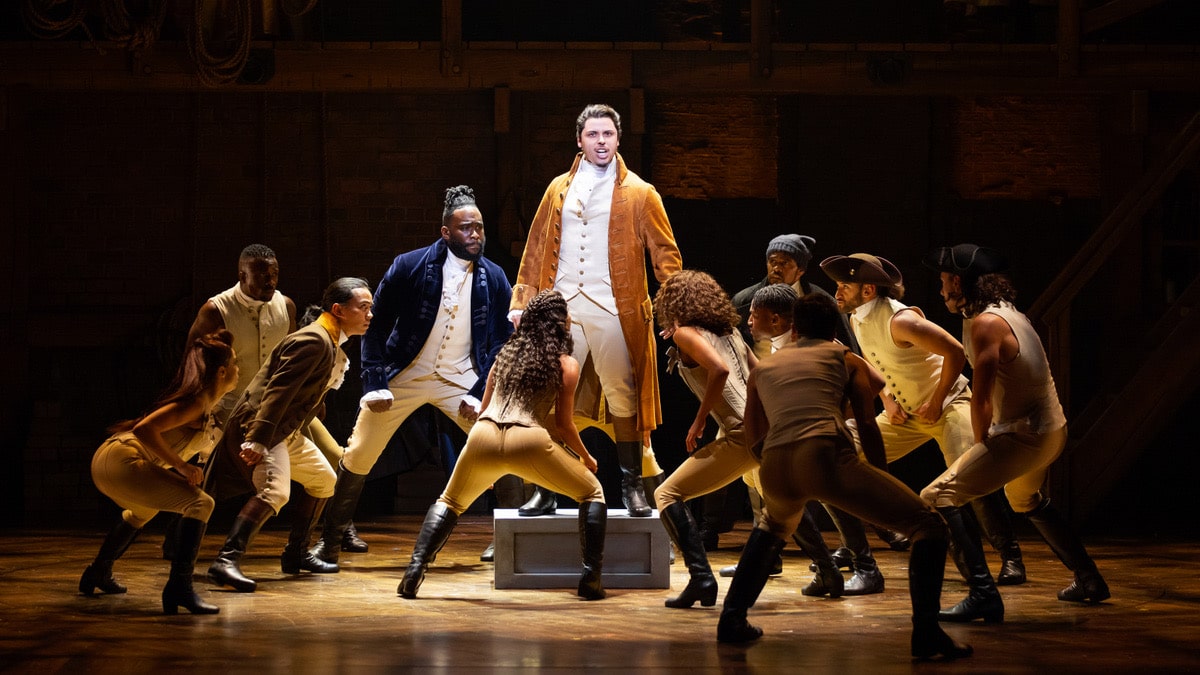 REVIEW: "Hamilton" smashin' every expectation
Raise a glass to this international production that won't just leave theater fans satisfied but is set to blow us all away.
Has there ever been a show with such outsized hype as Lin-Manuel Miranda's "Hamilton"? The rap musical about previously obscure American historical figure Alexander Hamilton has had a near ten year foothold in musical theater as the place to be. Fans have flocked all over the world to be in the room where it happens and now it's Manila's turn.
With the show's reputation, the international touring production now performing the objectively iconic musical at The Theatre at Solaire has gargantuan shoes to fill. Fortunately, if you were one of thousands who had to virtually fight tooth and nail just to get tickets earlier this year, your efforts–and money–will be well repaid when you finally get your shot at seeing it for yourself. 
It's an absolutely spectacular show that lives up to all the accolades, fame, and fandom the title has received throughout the years.
Fan Fare
What adds to the spectacular nature of Hamilton is its colossal fandom. Everywhere it plays, it plays to audiences who come to the theater already enraptured even before the iconic first notes of "Alexander Hamilton" starts playing. It's no different in Manila, even with our audience who are even more removed from knowing or learning about the historical Alexander Hamilton.
In case you've stumbled upon here as the odd netizen who hasn't spent the last eight years obsessively listening to the original Broadway cast recording or watching the Disney+ proshot, "Hamilton" is a biographical sung-through stage musical about one of America's Founding Fathers, taking audiences through Hamilton's humble beginnings, his political rise, his personal downfalls, and the legacy he left the United States. 
That's what "Hamilton" is about. But what it really is–is Miranda's music and lyrical genius at work, enthrallingly laid out on stage through Thomas Kail's direction. For fans, most importantly, it's the apotheosis of a near decade of their fan-love. Finally, they'll be experiencing this piece of musical theater art how it was meant to be experienced: live.
Stylized Success
No, the touring production isn't just spectacular simply because it's "Hamilton." The inspired and kinetic staging is genuinely an education in how direction can make a story feel fresh, inventive, and riveting even if you think you're very familiar with a show.
The stylized set design (David Korins) may seem static and not as bombastic as some touring shows that have played in Manila in recent memory, but combined with period costumes (Paul Tazewell), dramatic lighting (Howell Binkley), and expansive staging helps immerse the audience in the world of the musical.
Kail makes excellent use of the space–especially the turntable!– the massive ensemble cast that features dancers constantly in motion to add texture to the scenes. The lighting in particular is arresting in some moments, notably in solos like "Wait for It" or "One Last Time," and big ensemble numbers like "Yorktown" and "Hurricane."
Of course, the beloved music and lyrics still take center stage. Seeing the songs performed in context, with the full set and staging, allows you to appreciate elements that are naturally lost when you only listen to the cast recording or watch the screen recording version.
The clever and dynamic direction ensures that virtually every seat in the theater is pulled into the story through not just the acting and the singing, but the dancing and transitions between scenes. Whether you focus on the details of each character or take in the production as a whole, "Hamilton" succeeds in living up to any fan's sky-high expectations.
Commendable Cast
The cast also makes or breaks the "Hamilton" experience, but there's nothing to worry about on that front in this production. Performances across the board were very good. 
Central to the show is of course Hamilton (Jason Arrow) and Burr (DeAundre Woods). They are very evenly matched and it really feels like they are contemporaries and equal rivals. Through Woods' performance, you understand and even empathize with Burr's frustration over being overlooked for Hamilton. 
Arrow performed well as Hamilton, but there is a sense that the show isn't so much just about Hamilton but that it's about this ensemble of characters, their own stories, and their own motivations that are happening during that time as well. This is also Burr's story, or Eliza and Angelica's story, or even Washington's story.
As for the Schuyler Sisters, Akina Edmonds who plays Angelica and Rachelle Ann Go, who plays Eliza, definitely find their moments. Go reprising her role as Eliza is certainly a draw for Filipino audiences and she breaks out from the ensemble during her more emotional solos and ballads. Edmonds similarly commanded the stage in more dramatic moments, or when she needed to find the emotional beats of her songs. "Satisfied" is one of the best numbers in a show packed with unforgettable numbers and it's her great work in it that made it so memorable. 
Darnell Abraham as George Washington embodied gravitas and presidential bearing from his first moments on stage. His performance commanded attention, allowing the audience to envision him as the future first president.
But the undisputed highlight was Brent Hill's riotous take on King George. He embraced the monarch's gleeful pomposity with relish, reveling in his status above the American colonists' petty squabbles. Hill's commitment to the larger-than-life role was infectious, inviting the audience to share in the laugh-out-loud fun. His star turn was among the production's most memorable scenes.
Practically Perfected
"Hamilton" is a theater experience most rewarding if you're already a fan of the musical. While fans should definitely not sing along, the rapidfire raps and stretches of historical facts are less confounding if you already know every line to "Guns and Ships" and both "Cabinet Battles". For the uninitiated audience member? These may go over their head. While never boring, the politicking in the second act is a dip in energy compared with the speed of the first act especially as it is alleviated not by levity but by the show's most somber numbers.
Still, this show is bucket list stuff. Inimitable and original even years on, especially for Manila audiences who will be watching it live for the first time. Hamilton fans who want a revelation will certainly get it in this production. 
Catch it and see for yourself exactly why the musical juggernaut's success is non-stop!
Tickets:

 Php 2,645 - Php 8,993


Show Dates:

 September 17 - November 26, 2023


Venue:

 The Theatre at Solaire


Running Time: 

approx. 3 hours (w/ 20 min intermission)


Credits:

 Lin-Manuel Miranda (book, music, and lyrics), Thomas Kail (direction), Andy Blankenbuehler (choreography), Alex Lacamoire (orchestrations/ co-arranger), David Korins (scenic design), Paul Tazewell (costume design), Howell Binkley (lighting design), Nevin Steinberg (sound design), Charles G. Lapointe (hair and wig design)


Cast:

 Rachelle Ann Go (Eliza Hamilton), Jason Arrow (Alexander Hamilton), DeAundre' Woods (Aaron Burr), Akina Edmonds (Angelica Schuyler), Darnell Abraham (George Washington), David Park (Marquis de Lafayette/Thomas Jefferson), Shaka Bagadu Cook (Hercules Mulligan/James Madison), Jacob Guzman (John Laurens/Philip Hamilton), Elandrah Eramiha (Peggy Schuyler/Maria Reynolds), Brent Hill (King George), Claire Abaijah-Griffin, Kirrah Amosa, Curtis Angus, Kyla Bartholomeusz, Taylor Broadard, Trey Curtis, Aniya Danée, Lachlan Dearing, Winston Hillyer, Indigo Hunt, Marcus John, Julian Kuo, Iosefa Laga'aia, Ashton Lash, HaNy Lee, Terrance Martin, Trevor Miles, Eliza Ohman, Callan Purcell, Joshua Rivera, Wesley Ryan, Emmy Saheki, Terrance Spencer, Dayton Tavares


Company:

 GMG Productions
Comments