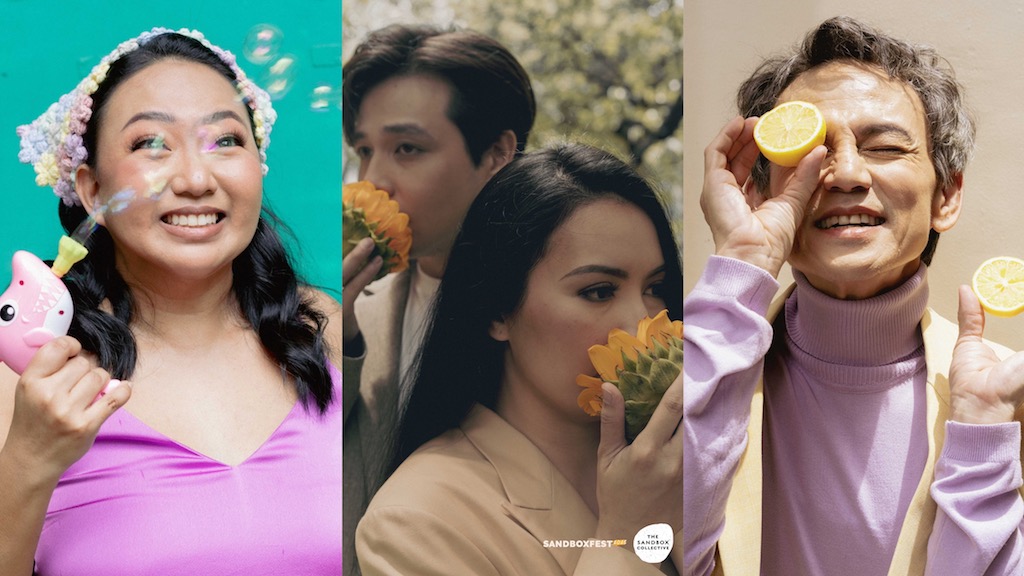 'Every Brilliant Thing' and 'Lungs' Twin Bill Responds to a Post-COVID 2023
The Sandbox Collective's Sandbox Fest 2023, which will feature two of Duncan MacMillan's plays– Every Brilliant Thing and Lungs staged as a twin bill, is set to run from June 17 to July 15 at the Zobel de Ayala Recital Hall of the Maybank Performing Arts Theater in BGC.

The Sandbox Fest is the Sandbox Collective's first return to live shows since the pandemic lockdown. Both plays were set to run one after the other (not yet as a twin bill) in 2020, but were forced to shut down when the cases started to rise in March. Every Brilliant Thing had just run for one weekend while Lungs had not yet had a chance to open. Lungs had a full run in 2018 starring Sab Jose and Jake Cuenca, who alternated with Gabs Santos, while Every Brilliant Thing had a full run in 2019, starring Teresa Herrera and Kakki Teodoro as alternates.

Every Brilliant Thing, which follows an individual who faces her/his mom's depression, tackles mental health. Kakki Teodoro shares that when they started working on the material in 2018, mental health was still something that not all Filipinos were aware about. "Ngayon, it's really part of everyone's vocab[ulary]. Everyone really has their own insight and understand their own mental health journey na pinagdaanan natin together or pinagdaanan nila on their own," says Teodoro. "So really, maraming bagong insight and also we're very excited to do this show again with a new audience."
For those who have seen the show, they'd know that Every Brilliant Thing is an interactive show that calls on audiences to participate. "We're gonna co-create it together again and that's also part of the magic."

Herrera echoes Teodoro's sentiments. "The world's a different place. We are all different people now. Three years is a long time to experience so many things."
But the biggest change of this year's staging is another version of the show– a Filipino translation starring new cast member, Jon Santos. The text has been translated to Filipino by director, playwright, actor, and translator, Guelan Luarca.

The Sandbox Collective's Managing Artistic Director Toff de Venecia says that Santos will not only be able to provide a Filipino version, but also provide audiences with the male experience and the queer experience. He also says that MacMillan encourages localization of his text, adjusting it to where the play is being staged.

"Actually, Duncan MacMillan, for both plays, he's very specific… We are to set it in our own respective geographic locations. So we really adapt it to our national and our personal contexts as well," says Every Brilliant Thing director Jenny Jamora. She also says that she and Luarca have agreed that the translation has to be as accessible as possible to today. 
Lungs, which follows a couple who engages with questions about babies, love, sex, betrayal, and change, will also hit audiences differently, according to the creative team. For one, there are new sets of cast members. Brian Sy and Justine Peña, have joined the show as one of the new couples in the two-hander. Sab Jose returns to the show to alternate with Peña and co-star alongside Reb Atadero. The production also welcomes a new director, Caisa Borromeo, who was the Assistant Director in the 2018 production.

Another big change is a change of venue. When it was mounted in 2018, the show was staged in the Power Mac Center Spotlight Black Box Theater, a bigger venue compared to the now more intimate Zobel de Ayala Recital Hall.

Borromeo says that MacMillan also gave them a revised script, which he edited during the pandemic in 2020 for the UK production starring Claire Foy and Matt Smith. "He was really supportive in saying, set it in your home. Set it in the Philippines. Make it relevant to the people at home. So he gave us the freedom to change some references to make it more relatable to Filipinos."

"The material tackles things that people do talk about but normally in their intimate moments with their partners, or with themselves, and it's so great that we're able to bring that out into the light," shares Justine Peña. "I think it's gonna be wonderful for people to be able to see that, especially coming from a pandemic where we've been so closed off with everybody else."

For Sab Jose, there's more emotional weight. "It hits differently because we're no longer the same people. We went through the pandemic, a collective struggle, and we also got through it. We're still going through it with resilience and hope, which is what I hope people take from the show."
I think you can expect a very new, fresh, different energy from both casts because they all bring different things to the table, says Borromeo. "Everyone is bringing something from what they got from the pandemic and I feel like everyone has changed and evolved or shifted in a certain way."

You can buy tickets to the Sandbox Fest 2023 from Ticketworld. You can watch excerpts performed by the cast in the videos below.
Comments