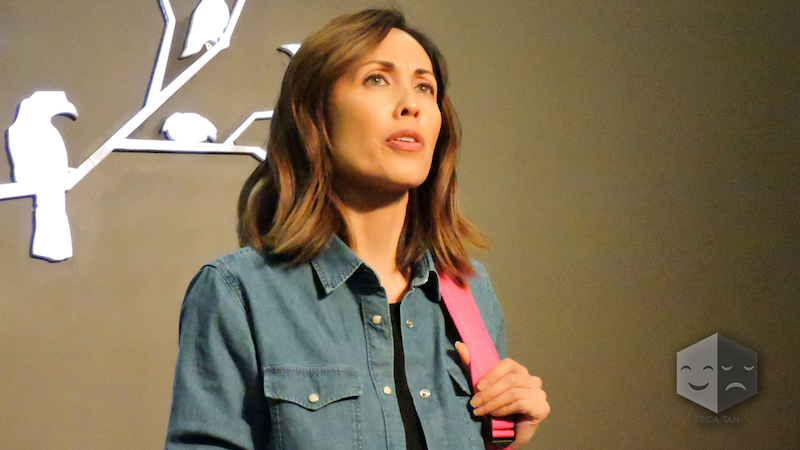 Teresa Herrera Stars in One-Woman Play 'Every Brilliant Thing'
After playing roles in Atlantis' 'Dogeaters' in 2008 and in CTE Productions' 'Love, Loss, and What I Wore in 2011', Teresa Herrera makes her theater comeback in the one-woman play, 'Every Brilliant Thing.'
The show is co-produced by The Sandbox Collective and 9 Works Theatrical, who celebrate their 5th and its 10th year respectively. Written by Duncan Macmillan and Jonny Donahoe, the play aims to continue the conversation on mental health.
The story is told through the perspective of an individual who faces her mother's depression. She begins to write a list of things that make life worth living, such as ice cream and being allowed to watch TV.
Herrera says that she read the script two years ago and immediately knew that this was the story she wanted to tell. "This is a serious issue, but told in such a beautiful story; a narrative where it introduces humor. The heart-wrenching and the hilarious are side by side."
Director Jenny Jamora shares, "We chose the form of comedy, stand-up comedy in particular, in getting the audience involved in having a shared, fun experience, if you can imagine. "
The play makes room for audience interaction, which is why, Jamora says, "Everybody in the room has an immediate sense of responsibility, as well as an immediate contribution in the creation of the story. Plus, it's really fun."
The play is staged in the round, which makes for an even more engaging experience.
"Everyone's involved," adds Herrera. "You'll be able to see each other. We want people to see and acknowledge each other. Every show is gonna be a new performance because we're co-creating the show with the audience."
After its debut in the UK in 2013, the production has also been staged in Ireland, the US, Canada, Australia, New Zealand, France, and South Korea. It was also filmed for an HBO documentary in 2016.
Kakki Teodoro, who serves as associate producer as well as alternate to Herrera in certain performances, says that casting Herrera was obvious. "We wanted the lead to be female and also to be directed by a woman because it's looking like the mental health awareness [in this country] is being led by women. The ones who led the mental health act last year were Risa Hontiveros and Cristina Roa-Puno. It's primarily the women who take action and who speak about it. They're the leading force."
Besides Jamora, the creative team also includes John Batalla (Lighting Designer), Marta Lovina (Production Designer), and Arvy Dimaculangan (Sound Designer).
The play will also have talkbacks after the show led mostly by mental health practitioners and psychiatrists (e.g. Mental Health PH, Philippine Psychiatric Association, Silakbo PH, etc.) who are experts in the field.
'Every Brilliant Thing' will run from February 2-24, Fridays to Sundays, at the Zobel de Ayala Recital Hall of the Maybank Performing Arts Theater. Teodoro will be playing the role for the February 9 and 23, 3pm shows.
You can buy tickets
HERE
.
Comments