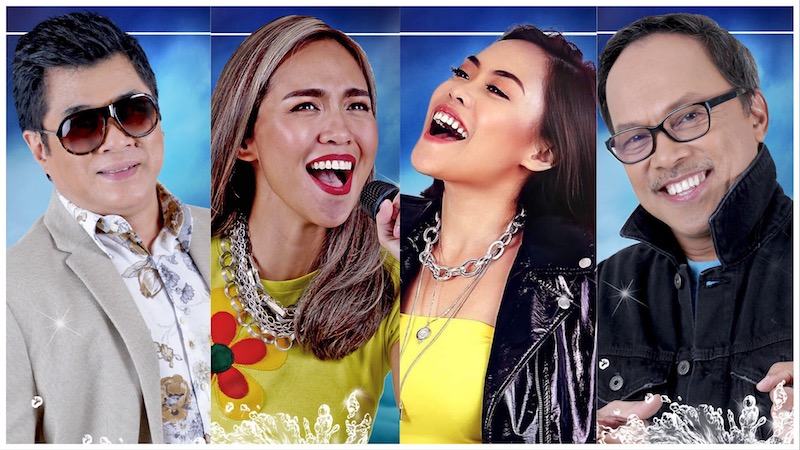 WATCH: New "Rak of Aegis" Cast Members Noel Cabangon, Randy Santiago, and More Perform!
PETA's biggest hit, with more than 300 shows to date, "Rak of Aegis" returns to the PETA Theater Center for its 7th season!
When asked what made them decide to stage the show again, Artistic Director Maribel Legarda says, "Because it brings us joy, and this country needs joy."
"There are still many people who want to watch it. It's one of our big hits, so we bring it back for that," she adds. "In an ideal world sana we just run it straight to death until nobody wants to watch, but we can't afford that." (laughs)
For this season, the company is co-presenting the run with the Organisasyon ng mga Pilipinong Mang-aawit (OPM). This new tie-up has paved the way for a number of OPM artists to join the cast—singer and actor-comedian Randy Santiago will alternate for the role of Fernan, singer-songwriter Noel Cabangon will alternate for the role of Kiel, world music performer and actress Bayang Barrios (Balag at Angud) and singer-actress  Jenine Desiderio (Ibalong, M Butterfly tour) will alternate for the role of Mary Jane.
Other new cast members include Wish 1075 Wishcovery 2018 1st Runner-up Kimberly Baluzo, who will alternate as Aileen, Season 2 The Voice of the Philippines contestant Leah Patricio, who will alternate as Mercy, singer Derrick Monasterio, who will alternate as Tolits, two-time PhilPop grand prize winner Yumi Lacsamana, who will be part of the ensemble, and up and coming theater artists Ashe Uy, Marynor Madamesila, Lemuel Silvestre, and Gerard Dy, who will be members of the ensemble.
They join returning cast members Aicelle Santos, Kim Molina, and Shaira Opsimar (Aileen), Isay Alvarez-Sena and Sweet Plantado-Tiongson (Mary Jane), Robert Sena and Renz Verano (Kiel), Kakai Bautista and Noemi Gonzales (Mercy), Myke Salomon, Poppert Bernadas, and Vince Lim (Kenny), Jerald Napoles, Pepe Herrera, and Joshua Bulot (Tolits), Ron Alfonso and Jimmy Marquez (Jewel), Gie Onida and Rody Vera (Fernan), and Gimbey Dela Cruz, Gab Pangilinan, Matel Patayon, Abi Sulit, Teetin Villanueva, Gold Villar-Lim, Paeng Sudayan, Roi Calilong, Gio Gahol, Carlon Matobato, and John Moran as members of the ensemble.
Featuring songs from the popular 90's band Aegis, Rak of Aegis tells the story of Aileen, a young girl with a big voice who dreams of viral fame on YouTube and guesting on the Ellen Degeneres show. While Aileen's motives at first seem shallow, she later reveals that it is because she wants the world to know of her barangay's condition: submerged in flood for almost three months, with their livelihood and health all slowly drifting off with the waters. The musical is written by Liza Magtoto and directed by Maribel Legarda, with musical direction by Myke Salomon.
The show will run from July 5-September 29, Thursdays to Fridays at 8pm and Saturdays to Sundays at 3pm and 8pm.
You can buy tickets HERE.
Watch the new and returning cast members perform excerpts from the show in the videos below.
Comments