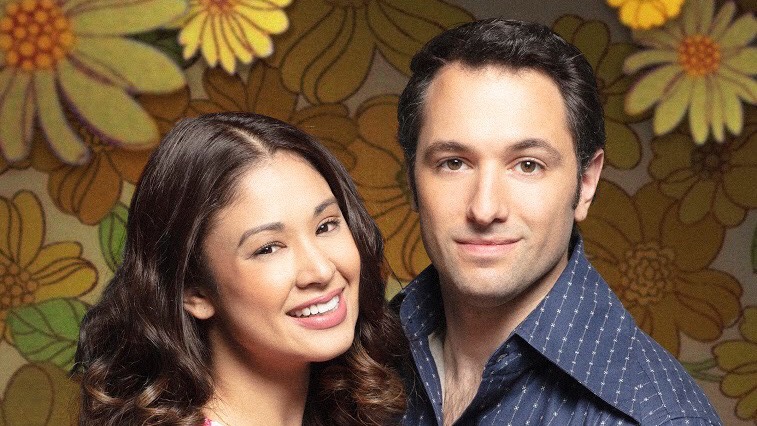 FIRST LOOK: "Beautiful" Cast Performs "I Feel the Earth Move", "Chains"
Atlantis Theatrical's "Beautiful: The Carole King Musical" is all set to open on June 14 at the Meralco Theater. Starring Kayla Rivera in the titular role, the musical is about the true story of Carole King, a celebrated musician who started out as a teenage songwriter and later became a member of the Rock and Roll Hall of Fame.
When asked about how she found her voice for the role, Rivera says, "I definitely had to listen to a lot of her just to get her inspiration. The sound to her voice is very unique, so I feel like no matter what I did, I couldn't completely get her voice. But definitely just channeling her as much as I possibly can– watching interviews, reading as much as I could about her, and really just immersing myself in her amazing music. It was just such an honor to do that and to really just dive into everything I possibly could about Ms. Carole King."
"Beautiful" is a jukebox musical featuring songs by King and her husband and writing partner Gerry Goffin, their friends and songwriting rivals Cynthia Weil and Barry Mann, among others. "These are some of the most amazing songs ever written in history that are probably going to be sung for generations and generations to come," says George Schulze, who plays Barry Mann. "Our kids, and grandkids, they'll be hearing [the music]. So a chance to get familiar with it and to be able to hear the process, feel that process, and live it is just so magical."
Mikkie Bradshaw-Volante, who plays Cynthia Weil, shares that the musical is not only a celebration of music, but also a celebration of women. "I feel like women are no longer resigned to living in the shadows. We're really coming out and Carole King, she really was such a pioneer. She started writing music at a time when the music industry was dominated by men."
"Carole King never saw her gender being a limitation of what her dreams were and what she could accomplish," adds Rivera. "Because of that, she was able to accomplish so much and go beyond her dreams. So I think a message to everyone is that there can be certain kinds of limitations that can be placed on you because of your gender, your age, your race, whatever your case is, but these limitations shouldn't actually serve as limitations to you. Instead, whatever you dream of, just dream and do what you can to accomplish it. And sometimes we can go beyond what those dreams are."
Also in the cast are Gab Pangilinan who will be playing the lead singer of The Shirelles and Marilyn Wald, Jill Peña who will be playing one of the Shirelles and Janelle Woods, Teetin Villanueva who will be playing Little Eva and one of the Shirelles, and Maronne Cruz who will be playing King's childhood best friend Betty.
They are joined by Tim Pavino, Arman Ferrer, Jep Go, and Markus Mann, who will be playing The Drifters, Nelsito Gomez who will be playing a number of roles including Neil Sedaka, Rhenwyn Gabalonzo who will be playing one of the Righteous Brothers, Jamie Wilson who will be playing Don Kirshner, Carla Guevara Laforteza who will be playing Genie Klein, and Gabby Padilla, Dean Rosen, and Alex Reyes, who will be playing members of the ensemble.
"Beautiful: The Carole King Musical" will run from June 14- July 7 at the Meralco Theater. The show is directed by Bobby Garcia.
You can watch a sneak peek of the cast performing "Chains" and "I Feel the Earth Move" in the video below.
You can buy tickets HERE.
Comments