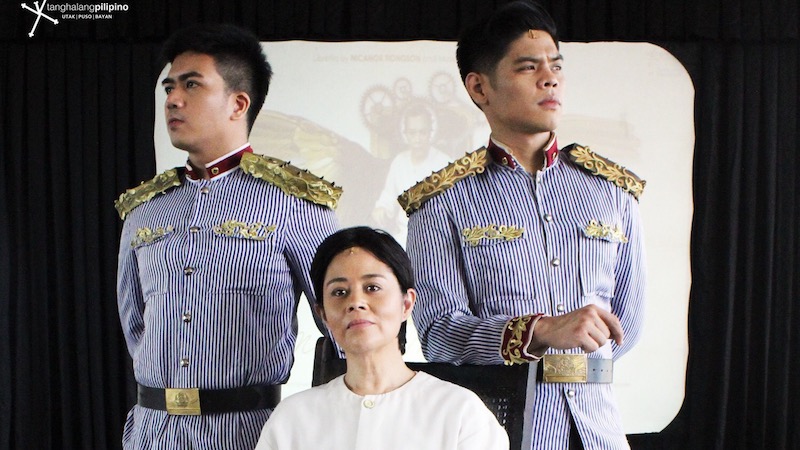 WATCH: "Mabining Mandirigma" 2019 Cast Starring Monique Wilson Performs Excerpts from the Show
As the Cultural Center of the Philippines (CCP) continues to celebrate its 50th year, Tanghalang Pilipino, its resident theater company, joins the celebration by restaging the historical steampunk musical, "Mabining Mandirigma" for the 4th time.
The story follows the life of Apolinario Mabini from 1898, where Mabini acts as Adviser, Cabinet President, and first Foreign Minister to President Aguinaldo. It is the first production in the company's 33rd season line-up that shares the theme, "Makidigma."
According to Artistic Director Nanding Josef, " [Ang produksyon] ay tungkol sa pakikidigma laban sa mga mananakop." Other productions in the line-up are "Katsuri", an adaptation of John Steinbeck's Of Mice and Men that focuses on being at war with poverty, injustice, and feudalism, "Lam-ang", an Ilokano epic which they believe can rival cultural imperialism, and "Batang Mujahideen" a play on Mindanao's children-soldiers advocating peace in Mindanao, particularly, between Muslims and Christians. 
Will there be new things that audiences can expect from the musical? Director Chris Millado says that the script and libretto (by Nicanor Tiongson), which use Brechtian style, have been updated with current political and social issues. Some design elements from the production design (by Toym Imao) have also been streamlined to give them the capacity to tour the show nationwide and abroad. 
But the biggest change that audiences can expect is the cast, particularly with Monique Wilson taking on the role of Apolinario Mabini (predecessors include Delphine Buencamino and Liesl Batucan). More than half of the actors in the ensemble are also joining for the first time.
 One of the unique aspects of this production has been casting female actresses to play the titular role. According to Millado, it all started from a technical issue. "We wanted the Mabini voice different from the rest of the characters. So it started as a musical problem." Millado and composer Joed Balsamo then started exploring the idea of casting a woman. 
"In Asian tradition, especially in Indonesian theater, all noble characters like heroes, priests, intellectuals, are played by female actors. So we went on with that whole concept at sabi namin it's even nicer kasi it also plays on the marginalization of Mabini, paano siya almost ginawang feminized by the whole predominantly patriarchal set-up during that time para lang mapaisantabi ang kanyang mga propositions that were quite revolutionary and radical." American generals like General MacArthur will also be played by women.
He also shares that from the time they were still conceptualizing the show, Monique Wilson was always first in mind, but scheduling issues made it impossible for her to join the previous runs. She has been busy working as an activist– serving as Global Director of One Billion Rising, a movement to end violence against women, and as a member of GABRIELA, a Filipino organization that advocates for women's issues.
"Talagang dream ko rin gawin ang musikal na ito," says Wilson, who also shares that she's been talking to Josef about the production for a while. "Nakakainspire talaga ang musikal na ito sapagkat napaka-limited ang ating mga options as artists na makilahok sa isang musikal na talagang rebolusyonaryo, na talagang nakaka-transform ng consciousness, ng kamalayang rebolusyonaryo." 
She says that it's the perfect role that combines her activist and artistic side. "Miyembro ako ng GABRIELA, kung saan dinadala nila ako sa mga lumad communities, sa mga relocation sites. Siguro iyung trabaho ko as an activist ang nagbigay rin sa akin ng malaking confidence at inspirasyon na gumawa ng ganitong kabigat, at kalalim, at ka-challenging na musikal." Her last production with the company was 25 years ago when she played the role of Maria Clara.
Wilson is joined by Arman Ferrer and David Ezra, who return to alternate for the role of Emilio Aguinaldo. Hazel Maranan also returns to play understudy for the role of Mabini.
Also in the cast are Paw Castillo (Pepe), Phi Palmos (Pule/Mark Twain), Mia Bolaños (Dionesia), Jonathan Tadioan (Felipe Buencamino), JV Ibesate (Pedro Paterno), Lian Silverio (Felipe Calderon/Padre Malabanan), Meynard Peñalosa (Benito Legarda/Mark Twain), Anthony Peralta (Gregorio Araneta), Ian Hermogenes (Del Pilar/Ensemble), Juancho Gabriel (Noriel/Ensemble), Joshua Tayco (Ricarte/Sandiko/Ensemble), Jasper Cabra (Trias/Ensemble), Kristofer Kilatchko (Antonio Luna/Ensemble), Sigrid Balbas (General Bell/Ensemble), Roxy Aldiosa (Ensemble),  Maia Dapul (General MacArthur/Ensemble), Mikee Baskiñas (Ensemble), Eunice Pacia (General Taft/Ensemble), Lhorvie Nuevo (Ensemble), Blanche Buhia (Ensemble), Remus Villanueva (Pedro Janolino/Dancer), Kul Dela Torre (Paco Roman/Dancer), and Joel Eugenio (Eduardo Rusca/Dancer). 
The creative team also includes Chino David (Co-arranger), Emerzon Texon (Co-arranger), TJ Ramos (Sound Designer, Co-Arranger, and Sound and Mixing Engineer), Ejay Yatco (Music Director), Krystal Kane (Assistant Music Director), Manny Pambid (Dramaturg), Denisa Reyes (Choreographer), Katsch Catoy (Lighting Designer), Barbara Tan-Tiongco (Set Consultant), and GA Fallarme (Video Projection Designer).
The 2019 run of "Mabining Mandirigma" is dedicated to the show's late costume designer, James Reyes.
The show will run from August 16-September 1 at the CCP Little Theater. You can watch performances from the cast in the video below. 
You can buy tickets HERE.
Comments