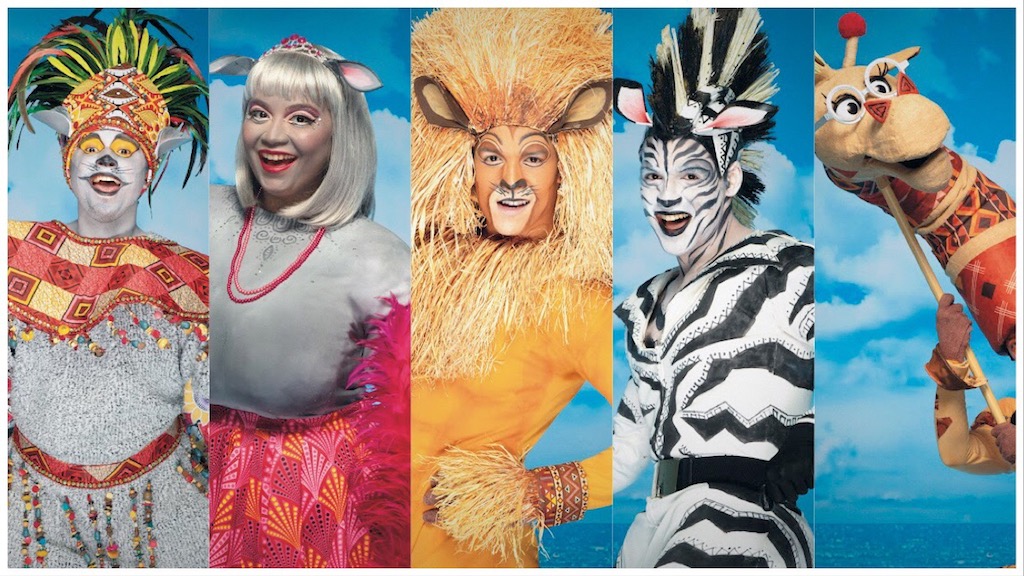 FIRST LOOK: "Madagascar" Cast Performs "I Like to Move It", "Wild and Free"
Atlantis Theatrical is launching its new arm, "Atlantis Imaginarium Young Theatre", with "Madagascar: A Musical Adventure", based on the 2005 Dreamworks Animated Motion Picture.
When asked why the company, who's known for producing local stagings of current Broadway musicals, has decided to extend to younger audiences, Madagascar director Steven Conde says, "Atlantis has been expanding as a company, and one of the things that it wanted to strengthen was its education arm. For the past 2 years, we've been doing workshops and we saw so much potential from the students who've joined, and we were thinking to ourselves, 'It'll be great to give them a chance to get into a professional show and have their foot in the door somehow.' We thought of producing a professional show for them with professional actors, so that's where part of the idea came up for Imaginarium."
Graduates from their workshops who have joined this production are company members Jep Go, Barbara Jance, and Ber Reyes.
"Personally, I've always believed in the power of theater in educating young people," he adds. We want to expand the theater-going market also and contribute to expanding the theater-going public by starting from the grassroots level." 
With a book by Kevin Del Aguila and original music and lyrics by George Noriega and Joel Someillan, "Madagascar: A Musical Adventure" follows the adventures of Alex the Lion and his friends Marty the Zebra, Gloria the Hippo, and Melman the Giraffe, as they escape from New York's Central Park Zoo to King Julien's Madagascar.
The musical features Markus Mann as Alex the Lion, Nelsito Gomez as Marty the Zebra, Sarah Facuri (who also serves as Associate Director) as Gloria the Hippo, Altair Alonso as Melman the Giraffe, and George Schulze as King Julien, together with Mica Fajardo, Franco Ramos, Jep Go, Barbara Jance, and Ber Reyes.
Why choose Madagascar for the launch? Conde shares, "It is a lot of fun, first of all. It's not your usual children story I'd say, but it contains so many valuable truths that kids can learn from and apply in their lives while giving them such a fun time in the theater. The characters are just so colorful, the lines are so witty. It's a very smartly written show, very similar to the movie."
"I think it will appeal to everybody," he adds. "A lot of the humor adults will understand. It's that type of show where you're never left relaxing on your seat. And it's all tied to an hour-long show. So it's really jam-packed with so many things happening, so much action."
What can audiences take away from the show? According to Conde, "At the heart of the story of Madagascar is friendship that surpasses differences, because it focuses on the friendship of a zebra and a lion, prey and predator. We really discover how we are able to see past our differences, become friends with each other, and the idea that home is not necessarily dependent on one's address. Home is about who you're with, not necessarily about where you are, or where you stay, but who you have around you or who you have with you."
He assures audiences that the costumes (designed by Jay Lorence Cunanan) and set design (by Lawyn Cruz) will be vibrant and colorful, with a Filipino touch. The production will also be using puppets by Kayla Teodoro and Marvin Choa, both founding members of Puppet Theater Manila. Choa says that the puppets look similar to the ones from the film, with the infusion of local materials (something their company champions).
"It's a different kind of puppetry," adds Conde. "It's not the typical handheld puppet. Some of the puppets are almost life-size and some are operated by levers. It's a lot of fun."
The creative team also includes choreographer Cecile Martinez, musical director Farley Asuncion, lighting designer Pocholo Nario, projection designer GA Fallarme, sound designer Glendfford Malimban, hair and makeup designer Jaydee Jasa, and vocal coach Arman Ferrer.
"Madagascar: A Musical Adventure" will run from August 2-18 at the Maybank Performing Arts Theater.

You can buy tickets HERE.
You can watch rehearsal excerpts performed by the cast in the video below.
Comments