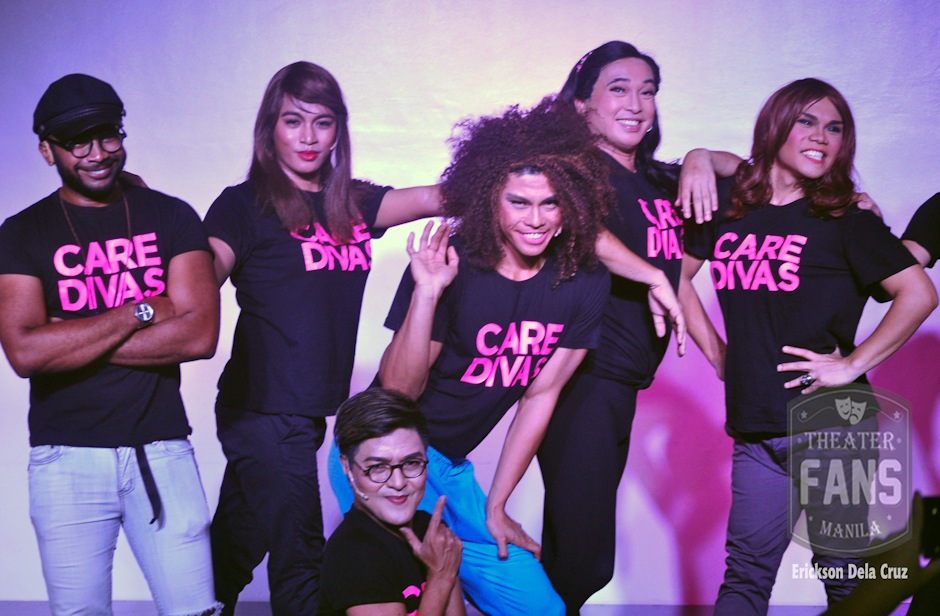 WATCH: Cast of Care Divas Performs Musical's Anthem
Caredivas is coming back for a rerun this June 24 to July 30 at the PETA Theater Center.
The cast coming back for the upcoming run are Melvin Lee (Chelsea), Vince De Jesus and Ron Alfonso (Shai), Dudz Teraña and Jason Barcial (Thalia), Gio Gahol, Jerald Napoles and Ricci Chan (Kayla), Thou Reyes and Phil Noble (Jonee). The actors in their supporting roles are Myke Salomon (Faraj, David, Daniel), Paul Holme and Leo Rialp (Isaac, Moshe, Yaakov, Club owner), Joan Bugcat and Gold Villar (Nonah), Eric Dela Cruz and Dom Miclat-Janssen (Avi, Aryeh, Pulis), Sherry Lara (Sarah, Adara), Eko Baquial, and Joseph Madriaga (ensemble).
During the press conference held last June 2, the cast performed the musical's anthem 'Saan Ka Man Dalhin' and answered some questions from the press. Here are some photos from the event captured by Erickson dela Cruz. You can also watch a video of their performance below.
Caredivas is a disarmingly funny and candid musical drama about five transgender Overseas Filipino Workers in Israel who work as care givers in the morning and transform into glamorous drag queen performers at night. While desperate to make ends meet, they also struggle to search for acceptance in a foreign land.
Watch the cast perform the rousing number, 'Saan Ka Man Dalhin', written and composed by Vincent de Jesus.
You can buy tickets HERE.
Comments