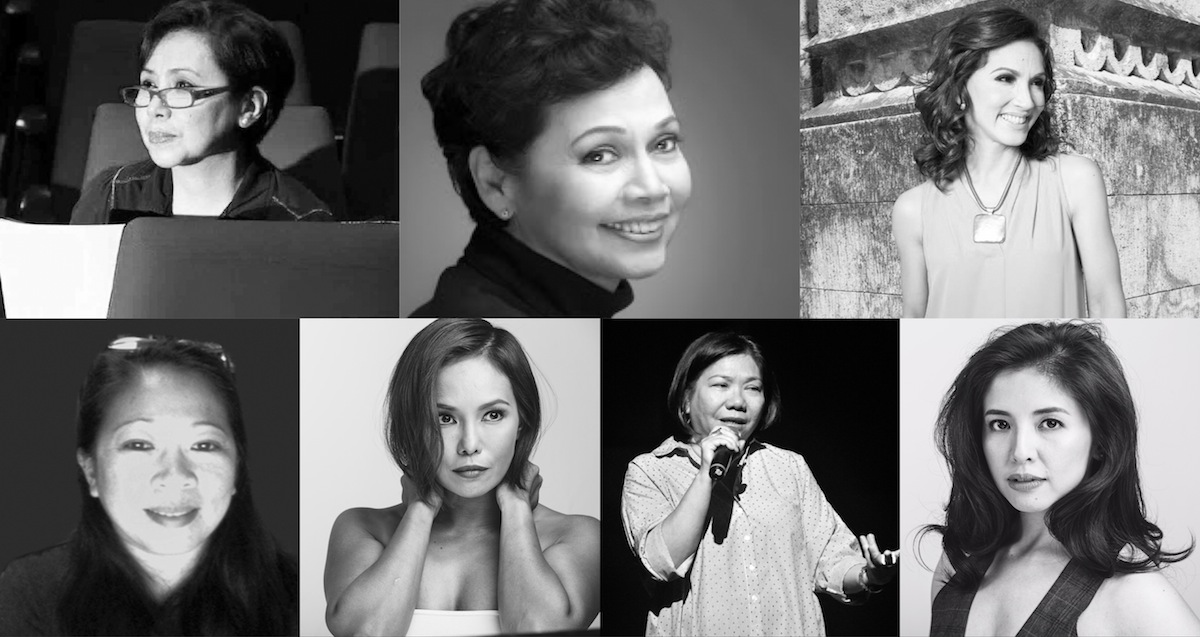 The Wonder Women: Directors of Philippine Theater
The "Wonder Woman" effect is sweeping the world right now, and if you've seen the movie you'll understand why. Women are seeing themselves represented positively, and young girls are now dressing up as their new favorite superhero.
But not all superheroes carry swords or lassoes of truth. In the local theater scene, we have our own brand of Wonder Women: the directors who literally run the show. The plays we love are the result of their unique take on the material, their vision and their voice. It's always a fitting time to celebrate their work and their achievements. Theater Fans Manila had the privilege to interview the female directors who are currently active on the scene, and they spoke candidly about their experiences, favorite works, as well as their creative process. Consider this a theater master class as you catch a rare glimpse into the minds of these brilliant women.
Jenny Jamora is one of five producers of Red Turnip Theater and is currently directing one of the plays in the upcoming Virgin Labfest Festival.
Ana Abad Santos is also one of the producers of Red Turnip Theater and has most recently directed the play entitled 'The Nether' for the company.
Ana Valdes-Lim is the Artistic Director of the Marie Eugenie Theater of the Assumption or Metta in Assumption College, San Lorenzo , a semi-professional school based theater featuring professional guest artists and 3rd and 4th year students.
Joy Virata is the Founder and the Artistic Director of Rep's Repertory Theater for Young Audiences. She is currently working on their upcoming production of 'Beauty and the Beast'.
Menchu Lauchengco-Yulo is fondly called The First Lady of Philippine Musical Theater because of her vast body of work as an actress in the field. She is currently the co-artistic director for Resorts World Manila's Full House Theater Company.
Maribel Legarda is PETA's Artistic Director and is currently directing the much-awaited rerun of 'Care Divas'.
José Estrella is a Professor at UP's Department of Speech Communication and Theater Arts, the Director of the UP Theater Complex, and is also a Resident Director of Dulaang UP. She most recently directed 'Faust' for the company.
The Interviews
How did you end up directing theater productions?
Jenny Jamora: Scene studies I led for New Voice Company (NVC) workshops piqued my interest in directing. I love seeing text on paper come to life in a space. Then NVC invited my sister Marie Jamora, who was working on her MFA in Film at Columbia University, to give us workshop teachers a class on Directing the Actor. She introduced us to Lenore Dekoven's succinct and practical directing language, which I've adopted as an indispensable tool when I direct (and perform). It was Toff de Venecia and Andrei Pamintuan who pushed me to direct a piece for their Friends of Repertory's Festival of Raw Artists, which was open to the general public.
Ana Abad Santos: REP had an annual classical staging of a play, usually Shakespeare. I had taken my post grad in classical theater in London and I had a different vision of how to do classics which got Rem [Zamora] and Menchu [Lauchengco-Yulo] (Mench was artistic director at that time and Rem was marketing) excited and basically pushed me to it.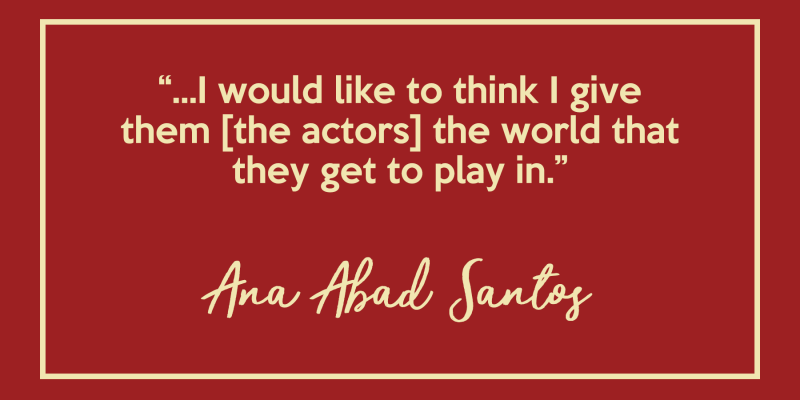 Ana Valdes-Lim: I started out as an actress then came to the Philippines and taught acting. Since I teach scene study, directing came as a natural progression. I am a trained actor and teacher, and learned directing "on the job".
Joy Virata: My first directorial job ('I Hate Hamlet') was forced on me by REP's Artistic Director Bibot Amador because she thought I needed the experience. I didn't really want to direct. Same with 'Breaking Legs' and 'Woman in Black'. When I began REP's Theater for Children (now called Rep's Theater for Young Audiences or RTYA) in 1992 I let others direct. But then I had ideas that I thought would make the productions more entertaining and magical for children so I decided to take over the direction myself. I've directed all the RTYA productions since 1999. In 2005 I had to take over the directorial job of 'Oh Romeo' which was supposed to have been directed by Ms. Amador who sadly had unexpectedly passed away .
Menchu Lauchenco-Yulo: It was actually Audie Gemora. He was producing the musical 'West Side Story'. I was suppose to be his Assistant Director. But he was so busy as producer he turned it over to me. I was actually afraid to take it on, but he gave me all the support I needed. The entire production team helped ease me into my first directorial job. I will always be thankful to Audie and Stages. Particularly Stella Sison and Jingly Kaimo.
Maribel Legarda: Because I realized I didn't want to be an actress anymore and working behind the scenes is more my thing.
José Estrella: High school literature classes. For some reason, I always ended up "directing" (with some acting and writing as well) activities assigned, like doing scenes from Shakespeare, 'Noli…', 'Ibong Adarna', 'Florante…', adapting novels, musicals etc.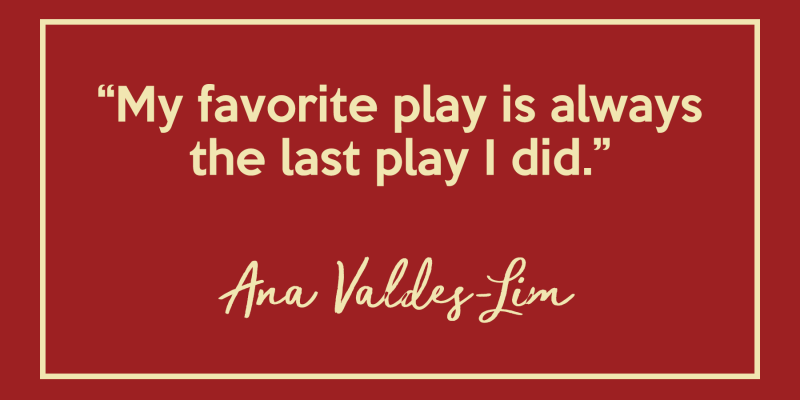 When you get involved in a project, what's your process like?
Jenny Jamora: After reading a script several times, I usually write down all the given details of the piece and how I understand them. I write my own synopsis to help me find the throughline of the play. I write down what tone and pace might be best for the material, what the play's world is like and what the rules in that world might be. I put together all the visual inspirations that come to mind – usually paintings or photographs that elicit the emotions that I feel the play elicits. I write down the possible one-line statements the piece has to say – eventually I will settle on just one sentence to anchor everything on. Usually, I'll share that statement and the visual inspirations with the designers on my team. I share with them what my initial impressions on what the set, lights or costumes per character should be like. Then I wait to see what their take is on the piece. From there we start discussing. Casting is crucial. I believe 70% of my work is done if I cast the right people.
Ana Abad Santos: A bit obsessive. I don't like clutter. I like everything seamless so I spend hours imagining clean entrances and exits hehehe. I see my play in frames. I'm very visual. In terms of acting I love to work with my actors. Basically I would like to think I give them the world that they get to play in.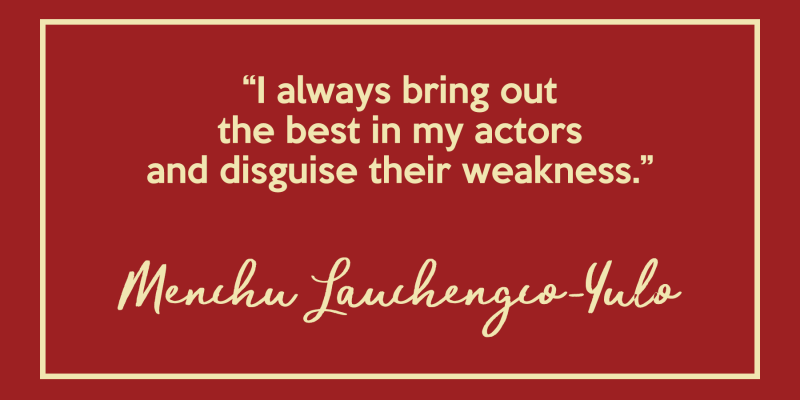 Ana Valdes-Lim: When I start preparing for a play, I read it many times. If it's Shakespeare, I listen to different versions, audio only. I don't watch many movies or videos on it – I don't always connect to the film versions of a play. Then I read related research material: history, economics, location, social status, psychology, given circumstances, and cultural social norms. I gather materials. I make a creative box: both a literal box and a collection of films, pictures, and files on my laptop. I collect a lot of physical movement films or dance films in related topics. My box sometimes is as large as a suitcase.
I make a creative box:
 Scrapbook
 On line dance videos, songs
 Cloth, textures, stones, wood, things from nature
 Pictures
 Read, watch, collect things
I do not read many reviews of productions of the play, nor do I watch other director's versions of the play. If I see one version I like, I only watch it once. I might review excerpts of it, but I avoid repeatedly watching someone else's work. I don't copy someone else's work.
Joy Virata: Of course I read the script thoroughly several times imagining the scenes in my mind as I read, and marking them and making notes. Then I find a good set designer and the rest of the artistic staff – lights, costumes, choreographer, music – and choose a good stage manager who chooses her crew. This happens preferably a year before the production or as soon as I can. Then I audition and choose the cast. I meet with the set designer who presents his concept and we agree on a timetable for the final design. When he gives me that design we go over the set scene by scene. I require the maquette to be constructed a week before the scheduled first rehearsal. If music is needed (as in all RTYA productions) the arranger presents his arrangements for my approval.
Because RTYA uses at least three casts, I work with the company manager to schedule rehearsals for each cast. For regular plays rehearsal time is about four weeks. For RTYA it is eight weeks. Music rehearsals come first, then blocking, then choreography, then we rehearse scene by scene, cast by cast, then finally the whole play. Production week is two weeks for RTYA and one week for straight plays.
I need to plot out the blocking on paper before I rehearse the cast – adjusting it as rehearsals progress. I don't mind admitting that I rely heavily on a good set designer. I also am very open to suggestions during rehearsals either by members of the cast or my assistant director or choreographer until a cut-off time when all my decisions stand. I trust my artistic team implicitly and only make suggestions when absolutely necessary. Although we discuss my vision for the production I do not pretend to know more of their craft then they do.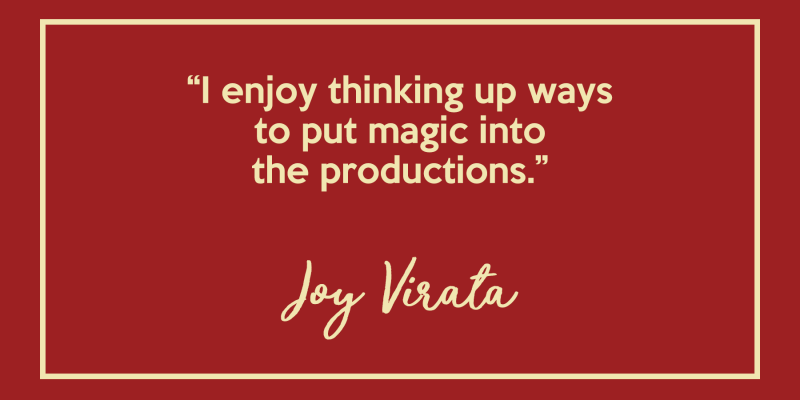 Menchu Lauchenco-Yulo: I become obsessed! Hahahaha it consumes me. I do a lot of collaboration with my artistic team. My set designer is very important to me. I love working with Joey Mendoza and Gino Gonzales. Joey is a big influence in my directorial take. I need to know exactly what I want to say with a show before I even begin rehearsals. I love collaborating with my actors. I allow them to discover the character slowly. I do a lot of table readings before I even begin to move the show. I am constantly changing things if it doesn't work. Sometimes I think I drive my cast crazy hahahaha.
But those who I have worked with know my process. I always bring out the best in my actors and disguise their weakness. I do a lot of scene work and only begin run throughs when all is worked out and my actors feel comfortable. Rehearsal time for me is about experimenting and discovering.
Maribel Legarda: Since I really got my theater training in PETA, I am quite collaborative. I also like to discover how a story can better be told and staged. I enjoy developing new works because it's a journey that can be unpredictable and full of surprises. The possibility of failure or success is always present.
José Estrella: I'd like to think I'm very collaborative. I go into a project thinking that I don't know the answers to everything and I rely on my creative team (writer, dramaturgs, designers, actors) to bring their ideas to the table. I'd like to believe that I give them all enough room to be their best, even if I have to make most if not all final artistic decisions. And it's ok to be afraid or uncertain because the material is difficult but it's more important that we are all excited by the challenges we are all facing.
What's your favorite or most notable directorial experience?
Jenny Jamora: '33 Variations'. Not only was it my feature-length directorial debut, it was also for Red Turnip Theater, the company I co-own with Ana Abad Santos, Topper Fabregas, Cris Villonco and Rem Zamora – four of my closest friends in life, now my producing partners. It was a huge pressure and a huge honor as well. So I was really proud when it did well.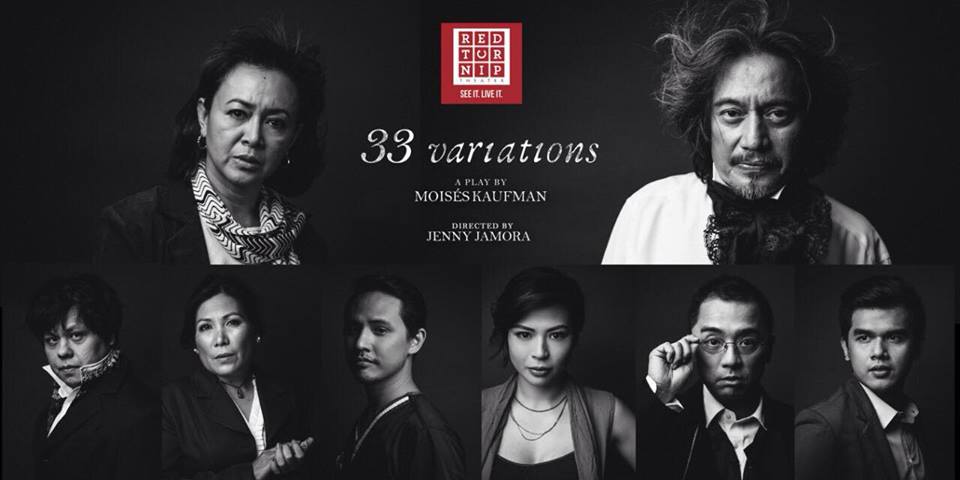 Every experience in theater is fleeting and unrepeatable, but '33 Variations' was quintessential in those respects. Our lead, Shamaine Centenera Buencamino, lost her daughter Julia two weeks before opening night. But Shamaine's strength led the whole team through all the shows, all the way to closing – and this was a play about a woman figuring out what legacy to leave her daughter as she dies of ALS. It was a time of incredible challenge and immense grief, but the cast and team produced joy and victory on stage. I don't know if we could ever do a rerun. The whole experience was so poignant, it might be almost too overwhelming to revisit.
Ana Abad Santos: All are. 'Hamlet' because I had to put together a cast from all sorts of theater companies, quite taboo at that time. 'Closer' because it is a play so close to my heart and soul in terms of writing and mood. Very Wong Kar Wai slash Trainspotting hahaha. It was also Red Turnip Theater's first production.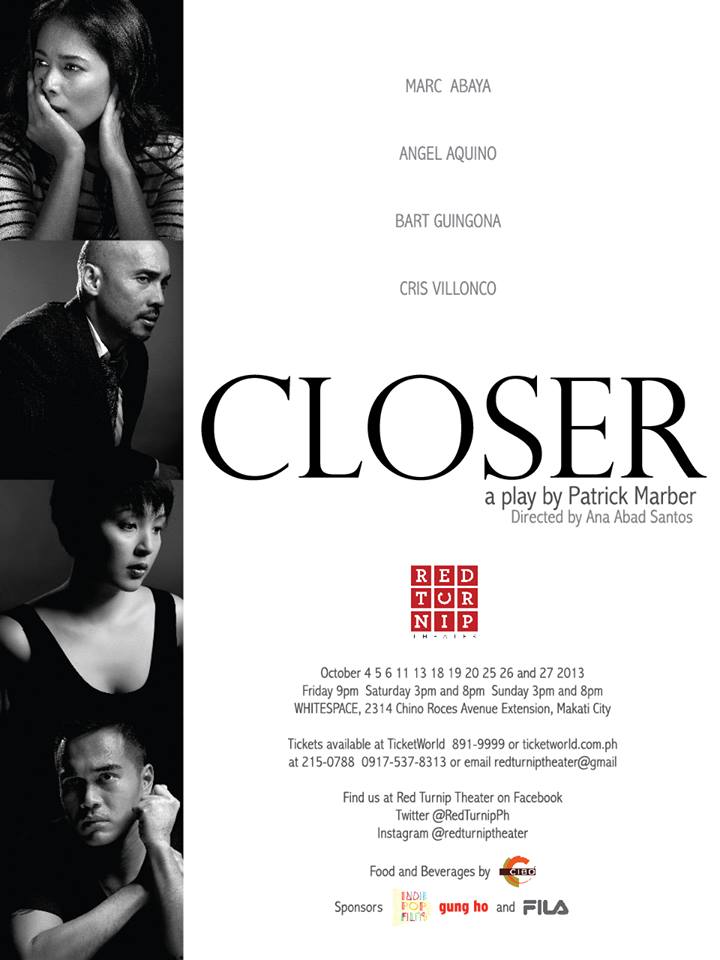 Ana Valdes-Lim: My favorite play is always the last play I did. Today: 'Macbeth' – because it's the last production we did. I get fully engaged in the play, with the cast, and when it closes, I let go. I enjoyed 'All's Well That Ends Well' and 'Ring Round the Moon'.
Joy Virata: It's hard to choose although I admit I enjoy directing the RTYA productions more than regular plays. I enjoy thinking up ways to put magic into the productions. I think one of my favorites is our production of 'Aladdin, Jr.' Douglas Nierras was the choreographer and I asked him to incorporate some of the choreography that I had just seen in one of his recitals. Thus we had a black-light scene where all you could see were dancing canes. Aladdin's flying scene and flying carpet were also amazing. 'Seussical' was another favorite. Working with my set and costume designer Obeng Roxas in London – everything done over the Internet – was a great experience. But perhaps one that gave me most personal satisfaction was my own adaptation of the opera 'Hansel and Gretel'. I wasn't sure it would work, but it did.
Menchu Lauchenco-Yulo: Well it has to be 'Little Women'. So proud of that show. It was so beautiful to look at. I was more creative in 'Little Women'. I was still quite nervous directing 'West Side Story'.
Maribel Legarda: I like most of my plays in the sense that they provided me with varied and rich creative experiences. But 'Rak…' is notable because of the level of success it achieved. Others would be 'Caredivas', 'William', 'Hans Christian Anderson Must Be Filipino', 'Libby Manaoag…'
José Estrella: This is difficult because I think each production is unique. What I will share is one that happened during a workshop (more than a decade ago) in Gunma, a town in Japan, kind of isolated in a beautiful apple orchard retreat, in late winter. We were a group of international directors, actors, playwrights, mostly Asian, and we were working in small groups, devising short pieces. I had been feeling lazy and uninspired, partly because of the cold and partly because I wasn't feeling creative and collaborative with my two groupmates. We were arguing too much, I thought, and one of them was a very aggressive, control freak of a director. So I was stressed to make my idea count. And the only idea I had was that I wanted the part I was going to direct to happen in a BUS. I didn't know what it was going to be about but I knew it had to happen in that small bus that I saw parked outside our lodgings. We could not use it to rehearse so we were able to use it only at the time it arrived the following day. On the day of presentation, a short scene about a family (the three of us as actors as well) began in one of the rooms and then everyone had to follow us as we moved the scene outside and boarded the bus. What followed was a random trip around the mountainside, with views of the orchard, fields of wildflowers – very picturesque – while listening to text taken from the Rape of Nanjing, very visceral violent text read quietly about the Nanjing massacre by the Japanese. This all translated into a genuinely disturbing, moving and memorable experience.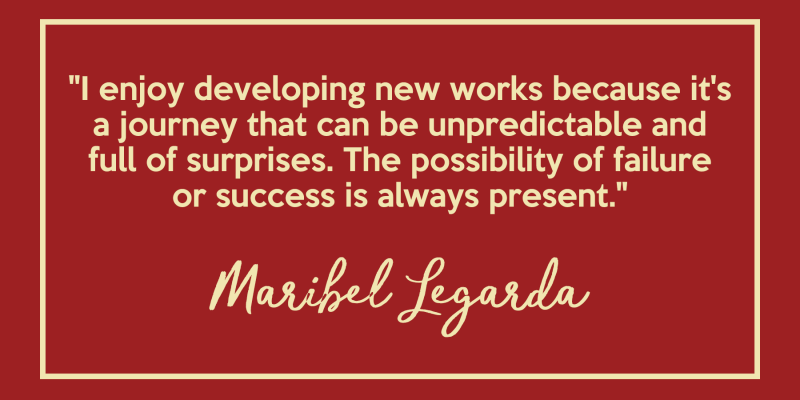 What's the best advice you've gotten as a director?
Jenny Jamora: This is one of Sam Mendes's 25 Rules for Directors: "When you have a cast of 20, this means you have 20 other imaginations in the room with you. Use them." It's tempting to be a control freak when you direct, but that's very limiting. Learning how to listen and curate others' ideas to help solidify your vision is, I think, a really important skill.
Ana Abad Santos: Create your world.
Ana Valdes-Lim: One of my teachers advised me to watch a play carefully, to discern and "really watch" and that has some level of detachment. That also means watching the audience watch the play. I heard advice given to someone else, which I liked. "Don't indulge. Tell the story."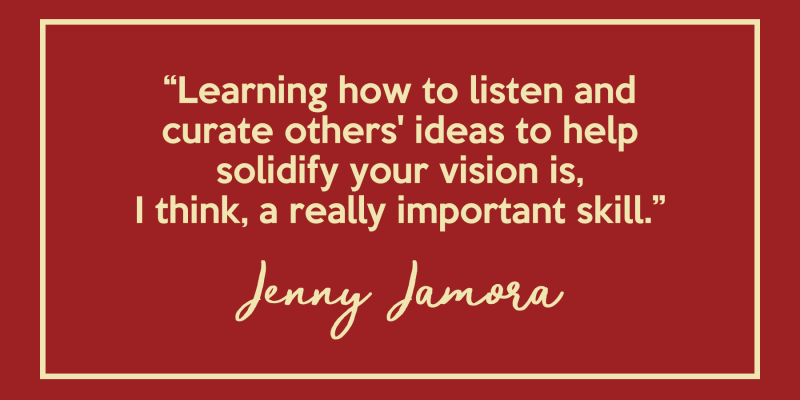 Joy Virata: Nobody has given me advice as a director but a lot of people give me advice during rehearsals. I appreciate them all. I don't always take that advice but I appreciate their giving it. I did take a workshop in directing in London once but if I retained anything it must have been subliminal.
Menchu Lauchenco-Yulo: From Ralph Pena (Artistic Director MA-YI Theater ), "Don't be afraid to think out of the box, it doesn't matter if not everyone understands your concept, as long as the vision in your head is clear."
Maribel Legarda: Start big end big. Casting is 90% of your work. Transition,transition, transition.
José Estrella: [The Japan workshop] was a great lesson in collaboration – that it can be terrifying, filled with disagreements and uncertainty – but that these can also potentially create powerful art.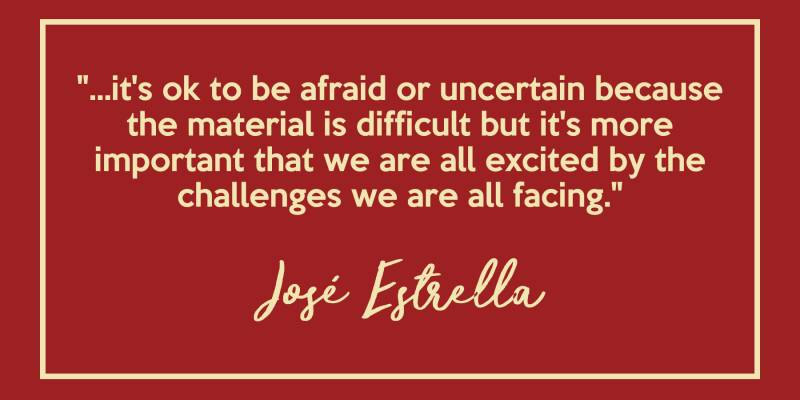 We've always known that theater and the arts have the power to inspire and change lives, as these Wonder Women continue to demonstrate. If even accomplished veterans had their own doubts to overcome, then the message is clear for those who aspire to follow in their footsteps: hard work and persistence are weapons as powerful as any wielded by a daughter of Zeus. What better role models can young women ask for? If you have a daughter, sister, or niece who's in the arts, these are your new superheroes.
---
Directing Credits
Jenny Jamora's directing credits include: Passage Through Passages, New Voice Company Workshop Acting for Adults Showcase (2004); Portraits by Joshua Lim So, Friends of Repertory's Festival of Raw Artists (2008); Sa Lilim by Reya Laplana, The Virgin Labfest 10 (2015); 33 Variations by Moisés Kaufman, Red Turnip Theater (2015); Jon Santos' WTF – Wala Talagang Forever …sa Malacañang (2015, 2016); SHHH by Allan Lopez, Never Again: The Voices of Martial Law (2016); The 8th Gawad Buhay, Philstage's Annual Awards Night (2016); and Sincerity Bikers' Club by Adrian Crisostomo Ho (opens at The Virgin Labfest 13 on July 1, 2017).
She also served as Assistant Director for the following productions: Aspects of Love (2005, New Voice Company, Directed by Monique Wilson); Spring Awakening (2009, Atlantis Productions, Directed by Chari Arespacochaga); and Bare: A Pop Opera (2012, Ateneo Blue Repertory, Directed by Ana-Abad Santos).
Ana Abad Santos directed the Repertory Philippines productions of Hamlet (2008), Duets (2010) and 39 Steps (2011); and Red Turnip Theater's productions of Closer (2013) and The Nether (2017).
Ana Valdes-Lim's credits include: Drakula (2002); Middle of Silence (Pipeng Sandali/2004); Ring Round The Moon by Anouilh (2014); Romeo and Juliet (2015); All's Well That Ends Well (2016); and Macbeth (2017). She teaches acting (Scene Study, Masks, Improv), holds a Graduate BFA Theater degree from The Juilliard School in New York, and an Education Degree from the University of Hawaii in Manoa.
Joy Virata's list of credits includes these Repertory Philippines productions: I Hate Hamlet (1992); Breaking Legs (1993); Woman in Black (1994); Sleeping Beauty (1999); Snow White and the Seven Dwarfs (2000); Cinderella (2001); Beauty and the Beast (2003); Pinocchio (2004); Oh Romeo (2005); The Emperor's New Clothes (2005); Aladdin, Jr. (2006); Cinderella (2007); Mulan, Jr. (2008); Jack and the Beanstalk (2009); Sleeping Beauty (2010); Seussical (2011); The Wizard of Oz (2012); Alice in Wonderland (2013); Pinocchio (2014); Snow White and the Seven Dwarfs (2015); and Hansel and Gretel (2016). She also directed 'Elijah' in 2016 for the Union Church of Manila.
Menchu Lauchengo-Yulo directed Stages' West Side Story (2008); Repertory Philippines' Little Women (2010) and Peter Pan (2011); Repertory Philippines' Jekyll and Hyde (2012); and Joanna Ampil's South Pacific Concert 2015). She also served as Assistant Director for 'Annie' in 2016.
Maribel Legarda directed Libby Manaoag Files: Ang Paghahanap sa Puwertas Prinsesas (2002); Karaoke Dreams (2008); Ismail at Isabel (2009); William (the Shakespeare rap musical of PETA for young people, 2011 and 2012); D Wonder Twins of Boac (a collaboration with Rody Vera adapting Twelfth Night, 2013); Care Divas (2011 and 2017); Rak of Aegis (2014-2016); Ako si Josephine (2016); and A Game of Trolls (2017).
José Estrella's credits include: Harold Pinter's The Birthday Party (1988); Paano Kung Wala Ka Na? (1990); Banwa-Anon (1990); Thornton Wilder's Our Town (1990); Waiting for Godot (1991); Hiyas ni Impong Pinay (1991); Pakikiramay (1991); Paghihintay Kay Godo (1992); Merchant of Venice (1992); Largo Desolato (1992); Ang Kanyang Anak, Jose Rizal (1993); Ang Kagilagilalas na Kalbaryo ni Jose (1993); Ang Butihing Babae ng Timog (1993); God's Favorite (1993); La Chunga (1994); In My Father's House (1995); Makbet (1995); Oryang (1997); Ms. Havisham's Wedding Night (1997); Phaedra (1997); Marsinah Accuses (2000); Dangal ng Lahing Pilipino (2001); William Shakespeare's The Winter's Tale / Joi Barrios' Filipino translation Kuwento ng Pag-ibig at Pagtataksil (2001); Divinas Palabras (2001); Vim Nadera's Filipino translation Ligawang Ligaw of
William Shakespeare's Love's Labour's Lost (2002); El Publico/ Ang Madla (2002); The Butterfly's Evil Spell/Ang Malupit na Encanto ng Mariposa (2003 and 2004); Troyanas (2004); Recoged Esta Voz Poetry Reading and Book Launch (2004); Recoged Esta Voz/Gather This Voice/Tipunin Itong Tinig (2004); Sepharad: Voces de Exilio (2005); Ang Pokpok ng Ohio (2005); Orfeo sa Impiyerno (2006); Kasal sa Dugo (2006); As You Like It/Paano Man Ang Ibig (2007); Basilia ng Malolos (2007); Three Sisters (2007 and 2008); UP's Centennial Awards Program (2008); Amphitryon (2009 and 2011); Banaag at Sikat, Isang Rock Musical (2010); The Crucible (2010); Umaaraw, Umuulan, Kinakasal ang Tikbalang (2011 and 2012); Twelfth Night (2011); House of Candles Staged Reading (2011); Bernarda Alba (2011); ADARNA (2013); Gawad CCP Tribute to 8 Gawad CCP awardees (2013); Bilanggo ng Pag-ibig (2015); Indigo Child (2016); Tisoy Brown: Hari ng Wala (2016); Faust (2017).
She also served as co-director for 'Elias at Salome' in 1997 and directed 'Divinas Palabras' for her MFA Directing Thesis at Columbia University in 1999. She was a Participating Artist for the Asian Theater Collaboration Project in 2003, 2004 and 2005, and Oraciones as Part of Sangandaan in 2003.
Comments