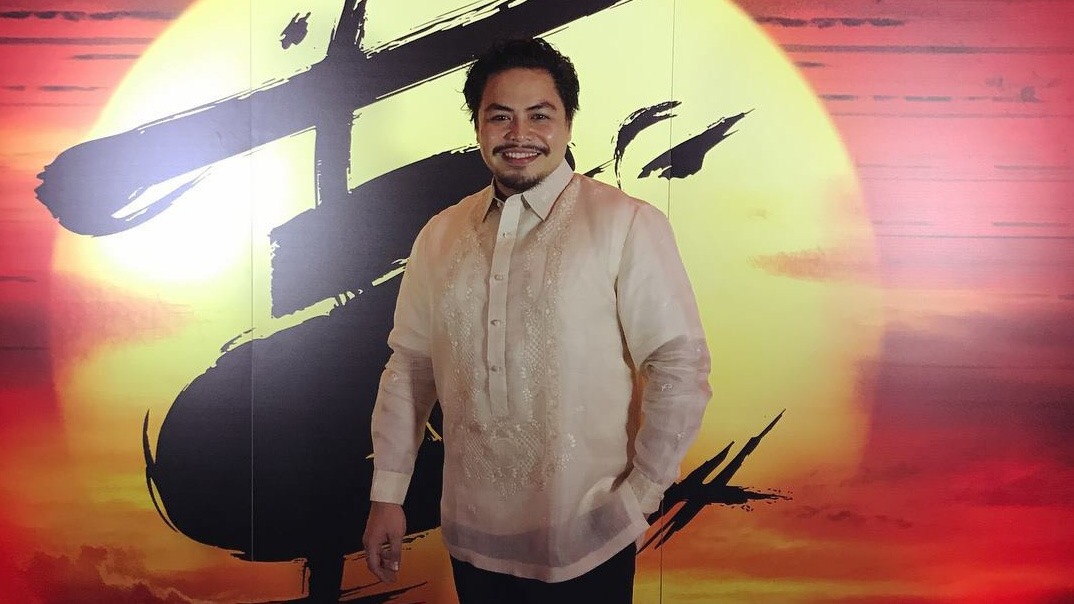 The Engineer: Red Concepcion's Road to Miss Saigon
Red Concepcion has never seen Miss Saigon, an interesting fact as the actor has been playing The Engineer for the show's ongoing UK tour. Before he joined the long list of Filipino talent that has helped bring the popular Boublil and Schonberg musical to life abroad, he had been working in local theater since 2003 and has since amassed a hefty resume. If you've seen a locally produced show in the last 15 years, chances are, you've seen him perform.
He talks to TheaterFansManila.com about training his craft and the Filipino's competitive edge, theater culture in the UK and in the Philippines, getting the role of a lifetime, Asian representation, and being a conduit of happiness and pride for Filipinos abroad.
How have you been?
I'm good, I'm good. It's been crazy. It's been a year and a half now.
A year and a half. Wow. It's so fast.
So fast. It's been going great. I'm surprised at how amazing the reception is. All the reviews are kind of very favorable. It's been crazy. Like, literally a dream come true.
The reviews have been saying that your Engineer is different from all the other Engineers. How did you create that character?
I've never seen the show, but I did listen to the cassette tape a lot. I think everybody… ano pa 'yun, e–shit, I'm revealing my age–pero ano pa 'yun, it was like a binder. I had like 8 cassette tapes. It had the whole show. But, siyempre, you just listen to all the hit songs, so I really had no idea about the show or anything. I think that worked to my advantage.
So when I got the role, I made it a point to not watch any of the other–I've never even seen the 25th anniversary DVD. I've seen bits of it now, but only because I'm kind of more grounded now to my interpretation. So, that allowed me to create my own thing. And we also have a very good creative team with us that allowed me to explore the character and to come up with my own thing.
How has it been like going around the UK and going to all these places?
You know what, it's crazy. The Resident Director Tom O'Brien and the Touring Director Jean-Pierre Van Der Spuy, they said that working with Filipino actors is like working with British actors. I guess we have the same sensibilities. Nakakatuwa lang that we're not that far off. I guess that's why they keep coming back, 'cause maybe it's our work ethic, or the way that we approach a song. It's been great. Ang daming Pilipino. Nakakagulat.
In the cast, or in the audience?
In the audience! And in the cast, now. When we went to Manchester, there were a lot of Filipinos who come and see the show. And even the British people, some of them have seen the show 30, 40, or 50 times, that's not even counting when it was on the West End!
Just during the tour?
Crazy, right? There are some super duper fans, but the thing is they have such a great theater culture. People really come to the theater [in the UK]. I've only seen a full cinema once–The Avengers. But every time I go to the theater, it's always packed. Not just for our show. Whenever I can, I go out to London and see the shows there, it's always packed. Medyo nakaka-inggit.
That's the dream.
Yeah. It's completely the opposite situation here in the Philippines. It's so hard to get people into the seats for theater, which is a shame. I mean, the only reason that a lot of us theater actors are now doing work out there is because we were trained here. And if people don't support Philippine theater, we will lose that competitive edge outside. Like, as of now, they're looking elsewhere as well. They're also looking into Korea and Singapore because these countries are really bolstering their arts and their theater industry. So, hopefully people come and see more work here.
Is it a different experience per city?
This whole experience is crazy. It never gets boring. I think because we're touring, it's like we're opening a new show every month. [Production Company] Cameron Mackintosh Limited, they're very tutok. So, each new venue, the creatives come in to check. Para talaga siyang opening night every venue. They keep the standards very, very high. And Claude-Michel is in, like, 80% of the press nights. He really comes. He's very hands-on. And Cameron actually also. He's very hands-on. He gets very passionate and animated.
And even that, to get notes from Claude-Michel and Cameron Mackintosh, sometimes it's like, how do these two giants know my name? And they're giving me pointers on my performance. It's like, "Wait, how did this happen?" It's very surreal.
How do you think your 15 years of experience working in the Manila theater scene helped you for this role of a lifetime?
It's like everything that I've been through has led me to this moment. Even Repertory Children's Theater (RCT), where we do shows 2-3 times a day, every day. It prepared me to do seven shows a week. 'Cause usually, when you're a theater actor in the Philippines, you don't get to do long runs.
I tried to make it a point to work with as many theater companies as I can because I wanted to learn as much as I can from every different style. Because PETA (Philippine Educational Theater Association) has its own style, and REP (Repertory Philippines) has its own style, and Trumpets, etc. and I think just trying to work and doing the rounds, it prepared me for this.
It's such a mammoth role, The Engineer.
Was it overwhelming for you?
It was very overwhelming1 Because you know, we all know Miss Saigon because of the many Filipinos who have done it, but I've never seen it, and I just didn't know how big the role was. So, it was super crazy. It was very nice to get the support of old "Saigon-ers". I got a callback, but I didn't know what the show was about, so I called Joanna Ampil and she talked me through the show. (laughs) Tita Sheila Francisco was giving me tips on how to tour, what to pack. It's so nice that we have such a community like that.
You mentioned going to different companies and getting your theater education in that way, that was a conscious effort for you?
I did study in LASALLE in Singapore. I studied musical theater there, but I didn't get to finish because I didn't have enough funds. I got a scholarship, but living in Singapore is really expensive. I didn't have the funds to continue that, so I went back home feeling kind of dejected, but I just kept working.
School can only teach you so much. I remember one of my teachers in Singapore said, "Half the things I'm going to teach you will work for you, and half of them will probably be crap for you." So, you take what you can get from each experience, from each job that you do. I'm still learning. Doing this, it's been a year and a half but I'm still finding out new things about my voice and finding out new things about the character.
Is training under creative teams abroad a lot different from training under creative teams here? Did you have to adjust?
Our directors are a bit more direct. I guess that was one of the adjustments. But, there's really not much difference in my experience.
How about castmates? Is there anything different from working with an international group?
This particular cast that we have, it's a bit more homogenous, actually. It's amazing how all these people from different parts of the world can get along so well. And I guess we kind of have to because the show is all about war and it's already very heavy, so there's an unconscious effort to make it light backstage. Keep it balanced.
Our director always says that the only way Miss Saigon will work is if everything is on edge. All the stakes have to be high and we have to really commit 100%, as one does with every show., but more so for Miss Saigon. Otherwise, if you don't do that, the epicness of the music and the epicness of the story will collapse underneath all of that. It's always like balancing on the edge of a knife. So, nakakapagod talaga siya, which is why people backstage keep it light. Otherwise, after 300 shows, baka may PTSD na rin kami. (laughs)
How does it make you feel to represent Philippine theater in a global landscape?
You know, when I see that there are always Filipinos who see the show, and they wave at the stagedoor, it makes me happy how happy it makes them to see Filipinos on a global stage.
Representation.
Yeah, representation. Not just that, but even for Asians in general to see someone who looks like them on stage when they've been living in a foreign country, when you're living someplace that wasn't your first home. It's funny that the role before Saigon for me was Chelsea in Care Divas, where I was playing an OFW. And now, I am an OFW!
Full circle!
Full circle. (laughs) Yeah, it can get very lonely and you do realize– sometimes you walk down the street and you forget that you're a foreigner and then something just reminds you that I'm not exactly from here. You know what I mean? That you're not exactly… you can pretend to feel like you belong, but you don't really.
It's not home, exactly. And that's just me living in the UK for over a year. What about some of our kababayans who have lived there for 10-15 years? And you see your kababayans on stage. It really makes them beam with pride. So, it makes me happy to be kind of like a conduit of that happiness and that pride.
Can you talk about how you got the role and how the audition process was like?
I've audition for Saigon three times.
Wow.
Yeah, in various points because you know how they always go to the Philippines [for auditions]. So, I auditioned. I would always get called back for ensemble. I think the first time I auditioned, I was like 17 or 19, very young. And then again for the revival. And I would always get called back for ensemble. And I would get shortlisted, and then nothing would happen. So, I didn't want to audition na dapat for this tour. Kasi parang, you know, I've done it. They obviously don't want me.
He hates that I keep saying this but it was actually Jef Flores who was like, "You should do it because you're going to regret it if you don't. So I sang, and it was just the casting director and Bobby Garcia, and they were like, "Thank you, Red." and I come out. I get called to a table where Maro Garcia was and she was like, "You're called back for Engineer." And I was like, "What? Are you serious?" I really thought it was some kind of clerical error.
You were expecting ensemble?
Yeah, because I was always called back for ensemble. So, okay, I had to learn 'American Dream', 'If You Want to Die in Bed', and 'Coo-Coo Princess'. I had a day in between to learn them, thank God. So, I went in there parang everyday. They would keep calling us back in.
Everyday!
Everyday. We had to keep coming back in for one thing or another. I remember my second to the last day, they called us for dance auditions and also for the final Engineer audition. But then late at night, or late at night ko lang nakita, they sent an email to us saying, "You need to learn 'The Morning of the Dragon', so pick a harmony."
So, I had to learn harmony and they called us at 9am. They were like, "You're called at 9am the next day. Please learn this harmony, and you can pick between Tenor 1, Tenor 2, or the Bass line." So, I can sing Tenor 1, pero ang taas e. E 9am 'yung call. Hindi ko ma-aabot 'yun. So, I tried to learn Tenor 2, and Tenor 2 is trickier. And then we danced, and then they did it one by one, and all the Tenor 1's 'The Morning of the Dragon', and then Tenor 2. Suffice it to say, I completely failed. I aced the dancing, they were quite happy with my dancing.
But in the harmony, I did the Tenor 2. As soon as I tried to do it, in my head I was like, "Oh no.", and by that time, it was already, like, 3pm, so gising na 'yung boses mo. "Oh man! I should have just sang Tenor 1!" because it was just one note!
I was supposed to have the one-on-one, my final Engineer callback. I was waiting, and they were like, "Red, we'll just call you for tomorrow because we're running out of time." So, alright, that's it! This is the end! Actually, you feel that every day. You feel like, "Okay, this is the end. This is the end of the line. I'm not gonna get further than this." and then you get called in for another day.
It was such an emotional roller coaster!
It really was an emotional roller coaster. And finally, on the last day, I'm in there. I'm waiting for my slot. I got there really early. Some of the people would be in the audition room for, like, 30 minutes to an hour. They kept doing it, and they would give them notes and they would do it again. I could hear it from outside. Finally, it came to my slot. So, I went in there and they made me sing 'American Dream' and 'If You Want to Die in Bed', and that was each. I did it once, each.
Wow.
No, no. In my head I was like, "Okay, that's it." It's like if they were interested, they would give me notes and then they would make me do it again. Auditions are crazy. Callbacks are always crazy. Like, it's always an emotional upheaval where all your monsters come out. It's the worst part, actually. The worst part of the whole process. For me, and my opinion as an actor, I would much rather be in tech for 6 months than go to an audition. I hate auditions. It's a necessary evil. (laughs)
And then Claude-Michel introduced himself and then I said something really nerdy. You're so overwhelmed and just so nervous. So, I come out kind of feeling dejected and feeling like, "Okay, that's it. That's done." and then Claude-Michel comes out to, I don't know, get some coffee, and then he sees me. He comes up to me, shakes my hand and pats me on the back, and then walks away. I was like, "Okay, so maybe I stand a fighting chance." And then I got the call.
I learned that I got the part on December 24, 2016.
Talk about a Christmas gift!
I was in SM Aura doing last minute grocery shopping for Noche Buena with my little sister. I checked my Facebook and then my agent, who's from Australia, messaged me to check my email and then he messaged Chinie [Concepcion], "Tell Red to check his email." Apparently, he had been trying to call me, but you know how our telephone lines are during the Christmas season. (laughs) Calls do not go through, especially if they're international. So, I checked my email in the middle of the grocery store and that was it.
Were you screaming at the grocery store?
No, I couldn't! It was siksikan!
I've been reading from international publications that people still want to root for your version of The Engineer.
The way I see it, that's how deceitful people get you. For some reason, all the conniving and deceitful people I've met are always so charming and so witty. And The Engineer is so witty. And there's always, like, a magnetism to their character. That's how they get people. I guess that was my attack on it.
At first, it was a challenge for me because they kept saying, "Yes, you're like this horrible person, but the audience still needs to like you." And so at first, I was like, "How do I marry the two? How do I get these two things together?" But then, I realize that they almost always are together. They use their charm to redirect, to manipulate people, to deceive people. That's one of the many weapons that they have. And the comedy kind of plays into that as well because The Engineer is very funny.
There's a lot of pressure for The Engineer because he's supposed to kind of like, carry the show. They call him the narrator. He pushes the story forward. I like to look at Saigon as the story of these three people who are dealing with the aftermath of a war. So, you have Chris who basically has PTSD, Kim who obviously has, not to spoil it…
All Filipinos know this story.
Yeah. (laughs) Now has a kid. And then The Engineer who now has to kind of regain his power. So it's three people who are dealing with the aftermath of a war in the best way that they can. It just so happens that The Engineer has less than savory techniques. (laughs) Scrappy, and deceitful, and driven. But you know, when it comes down to it, all he really wants is to survive.
Are there any roles that you'd want to pursue after Miss Saigon?
I don't think that far ahead. (laughs) So far, honestly, it has worked out for me in my career. I just go where the next job takes me. But, I do feel very honored to be doing it because there has been a long line of Filipino actors who have played the Engineer. I did Priscilla with one of them, Tito Leo Valdez. They actually let me use his jacket as my rehearsal jacket for The Engineer. So, if you look at the rehearsal pictures, the red jacket that I used there, that was actually Tito Leo's old jacket! I realized it because I was putting it away. The tag at the back was really faded but it said Leo Valdez. Which was kind of like, awww. What a strange coincidence. It was like a little piece of history.
Who do you consider as your big theater influences?
Oh man! So many. I think one of the directors that has taught me a lot of what I know is Jaime del Mundo. He's definitely one of my mentors. And then Menchu [Lauchengco-Yulo], Michael [Williams], Rem [Zamora], Tita Luna [Inocian]. There are so many people. That generation of REP actors have been just so nurturing. And Roselyn Perez. I remember Roselyn and Tito Jaime, when I was doing Equus, I feel like they decided to take me under their wing. They were really helping me out. It's nice and hopefully I get to do the same for future generations.
You've done so many roles in your 15-year career as a theater actor. Can you talk about your experience in hustling to get all these different roles?
Back in the day, so I've been told, when there were only a few theater companies–REP, PETA, Tanghalang Pilipino–they had their own sets of actors and the way that they learned was by constant exercise, basically. They really had a pool of actors and these actors kept doing shows. So, they would be one character in one play and another character in another. That's how they learned.
But when I was starting out in theater, there was already a shift with the way things were being done. And there were a lot more theater companies coming up. So me and my friends, Caisa [Borromeo], Bea [Garcia], we were like, how do we replicate that? Because REP was only doing a few shows at the time, but then there were these other theater companies coming up. I couldn't do all the plays in REP, so I would always go out and keep working and keep learning, and that for me is the only way.
Some of my co-actors in the UK, they would look at my CV and go, "Bakit ang dami? How did you… this is a fat CV. How did you do this?" And I had to explain to them that in the Philippines, shows only run for 3-4 months which means that you could do 4 or 5 a year. Sometimes even 6. You could be doing a show and then rehearsing for the next one and that's how I amassed that. You just have to put yourself out there and brave it out.
That's what I've been thinking. If there was an advantage of doing theater here, it's the breadth of roles that you can do.
The difference though with theater here, yes I got to do a lot of roles, which is amazing. But also you have only started feeling like you have sunk your teeth into the role 2 or 3 weeks before you close. But now, I've done it a year and a half, I know The Engineer. I could do it in my sleep. I know him already. There's a lot more time to delve deeper and deeper into the role.
You know, it has its own pros and cons. It's good. It's a different climate in both sides of the world, but it's all good, I think. I mean, if we weren't doing anything right, they wouldn't keep coming back to get the talent from here. Although like I said, I guess, us actors here, we kind of have to take it upon ourselves to train us because we don't have as many schools. There are so many schools in the UK because it's such a big industry. It's a viable career option so people really go to school. But here in the Philippines, us actors, we have to take it upon ourselves to train– go to dance classes, go to voice classes, go to acting classes, to keep working, which I think kind of makes us hardier performers. If we do it right, it makes us really tough performers with endurance and flexibility.
Comments