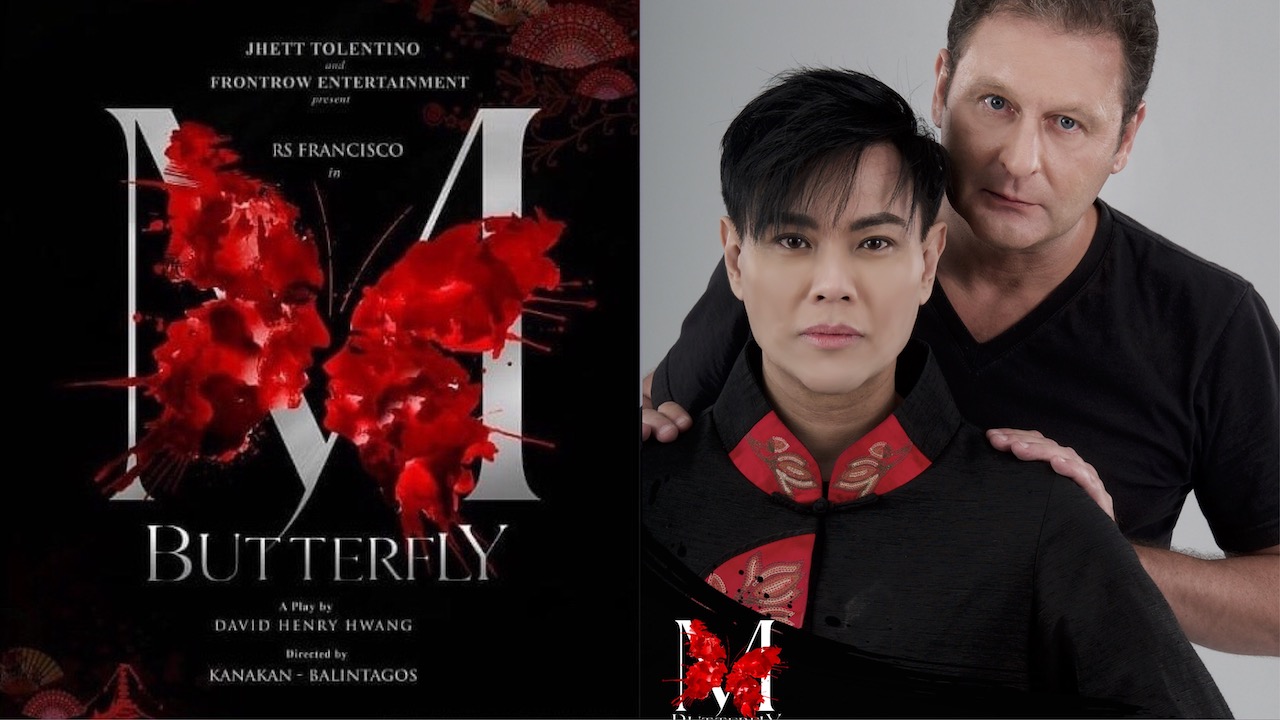 FIRST LOOK: 'M. Butterfly' Takes Flight Once Again
M. Butterfly is set to return to the Philippine stage this September. The play was first staged by Dulaang UP in 1990, and was also produced up by Repertory Philippines in the same year. Winner of Best Play at the 1988 Tony Awards, this David Henry Hwang play is loosely based on real events surrounding a 1986 French espionage trial.
M. Butterfly tells the tale of René Gallimard, a member of the French embassy in China who considers himself to be quite poor with women. He meets and falls in love with a Chinese opera singer named Song Liling, who, unbeknownst to René, is a man who performs on stage as a woman. Together they embark on a complicated and tumultuous 20 year relationship.
Along with Tony and Grammy award winning producer Jhett Tolentino, Front Row Entertainment's RS Francisco is one of the main forces behind the show's reprisal. He played the role of Song Liling in Dulaang UP's 1990 rendition when he was only 18 years old. "The character had a 20 year relationship which was older than my age at that time. I felt that I was a bit too young, naive, and clueless for the role. I did not have that much life experience then." says Francisco. "Now that I'm a little bit older, with all the experience and hardships that I've gone through, I feel like now I can layer the character of Son Liling even more."
Joining RS Francisco on stage is a diverse cast of actors, insisted on by the play's director to highlight the conflict and biases between East and West, male and female. The role of René Gallimard will be played by Olivier Borten, the first time that the role will be played by an actual French actor. René's wife, Helga, will be portrayed by Pinky Amador. Scottish actor Norm McLeod plays Manuel Toulon, the French ambassador to China.
Also joining the cast is American actor Lee O'Brian who plays Marc, René's best friend. Playing the dual role of Suzuki and Comrade Chin is Chinese-Filipino actress Rebecca Chuaunsu. Rounding out the cast is Maya Encila, who plays the role of the Danish bombshell Renee. The members of the kurogo or ensemble are John Paul Ortenero, Pheit Lena Ballug, Kay Megan Kierulf, Aira Jay Igarta, Ulysses Basa, and Rica Nepomuceno.
Director Kanakan-Balintagos is very deliberate about the themes of the story, pointing out the political mirroring between Son Liling's 20-year deception and the proliferation of revisionism in today's time. He states, "For me, it's the political aspect of the play. Since the internet is full of false news and we are in the midst of memory loss, this play is about that. Twenty years of illusion. How can one person do it? Fool someone, and we're also being fooled by the internet. It's the blurring of the lines between what's real and what's fake."
"M. Butterfly"'s artistic team includes Kanakan-Balintagos (Director), Joed Balsamo (Composer), Eric Pineda (Costume Design), Ohm David (Set Design), Jethro Joaquin (Sound Design), John Batalla (Lights), and Gery Penaso (Make-up Designer for Song Liling).
All proceeds from this re-staging of "M. Butterfly" will go to select charities and organizations such as the Love Yourself Foundation, Teach for the Philippines, the Environmental Legal Assistance Center, and a host of other advocacies.
A photography exhibit dubbed "The Chrysalis" will also be complementing the stage production of M. Butterfly. A select group of Filipino photographers namely Mandy Navasero, Wig Tysmans, Jun De Leon, Patrick Uy, Raymund Isaac, Manny Librodo, and BJ Pascual were invited to capture the character of Song Liling through their creative lens. Their photographs will be up for auction where proceeds will also be donated to their chosen charities.
M. Butterfly will run from September 13 to 30, 2018 at the Maybank Performing Arts Center in Bonifacio Global City.
Tickets are now available HERE.
Update, 8/7/18: Mayen Estanero has replaced Rebecca Chuaunsu for the role of Comrade Chin.
Comments