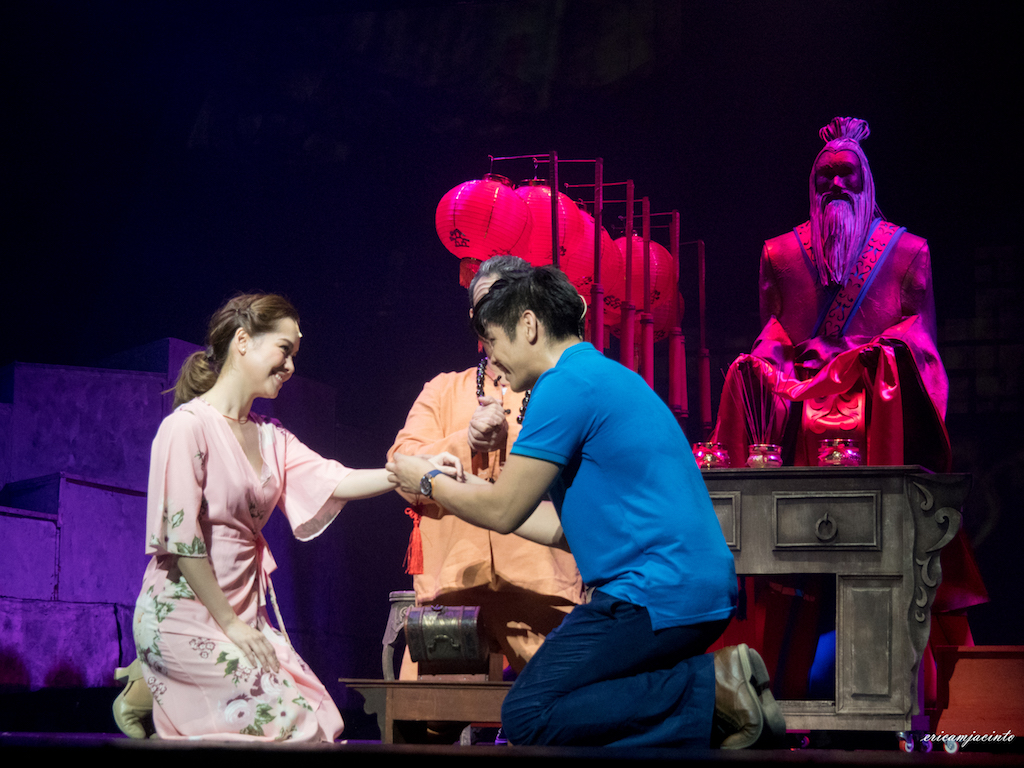 REVIEW: 'Binondo' is a Meandering Multicultural Love Story
The swell of music that begins Binondo, an original musical currently running at The Theater at Solaire, almost sounds like a promise— a rousing start to an epic story that's about to unfold. Composer Von De Guzman (also serving as Musical Director)'s music pulls you in—and keeps you in— a rich and full backbone for a story that decidedly treads shallow waters.

The story isn't even about Binondo. The eponymous Chinatown doesn't take much physical form on stage (Otto Hernandez is Production Designer and Technical Director), with a gray platform as the musical's main set piece, easily dressed up and down with lotus flower decals, the Filipino-Chinese friendship arch, projections of airplanes, and later, a giant illustration of Mao Zedong. Binondo, instead, works as a convenient symbol of Filipino-Chinese culture, as the musical is, simply, a love story between a Filipina and a Chinese man.
Ah-Tiong (Arman Ferrer), finds himself in Binondo after years of studying in America. He meets a Filipina singer, Lily (Shiela Valderrama-Martinez), and it was instant attraction. They meet again at a bar, where he saves Lily after forgetting the lyrics to quintessential Chinese love song, "The Moon Represents My Heart". There's some half-hearted comedy about their language barrier that the writers (Ricky Lee is Playwright with Gershom Chua, and Eljay Deldoc) give up on mid-scene, prompting a member of the fantastical chorus (this musical has a chorus a la Greek tragedy) to deus ex machina Ah-Tiong's inability to speak Tagalog.

Lily's mother (Ima Castro, injecting emotion to the largely prosaic performances) is immediately untrusting of the Chinese man and urges her daughter not to see Ah-Tiong again. Playing the part of dutiful Filipina daughter, Lily obeys until she runs into Ah-Tiong again. Endless expendable love songs are sung without adding clarity to why Lily and Ah-Tiong are so in love in the first place other than Lily telling her cousin Lourdes (Jennifer Villegas-Dela Cruz) that Ah-Tiong reminds her of her father.
The two develop a whirlwind romance whose timeline puts Romeo & Juliet to shame. Ah-Tiong and Lily's story is Shakesperean in a way, complete with disapproving parents and a covert tryst. In Binondo, it was at a motel, complete with a blunt 'motel' sign that elicited laughter, with dancers at centerstage performing stylized lovemaking (Choreographer is Douglas Nierras).

There are also jilted lovers to contend with, as stories of this sort often do. There is Carlo (transcendent Noel Rayos does so much with so little), Lily's lifelong best friend whose loyalty and love was so unconditional, it bordered on martyrdom, and excessively naive Jasmine (Mariella Laurel), betrothed to Ah-Tiong. Their characters may be the most unique thing about the show, unrequited lovers who provide nary an air of conflict but instead enable the plot's central couple to see their story through. Not even disapproving parents nor incompatible cultures give them significant push-back, with communist China and Ah-Tiong's inability to return the true tragedy of their story.

There are also some scenes alluding to Martial Law, treated almost as a necessary evil to stage because the story was set in the 70s. It had little impact to the central plot and only padded an already bloated musical with a couple of nationalistic songs. Joel Lamangan's direction feels indulgent—of Lee's jam-packed libretto, Nierras' plentiful dance numbers, and the plot's blatant soapiness. They do make for big and busy scenes, and at best distract from nearly perfunctory performances, especially from Ferrer whose Ah-Tiong was largely stoic, even during scenes of great emotion.

Valderrama-Martinez's Lily was delicate and impressionable, written as a woman who needed to be saved by a man—from forgetting words to a song, to unexpected turns of fate. She was at her most defiant when turning down her best friend who, incidentally, was only ever decent. Even that rejection doesn't stick, and that delicateness turns into physical fragility in the end. Her chemistry with Ferrer left much to be desired, too.
Rayos, whose character can easily go in the way of unwanted advances, performed his damnest as a man who truly wanted nothing more but the best for his best friend. He started out as second fiddle for Lily's heart, and even provided some comic relief, but in the end, you see the edge of profound pain in him that he had never been loved back, even if he got the girl in the end.

The love story in Binondo is from real-life according to producer Rebecca Chuaunsu, and it is 'a journey of great love and heartbreak' for real people to go through in real life; but distilled to a musical attempting commercial appeal? It feels inflated, with dated sensibilities and soap opera tendencies that's been done and seen before.
Comments