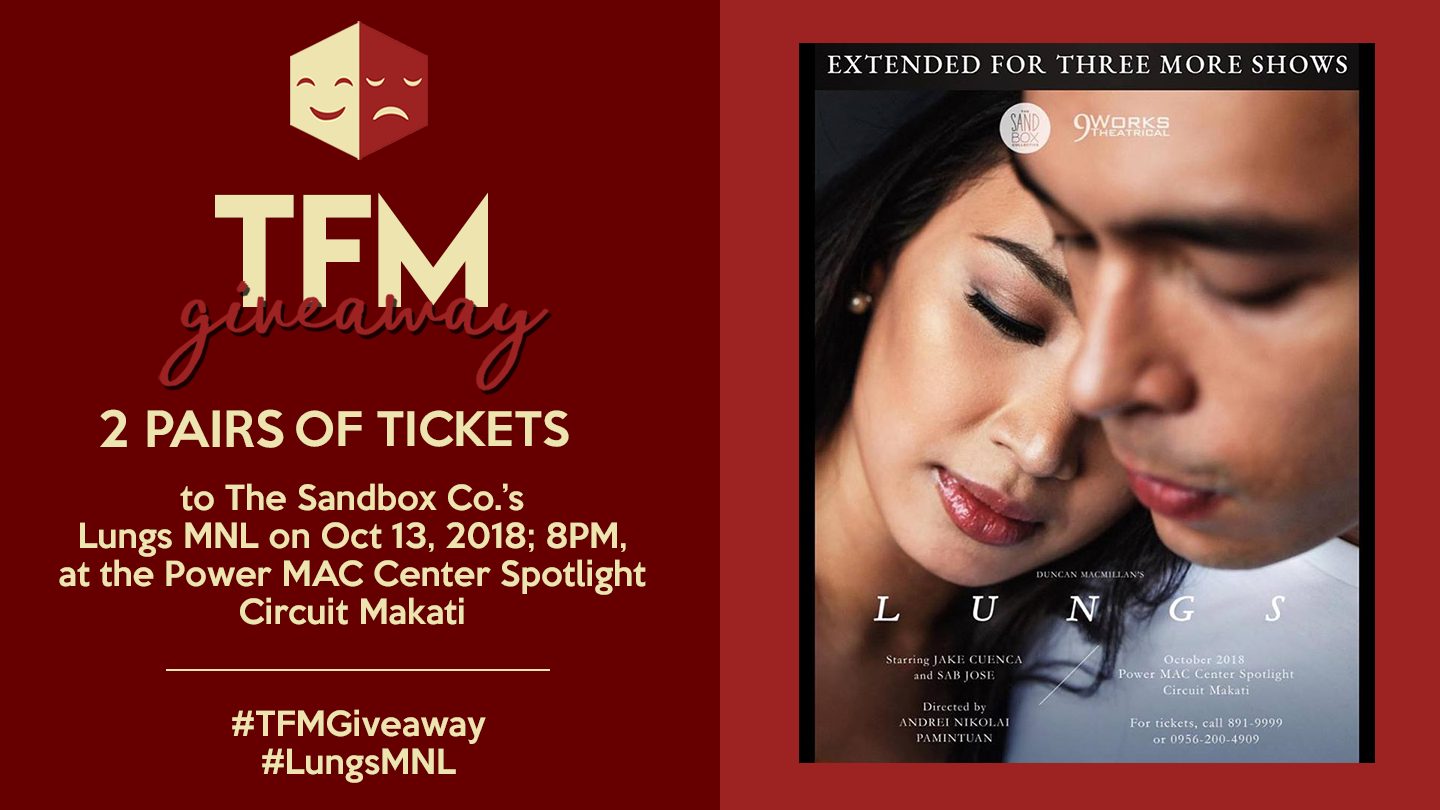 #TFMGiveaway: The Sandbox Collective's 'Lungs'
Due to popular demand, The Sandbox Collective is extending its production of 'Lungs' for one final weekend!
We're happy to announce that we'll be giving away 2 PAIRS OF TICKETS for the October 13, 8pm show at the Power Mac Center Spotlight in Circuit Makati.
READ: Jake Cuenca Makes Theatrical Debut with Sab Jose in 'Lungs'
Duncan Macmillan's 'Lungs' is a two-person, one-act play about a couple who engages with questions about babies, love, sex, betrayal, and change in one unbroken conversation that spans decades. The 90-minute play stars Film and TV actor Jake Cuenca, who makes his theatrical debut, and musical theater actress Sab Jose.
Review: Sustainable conversations in 'Lungs'
Here's what you need to do:
1. Share a photo with you and your date on Instagram stories and share why you think going to the theater is a fun date night idea.
2. Don't forget to tag @theaterfansmnl (so we can see them!), @thesandboxco, and include these hashtags: #TFMGiveaway, #LungsMNL.
3. Make sure you and your date are following us on Instagram and one other social media platform: Youtube, Facebook, or Twitter. (You can find us at theaterfansmnl on any of these platforms.)
4. Once you've posted your entry, send us a direct message on Instagram with the following:
a. Screenshot of your entry
b. Contact number
c. Email address (this subscribes you to our awesome newsletter!)
It's that easy!
You can submit​ ​your​ ​entries​ ​until​ October 10, 3pm​. Team TFM will be choosing the winners and we'll announce the lucky theater fans on October 10, 4pm on Instagram! Break a leg!
Comments