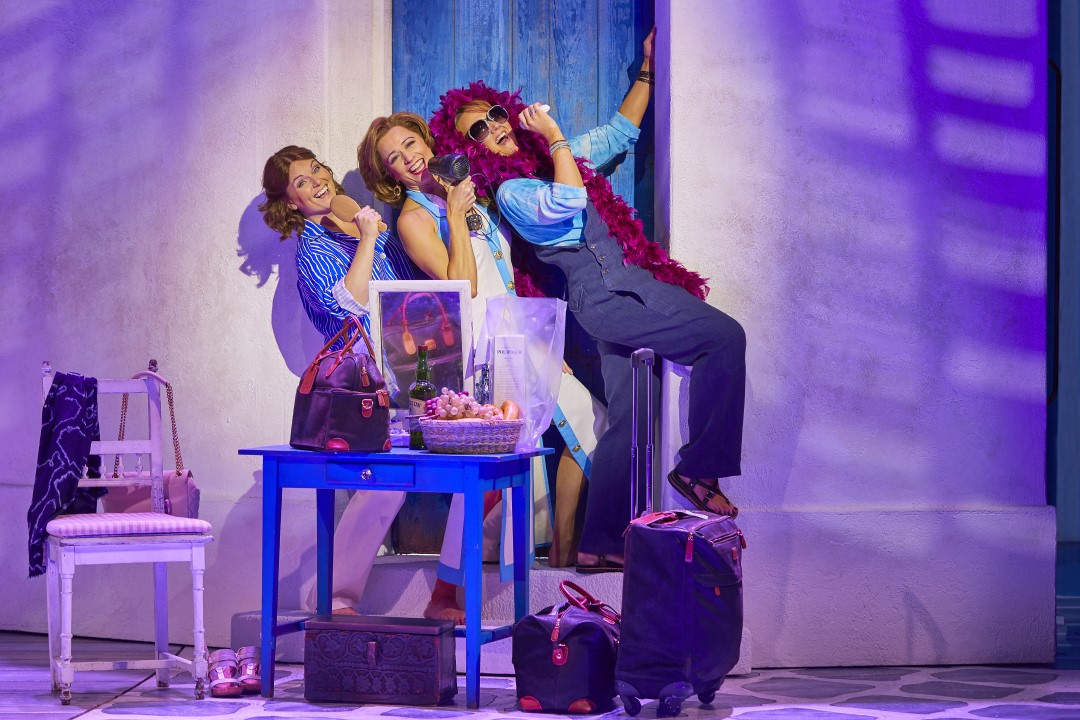 REVIEW: "Mamma Mia" is quite irresistible
Time has not changed the pure entertainment of "Mamma Mia". It's been nearly twenty years since the show's West End beginnings, six since the last time it toured Manila, and the material has aged fairly well, offering a happy escape into a riot of a romcom and the comfortable familiarity of ABBA's music.
Sometimes you just want to feel good, and this is the eternal promise of this Benny Andersson and Bjorn Ulvaeus musical. This time, the international production–directed by Phyllida Lloyd–that has dropped anchor at The Theater at Solaire delivers exactly that, with a strong leading cast (headlined by an enjoyable Shona White as Donna), ace musicality, and a compact set (Mark Thompson is production designer) that transports audiences into an island in Greece.
The plot lends itself to ABBA's disco-pop vibrance with Sophie Sheridan inviting three men to her wedding hoping that one of them might be her father. It quickly becomes a reunion rife with endless comedic possibilities, with a wedding about to take place, and a harried mother of the bride suddenly faced with ex-boyfriends of summers past.
As far as jukebox musicals go, it's the rare one where the songs seem to flow into each other with velvet-smooth transitions. There's commitment to be nothing but entertaining, a family-friendly fare that may not invite thought, but encourages its viewers to feel the emotions, the hilarity, and more importantly, the music.
The set is gradient blue, with a single white and blue set piece that unravels or comes together to show Santorini aesthetics, add beach-chic fashion and the show doesn't need much to set itself in an idyllic summer holiday. What it lacks in overt bombast, it makes up for with a dynamic ensemble (and disco fever get-ups donned by the Dynamos).
The cast has a comedic rapport that keeps to the nature of the show's unburdened cheerfulness. White, especially, was enjoyable to watch with Lucy May Barker who plays her daughter, Sophie, and Tamlyn Henderson, who play Sam Charmichael but bring satisfying emotions to the more serious and affecting moments of the show. A particularly enjoyable number was "Does Your Mother Know" performed by Matt Jordan-Pidgeon as Pepper and Helen Anker as Tanya. The stage especially comes alive with big ensemble dance numbers (choreography by Anthony Van Laast), like "Under Attack" and of course the show's iconic encores.
"Mamma Mia" doesn't want to change your life, it just wants to make it a little better for a little while. If you haven't seen it, go. If you have, what the heck, go again.
Comments