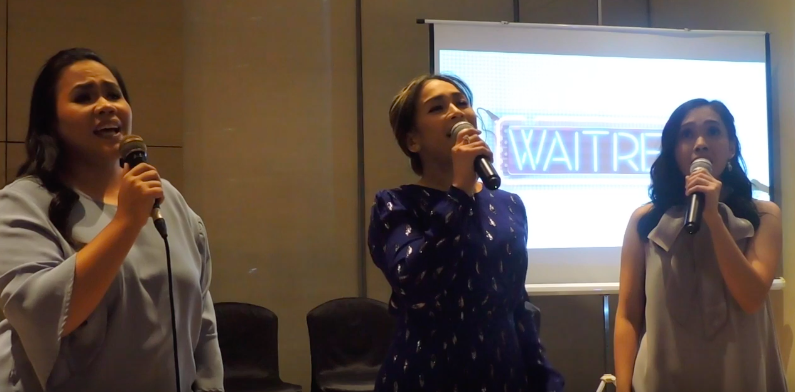 FIRST LOOK: Waitress Cast Performs 'You Matter to Me', 'A Soft Place to Land'
During the press conference held at Discovery Suites yesterday, the cast of Atlantis Theatrical's Waitress performed a few excerpts from the show. Joanna Ampil (Jenna Hunterson) and Bibo Reyes (Dr. Pomatter) sang, 'You Matter to Me', while Ampil, Bituin Escalante (Becky), and Maronne Cruz (Dawn) sang 'A Soft Place to Land'.
Talking about the show being the first one to be mounted internationally outside the US, Ampil said, "It is a completely different production compared to the Broadway one. It's a newly created production, and it's quite beautiful. Reyes adds, "If you think you know the show, and you feel like you'll feel the same in our staging, it will definitely be different. It's a fresh, new take on the show."
Featuring the music and lyrics of Sara Bareilles, Waitress tells the story of pie maker Jenna who, despite the mundanity of her life, finds comfort and reckoning in the simple magic of baking. With the help of her two friends Dawn and Becky, she dreams of a way out of her loveless marriage and musters the courage to change her life for the better.
"It's really nice that we get to tell more stories about female empowerment in this country, where the dialogue needs to be pushed a lot further," says Cruz. "The show shows women empowerment through the power of sisterhood. These women find strength not just by coming to terms with their own issues, but they also gain their strength from their friends."
She adds, "These women support each other wholeheartedly, no matter what their circumstances are, and I think that's an extremely empowering part of the show."
Escalante says, "It just has a way of growing on you. You think you like this song, and after a while, you're in a different mindset, and this [song] speaks to you. It's amazing how [Bareilles] has written these songs that just hit."
Nino Alejandro, who plays Dawn's love interest Ogie, also adds, "The story that the lyrics tell are so hard-hitting deep, and they really, really tug at your heartstrings."
Other members of the cast include George Schulze as Earl, Dean Rosen as Cal, Steven Conde as Joe. Also part of the cast are Luigi Quesada, Gerhard Krysstopher, Luis Marcelo, Emeline Celis Guinid, Teetin Villanueva, Sarah Facuri, and Jillian Ita-as.
The show is directed by Bobby Garcia. Other members of the creative team include Cecile Martinez (choreography), David Gallo (set design), Aaron Porter (lighting design), Farley Asuncion (musical direction), Raven Ong (costume design), Josh Millican (sound design), Johann dela Fuente (hair and make-up design), and Manman Angsico (vocal coaching).
The show will run from November 9 to December 2 at the Carlos P. Romulo Auditorium, RCBC Plaza, Makati.
You can watch excerpts from the performances below!
You can also find Ampil singing an excerpt of ''She Used to be Mine', the musical's 11 o'clock number, at a previous press conference held last August in our video below.

You can buy tickets HERE.
Comments