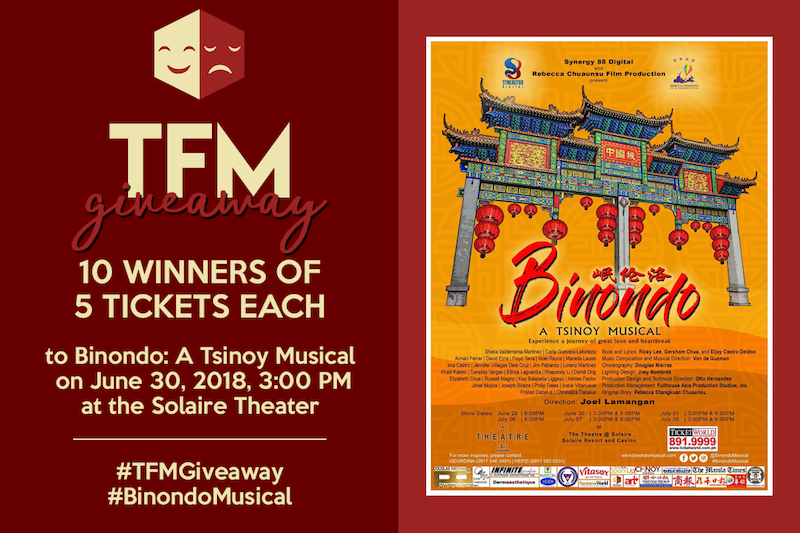 #TFMGiveaway: Binondo, A Tsinoy Musical
Take your family/ barkada to the newest original musical in town!
Synergy 88 Digital and Rebecca Chuaunsu Film Productions are staging Binondo: A Tsinoy Musical running until July 8 at The Theatre Solaire and we're giving away 5 TICKETS to 10 LUCKY WINNERS to the June 30, 3pm show!
WATCH: 'Binondo, A Tsinoy Musical' is a first of its kind
Here's what you need to do:
1. Make sure you're following us Facebook and one other social media platform: Youtube, Instagram, or Twitter. (You can find us at theaterfansmnl on any of these platforms.)
2. Share this post on your Facebook wall and tag 4 family members or friends you want to take to Binondo: A Tsinoy Musical. In the post, tell us why watching this show is the best way to spend your Saturday.
3. Don't forget to set​ ​your​ ​post​ ​to​ ​public​ (so we can see them!), tag us, and include these hashtags: #TFMGiveaway, #BinondoMusical.
4. Once you've posted your entry, message​ ​us​ ​on​ ​Facebook​ with the
following:
a. Link to your entry
b. Contact number
c. Email address (this subscribes you to our awesome newsletter!)
It's that easy!
You can submit​ ​your​ ​entries​ ​until​ June 24, 8pm​. Team TFM will be choosing the winners and we'll announce the lucky theater fans on June 24, 9pm on our Facebook page!
Comments