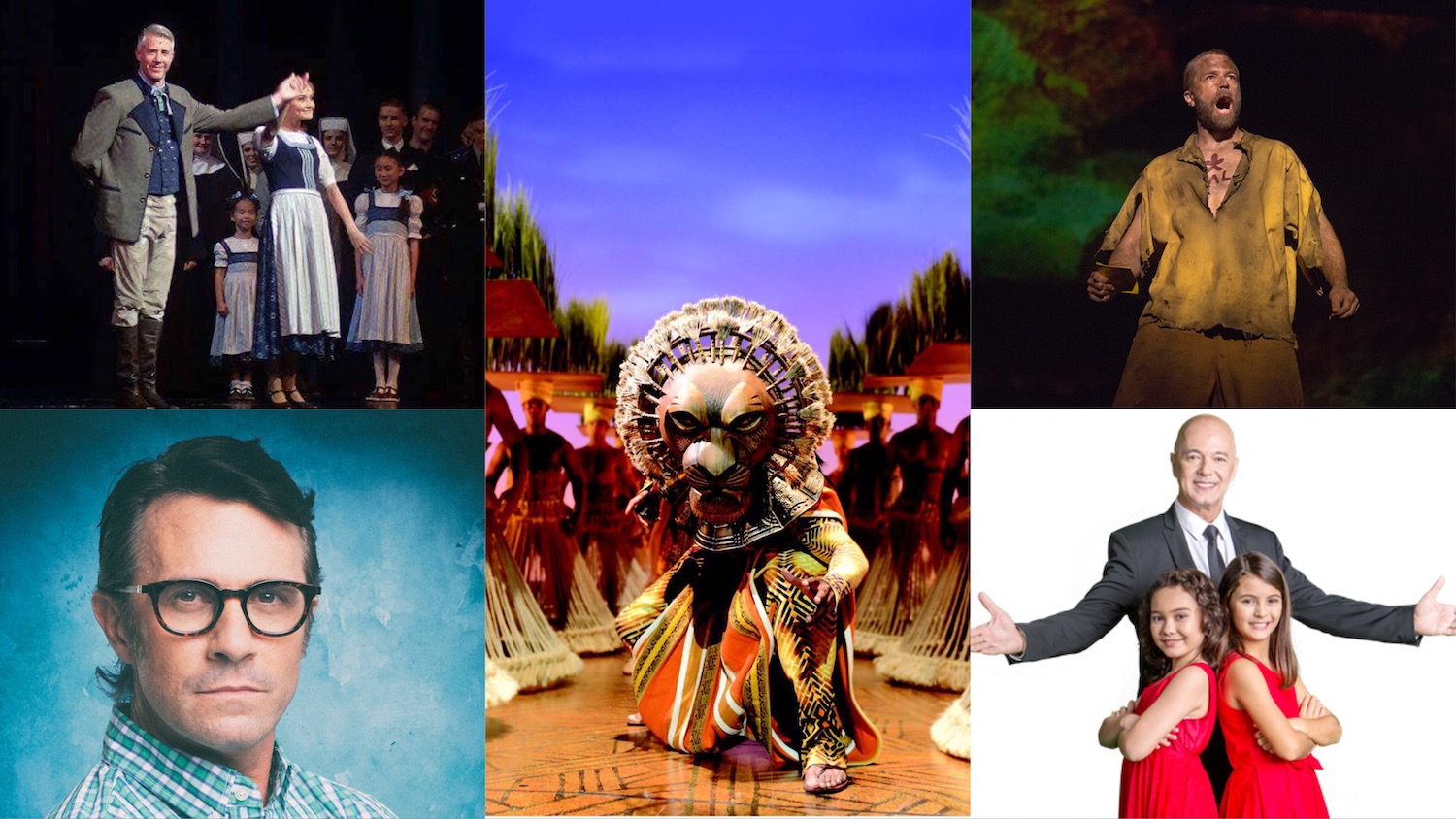 9 Famous Fathers from Iconic Stage Musicals
Fathers don't come in just one size or shape. Fathers are brave. Fathers are mysterious. Fathers are brooding. Fathers are kind, caring, as thoughtful as can be. Fathers are terrified. Fathers are terrifying. Fathers are a solace. Fathers have different faces, but like anyone else, fathers are people—and people love.
This Fathers' Day, we have come up with nine different fathers, nine different ways the stage portrays Father, Daddy, Dad, Papa—whichever way you call him—and how they relate to their own children, and to us.
1. Bruce Bechdel (Fun Home)
Fun Home, the musical based on Alison Bechdel's award-winning graphic memoir, is more than just a recollection of bits and pieces from Alison's past. It's an in-depth exploration of her sexuality and her strained relationship with her gay father. All throughout her childhood, her father had tried to stifle every ounce of masculinity she had in her. So when she comes out to her parents in college, she's angered at how her father just seems unfazed. Disappointed at her father's response, she calls home only to have her mother reveal to her that her father was a closeted gay man. In the heart wrenching 'Telephone Wire', Bruce takes Alison on a final ride through town, where they both struggle to express themselves to each other.
2. Mufasa (Lion King)
This iconic Disney adaptation of a Shakespearean classic tells the story of Mufasa, king of the Pride Lands, and his son, Simba, a young cub and rightful heir to the throne. Despite always running amok and being unruly, Simba always has his father's back—until the very end, when Mufasa saved him from near death amidst a wildebeest stampede. Feeling responsible for his father's death, Simba ultimately flees the Pride Lands. Not until the adult Simba meets Rafiki does he take back the throne from Mufasa's envious brother Scar, upon realizing that his loving father lives on forever in him.
3. Jean Valjean (Les Miserables)
In this Boublil-Schönberg adaptation of the famous Victor Hugo novel of the same name, Jean Valjean, a paroled convict, assumes a new identity as mayor of Montreuil-sur-Mer and wealthy factory owner. When he sees the delirious Fantine—a worker who was fired from his factory by his lustful foreman—perish, he vows to protect her daughter Cosette at all costs. Despite not being blood related, Valjean raises the young Cosette, fleeing from place to place to escape the policeman Javert. Realizing that he cannot keep on fleeing with Cosette forever, he joins the uprising in hopes of protecting Marius Pontmercy, Cosette's lover, for her future sake.

4. Marvin (Falsettos)

In his attempt to incorporate his boyfriend Whizzer into his family's dynamic, Marvin places undue stress on his wife Trina whom he had just left, on his son Jason, and even on Whizzer himself. As Marvin and Whizzer struggle over their differences, Trina finds solace in Mendel, Marvin's psychiatrist. With his relationship with both Trina and Whizzer in shambles, he does everything to save his relationship with his son Jason, highlighted by a touching finale to Act One, 'Father to Son'.

5. Tevye (Fiddler on the Roof)
Fiddler on the Roof is the story of Tevye, an impoverished Jewish milkman in a small Russian village Anatevka, and his five daughters. Amidst an imminent revolution in Tsarist Russia, he and his wife Golde adhere to age-old traditions by attempting to marry off three of their daughters to men who were relatively well-off. But when two of his daughters decide to break tradition by wanting to marry for love, to a poor tailor and to a Bolshevik revolutionary, Tevye has no choice but to accept his daughters' choices. "Love," he tells Golde, "it's the new style." When another one of her daughters wants to marry for love again, to a non-Jewish man this time, Tevye draws a line and refuses to acknowledge her daughter and the marriage at all. Despite having disowned her daughter, Tevye sends a "God be with you" to her through his wife Golde, before their family finally part ways.

6. Oliver Warbucks (Annie)

Though initially apprehensive with the idea of Annie staying over at his mansion for the holidays, billionaire Oliver Warbucks eventually warms up to the ever-cheerful girl and her infectious optimism. When Annie said that meeting her parents was what she wanted, Mr. Warbucks even offered reward money for her parents to finally come forward. However, after learning that Annie's parents had died a long time ago when she was still a baby, Annie finds herself officially adopted by a loving Mr. Warbucks. Little Orphan Annie may have never met her real parents, but she sure found a caring father in Oliver Warbucks.
7. Captain von Trapp (The Sound of Music)
Ever since the death of his wife, Captain von Trapp had been raising his children in a highly authoritative yet detached manner, void of the play and merriment commonly associated with childhood. But upon the arrival of Maria Rainer, the once cold and stoic captain goes from summoning the children witha boatswain's call one moment to singing along with them the next. He's no perfect fatherly figure, but he ultimately chooses his family in fleeing to the Alps, over a commission in the German Navy.

8. Maurice (Beauty and the Beast)
Maurice, Belle's eccentric inventor of a father, is textbook example of a father's unconditional love for his child. "No matter what they say, you make me proud," he sings to Belle, when the latter notices that the village thinks she's different. When his daughter is taken hostage by the Beast, he seeks the help of the villagers despite all the ridicule he's bound to receive. And when his daughter reveals to him and the entire village that the Beast is not the monster they made him out to be, he rushes, alongside Belle, to warn the Beast about the incoming lynch mob. "No matter what, I'm on your side," he sings in an earlier song—which rang true until the very end.

9. Jackie Elliot (Billy Elliot the Musical)
When he discovers that Billy had been taking ballet instead of boxing lessons, Jackie Elliot is nothing but upset. His machismo gets into his head, getting him into a heated argument with Mrs. Wilkinson, Billy's ballet teacher—much to Billy's dismay and anger. Months later, he sees Billy dance all alone after the miners' annual Christmas show; awash with emotion, his first instinct was to seek Mrs. Wilkinson's help regarding Billy's future in dance. In the end, the father who once couldn't think of any other future for his children except mining, accompanies Billy himself to audition at the Royal Ballet School in London.
Comments