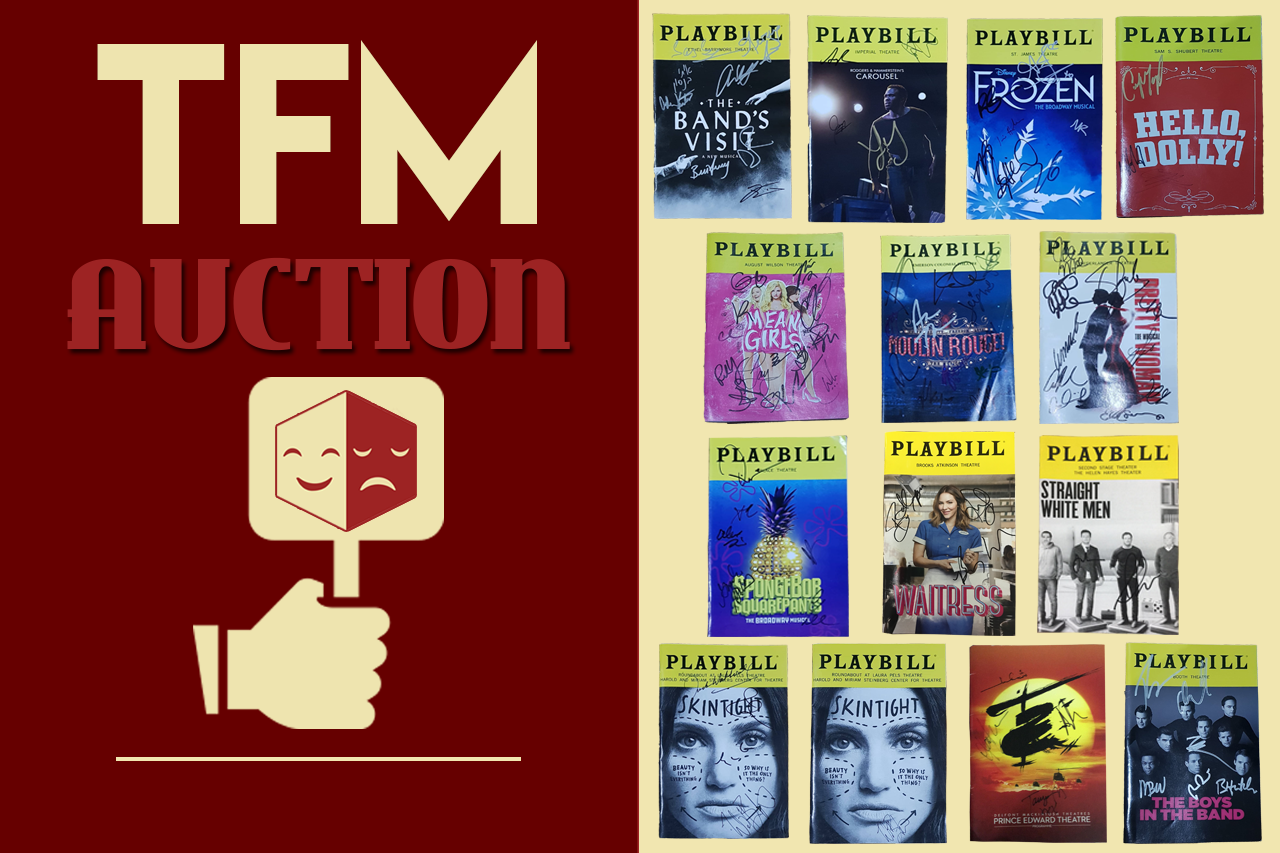 #TFMAuction: Signed, Sealed, Delivered!
Greetings theater fans! This month, we're holding a special auction for some of the freshest shows running on and off Broadway and the West End today!
You can join our auction by heading over to our Instagram (@theaterfansmnl) account. The playbills, all signed by members of the cast, will begin with an initial bid of P750. We will be auctioning off 14 playbills all together from tomorrow, August 17, 12nn until August 19, 9pm.
These are the playbills that are being auctioned off:
1. Boys in the Band- signed by Matt Bomer, Andrew Rannells, Robin de Jesus, Brian Hutchison, Michael Benjamin Washington, Tuc Watkins
2. Mean Girls- signed by Taylor Louderman, Grey Henson, Kate Rockwell, Ashley Park, Cheech Manohar, Kyle Selig, Kerry Butler
3. Hello Dolly- signed by Charlie Stemp, Melanie Moore
4. Spongebob Squarepants the Broadway Musical- signed by Gavin Lee, Vasthy Mompoint, and the company
5. Straight White Men- signed by Armie Hammer and Josh Charles
6. Skintight- signed by Idina Menzel, Jack Wetherall, Will Brittain, Eli Gelb
7. Skintight- signed by Will Brittain
8. Frozen- signed by Robert Creighton, Mimi Ryder, Timothy Hughes, Greg Hildreth, Aisha Jackson
9. Carousel- signed by Renee Fleming, Lindsay Mendez, Amar Ramasar, Jess LeProtto
10. Pretty Woman- signed by Andy Karl, Samantha Barks, Orfeh, Eric Anderson, and company
11. Moulin Rouge the Musical- signed by Aaron Tveit, Karen Olivo, Tam Mutu, and company
12. The Band's Visit- siigned by Sasson Gabay, Ari'el Stachel, Kristen Sieh, James Rana, Etai Benson, Adam Kantor, George Abud, Bill Army
13. Waitress- signed by Drew Gehling, Ben Thompson, Benny Elledge
14. Miss Saigon (West End)- signed by Tanya Manalang, Hugh Maynard, Chuck Marbella
All proceeds will go towards funding TFM operations.
Important notes:
Before bidding, please read our Terms and conditions:
a. Bid by stating the price you are willing to pay in the comments. Initial bid will begin at P750.
b. Bids should be in increments of 50 pesos minimum (can be higher).
c. We will notify the highest bidder through a comment under their winning bid. Payment and other logistical concerns will be discussed with the winner through private messaging.
d. The highest bidder must make the donation within three (3) business days. If we do not receive the confirmation over the stated time, we will be contacting the next highest bidder.
2. Shipping costs are not yet included. (P40 for Metro Manila and P150 for provincial)
Comments