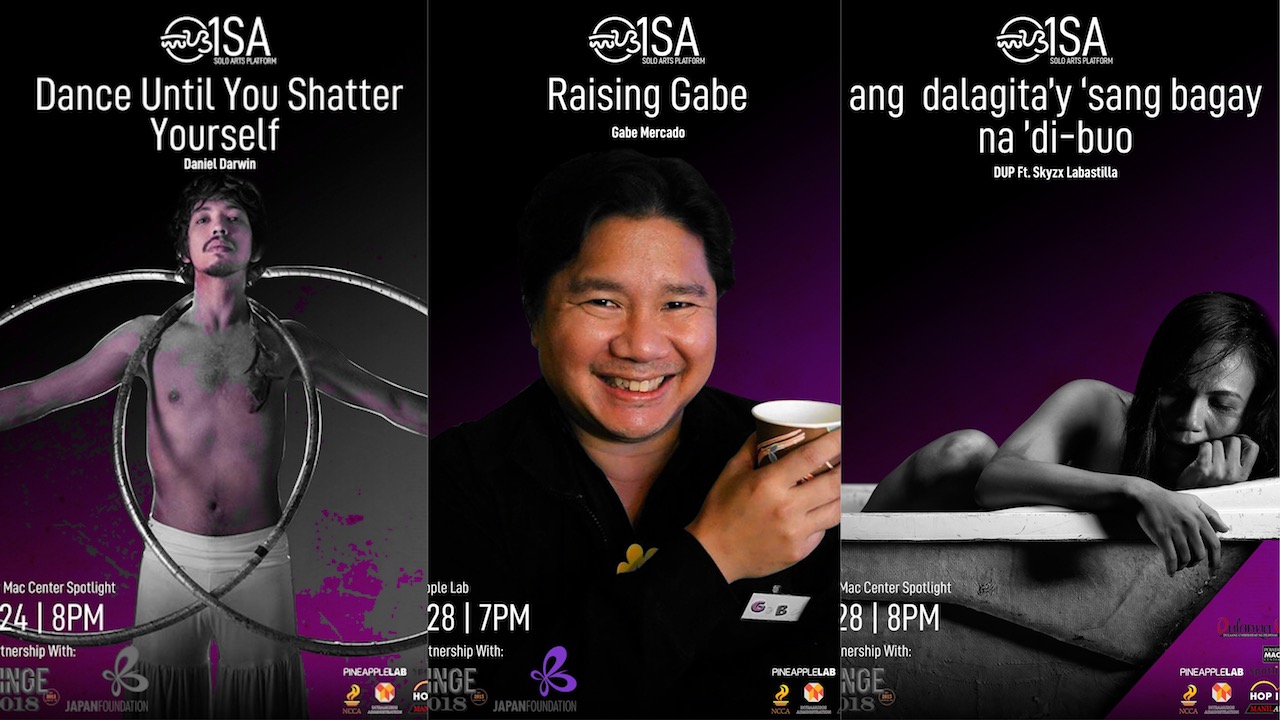 Solo Performers Take Center Stage in 1SA
Fringe Manila, in partnership with The Japan Foundation, is set to stage 1SA – Solo Arts Platform, a week-long festival that celebrates solo artists.
The chosen performers will be presenting their works on the Philippine stage in this year's Museums and Galleries Month. In its premiere year, 1SA serves as an avenue for solo performers and artists to engage with local communities.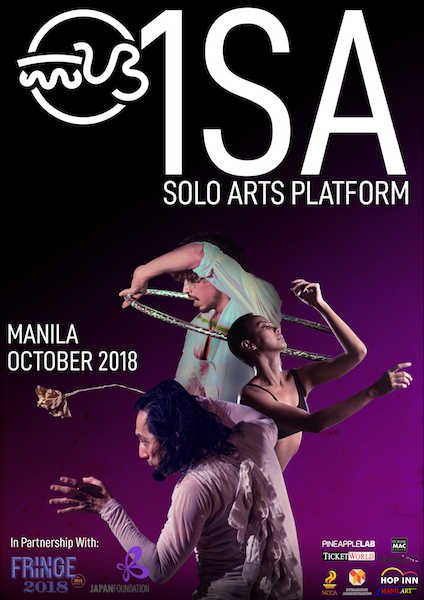 1SA Creative Director Andrei Nikolai Pamintuan, previously a participant of The Japan Foundation Asia Center's Next Generation Producing Performing Arts Program says, "1SA gives access to solo works that enable artists to convey the realities they are confronting through their chosen medium of artistic expression. Through this project, we work to push for the increased visibility of emerging artists, new genres, and evolving traditions in contemporary arts."
1SA will run from October 20-28 at the Pineapple Lab and at the Power Mac Center Spotlight Theater. The performances and activities are as follows:
October 20, Saturday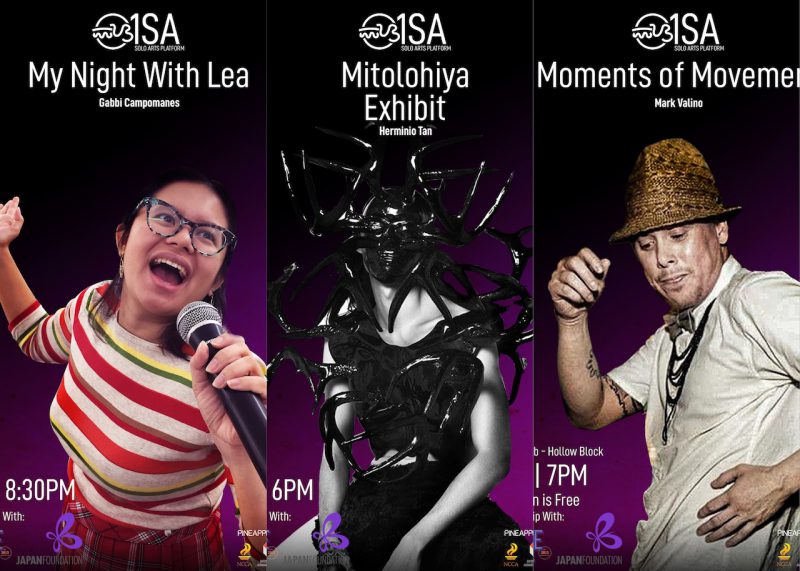 1. Mitolohiya 2018 (Sculpture) by Herminio Tan, Jr.- opens at 6pm at Pineapple Lab
Tickets: Free admission
Herminio C. Tan Jr.'s sculpture exhibit depicts mythological creatures and modern Filipinos alike experience the daily horrors of contemporary urban life. An analogy and satire of our current ways of living as a developing country, Mitolohiya 2018 is a glimpse into an alternate reality where the creatures and beings from Filipino Mythology coexist with us and share in the same sentiments and woes of the modern day Filipino.
Drawing inspiration from the graphic novel Trese by Budjette Tan and Kajo Baldisimo and the animated series Adventure Time, Mitolohiya 2018 is a ten-piece sculpture exhibit molded in clay and cast in fiberglass and resin, painted in acrylic gloss.
Works will be available for viewing starting October 20, 2018 to November 4, 2018 at Pineapple Lab Gallery at 6053 R. Palma Street, Barangay Poblacion, Makati City. Operating hours are 11am to 6pm from Tuesdays through Sundays.
2. Moments of Movement (Moving Image Exhibit) by Mark Valino- 7pm at Pineapple Lab, HollowBlock
Tickets: Free admission
This freestyle dance video series of is about trying to capture that perfect moment between dancer, filmmaker, and surroundings as they connect through music. These one-of-a-kind interpretations are a form of self-expression for both dancer and filmmaker who both react to the music and each other. Often shot and completed within three hours, the artists meet, choose a song, then begin filming. This series explores the collaboration and expression of 3 different mediums, of dance, music, and cinematography, as well as exploring the universal language of music.
3. My Night with Lea (One-Woman Show, Musical) by Gabbi Campomanes- 8:30pm at Pineapple Lab
TICKETS: P300; Reserve your tickets here
An unauthorized, completely fictional account of a debauched evening with the foremost figure in Philippine musical theatre, My Night with Lea revels in and examines one young lady's love and obsession with Lea and the magic of BROADWAY!
October 23, Tuesday
4. About Kazuo Ohno: Reliving the Butoh Diva's Masterpieces (Performance) by Takao Kawaguchi- 8pm at Power Mac Center Spotlight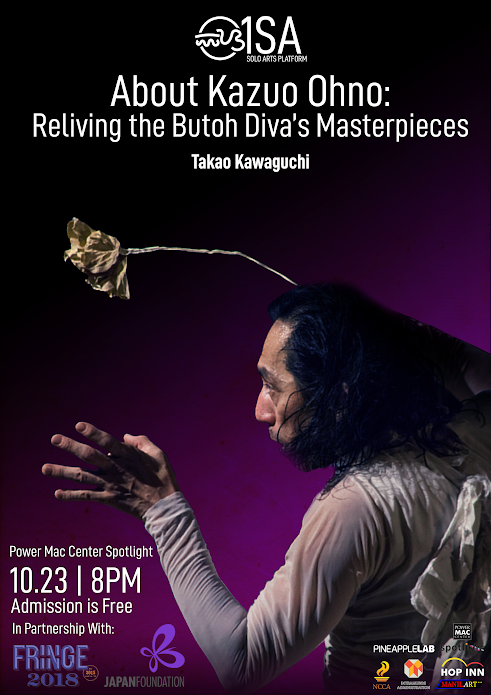 TICKETS: Reserve a free seat here
In this performance entitled "About Kazuo Ohno" which caused controversy within Tokyo's dance community, Takao Kawaguchi set out to perform the task of literally "copying" the dance of the butoh master Kazuo Ohno from video recordings of the premiere performances of Ohno's early masterpieces including "Admiring La Argentina" (1977), "My Mother" (1981), and "Dead Sea, Ghost, Wienerwaltz" (1985). The viewer layers their memory of Kazuo Ohno onto Takao's body, and for those unfamiliar with Ohno's dances, their imagination of it. The multiple images of Ohno and Takao merge, surface and recede. "About Kazuo Ohno" is, in a sense, a duet Takao dances with the illusory image of Kazuo Ohno.
October 24, Wednesday
5. Dance Until You Shatter Yourself (Performance) by Daniel Darwin- 8pm at Power Mac Center Spotlight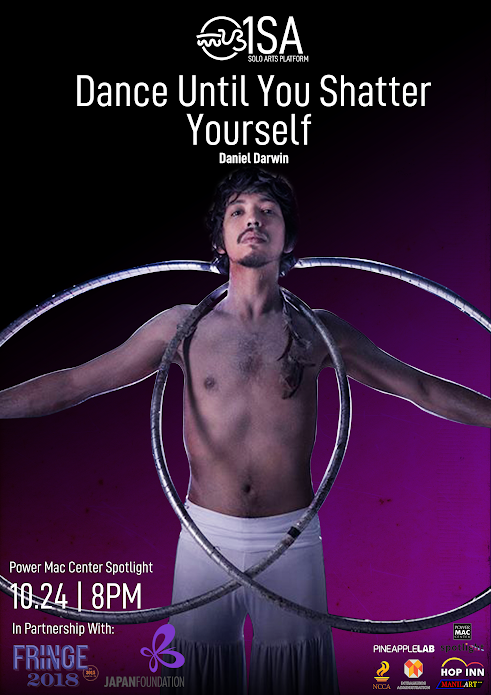 TICKETS: P300; You can buy your tickets here 
Dance Until You Shatter Yourself is a one-man, 75-minute endurance piece that explores the fragile nature of identity through a series of poems, songs, immersive projections, and a practice called sustained spinning inspired by the whirling dervishes of Sufism. One body, in a circular playing space, commits to a continuous spin that shifts in pace, color, expression, and intensity throughout a schematic breakdown of four aspects of the human experience: the emotional [water], the creative [fire], the spiritual [air], and the material [earth]. Through an activated sound and visual landscape, the dancer's body is put into dialogue with these four elements, and his dance brings him to new heights of exhaustion, fervor, climax, and release as he spins continuously on. Dance Until You Shatter Yourself is a collaboration between Daniel Darwin, Perky Parong, Aimee V. Reyes, and GA Fallarme.
October 26, Friday
6. Brown Madonna (Dance) by Ea Torrado- 8pm at Power Mac Center Spotlight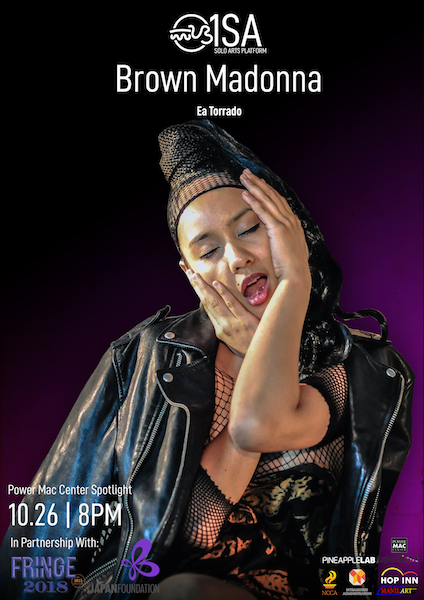 TICKETS: P 300; You can buy tickets here
Brown Madonna is a devised dance theatre piece that investigates the complexity and elusiveness of identity as it interweaves personal and cultural narratives. Set at a music concert, contemporary dance artist Ea Torrado attempts to make sense of her personal experiences and history through the songs of famous pop icon, Madonna. Building the performance up from the artist's diaries, associated research and interviews, Brown Madonna explores creating an existential panorama through a personhood complicated by beauty standards, religion, ambition, and growing up in a culture that equates a woman's worthiness with being a wife and mother.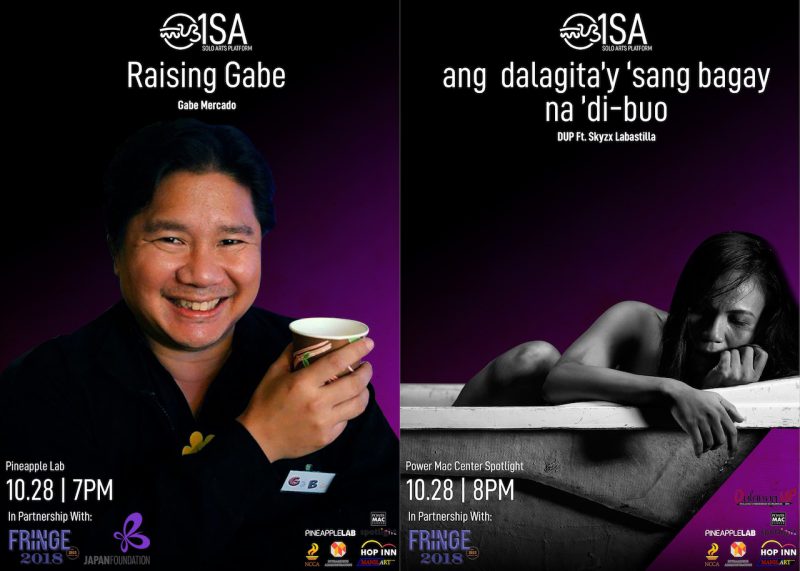 October 27, Saturday
7. ang dalagita'y 'sang bagay na di-buo by Dulaang UP featuring Skyzx Labastilla- 8pm at Power Mac Center Spotlight
TICKETS: P800 You can buy tickets here 
1 woman. 20 characters.
Based on Eimear McBride's haunting novel and Annie Ryan's stage adaptation, A Girl is a Half-Formed Thing tells, in fragmented, poetic, and partly ambiguous language, the tragic life of a Girl, who has been repeatedly abused by her uncle, who loses her beloved brother, grapples with the wicked religiosity of her mother, and increasingly finds herself in that corner of her life where no option is left. A harrowing piece that lays bare in no delicate terms, the appalling iniquity of sexual abuse and power.
October 28, Sunday
8. Raising Gabe (Performance Memoir) by Gabe Mercado- 7pm at Pineapple Lab
TICKETS: P300; You can buy tickets here
What is dating like in middle age? What is being a solo parent of a teen like? What is going on inside the mind of a sungit tito? Raising Gabe is a coming-of-middle-age performance memoir – at times funny, often poignant and unflinchingly honest.
Combining elements of improvisation, storytelling and music, this forty-five-minute autobiographical show details the struggles and triumphs of a single man raising a son on his own in the Philippines.
9. ang dalagita'y 'sang bagay na di-buo by Dulaang UP featuring Skyzx Labastilla- 8pm at Power Mac Center Spotlight
TICKETS: P800 You can buy tickets here 
Comments