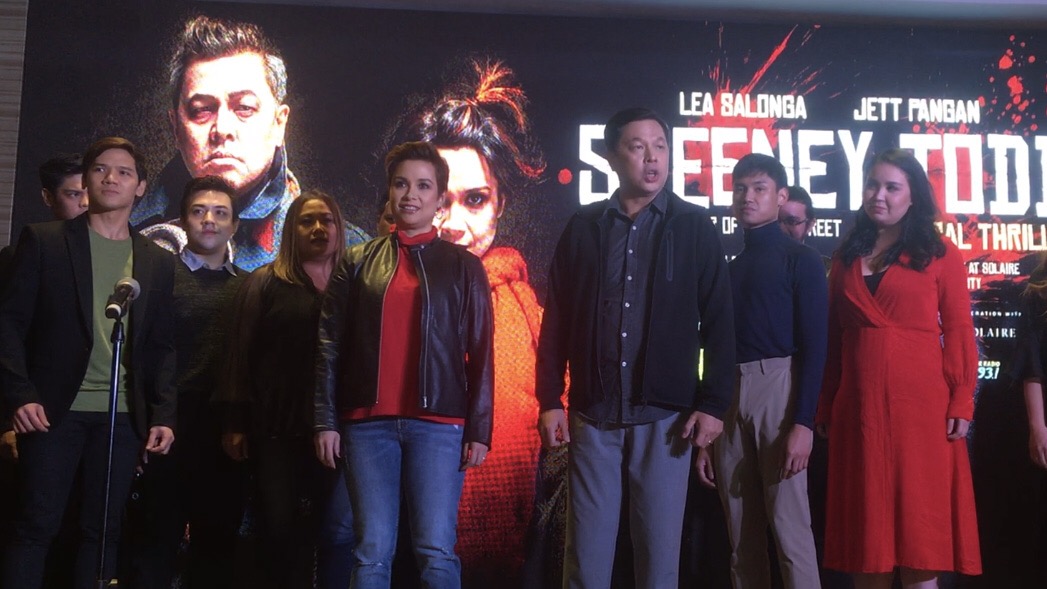 SNEAK PEEK: Lea Salonga and Sweeney Todd Cast Perform "Not While I'm Around", "The Ballad of Sweeney Todd"
Stephen Sondheim and Hugh Wheeler's "Sweeney Todd" celebrates its 40th anniversary this year since it first opened on Broadway in March 1979. How does the story of this murderous barber continue to resonate with audiences today? 
Lea Salonga, who's performing the role of Mrs. Lovett in what is her second Sondheim musical after Singapore Repertory Theatre's "Into the Woods" in 1994, says that the musical is an "…examination of just how far people can be pushed under certain circumstances."
"It's set in the Industrial Revolution, where a pie shop like Mrs. Lovett's would be pushed out by the bigger stores, and people seem to be heading to those, rather than smaller shops."
"There is desperation in this era, and [it's about] the things that they do to survive and how they're able to justify those things", says Salonga. "It's like being able to step into the shoes of someone and try to empathize, even with the most evil or murderous human beings that we get to play. It kind of lends you insight and kind of makes you think that life isn't all that black and white after all."
In the musical, Sweeney Todd and Mrs. Lovett conspire to murder human beings and use their bodies to make pies. But Salonga says that she actually doesn't think that the cannibalism is the worst part of the story. 
"They can easily justify what they're doing by saying, 'We have to survive. It is a difficult time. Goods are expensive. I got to do this.' But then there are other themes that are being touched upon, like how someone [Judge Turpin] in a position of such great power, uses and abuses that power to get what he wants to achieve an end."
"I think by the end of watching the show, the cannibalism won't even be the thing you'll notice. And you'll then absolutely root for Sweeney."
FIRST LOOK: Jett Pangan as Sweeney Todd, Lea Salonga as Mrs. Lovett, and More!
Jett Pangan also shares that what his character, Sweeney Todd, goes through is something we see in the news a lot.
"You also question Sweeney. You have Sweeney who reacts to all the misfortune that came his way. So the relevant question there is, if you were Sweeney, what would you do? Would you take revenge? Would you cross the line? Would you allow yourself from just mere revenge to something more?"
Andrew Fernando, who plays the lustful and corrupt Judge Turpin, says that it relates to how people nowadays have very little grasp of consequences. "We see a lot of that in the world today. Because of one's desire to get what he or she wants, nobody's looking at the consequences."
What can audiences expect to see in this particular staging? Mikkie Bradshaw-Volante, who plays the ingénue Johanna, says, "It's not exactly the most traditional presentation of 'Sweeney Todd' because Sondheim was very adamant about his works not being museum pieces. They're able to grow with the times, and he wants them breathing in the present. So we took that to heart I think, and Bobby's [Garcia] created a really interesting concept for it, both with the costumes and with the set."
Salonga adds, "Instead of talking about the costumes, Rajo [Laurel] as a costume designer, is somebody who started in the theater as a child. He doesn't just design something that looks nice on you. He wants to know who you think your character is, and will dress you according to what your process is figuring out as far as that character is concerned. You don't just feel like you're clothed, but you feel like he's one with you in creating this character along with you."
 Sweeney Todd will run at The Theater at Solaire from October 11-27, 2019. Bobby Garcia is directing the production, with David Gallo as set designer, Gerard Salonga as musical director (accompanied by the ABS-CBN Philharmonic Orchestra), Rajo Laurel as costume designer, Cecile Martinez as choreographer, Aaron Porter as lighting designer, Leslie Espinosa as hair and make-up designer, Manman Angsico as vocal director, and Justin Stasiw as sound designer. 
Also in the cast are Gerald Santos as Anthony Hope, Ima Castro as the Beggar Woman, Luigi Quesada as Tobias, Arman Ferrer as Beadle, Dean Rosen as Jonas Fogg, Nyoy Volante as Adolfo Pirelli, with ensemble members Steven Conde, Sarah Facuri, Christine Flores, Jep Go, Kevin Guiman, and Emeline Celis Guinid.
You can watch Lea Salonga perform the song "Not While I'm Around", with the rest of the company performing the show's opening number, "The Ballad of Sweeney Todd", in the video below.
You can buy tickets HERE.
Comments