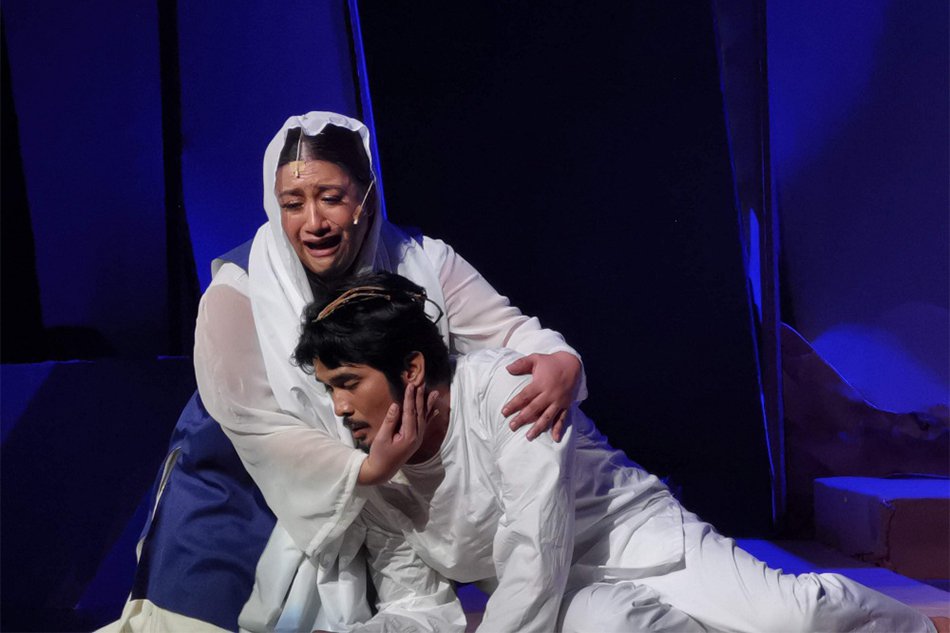 REVIEW: "Magnificat" is a sterile rendering of the Jesus story
There's nothing new in this Laurice Guillen-directed, Nestor Torre-penned, and Ryan Cayabyab-composed musical about the Jesus story. 
If the story of Jesus Christ is 'the greatest story ever told', it's also an overtold one. No matter how religious your upbringing, if you live and have been educated in the Philippines, you know this story. Magnificat, written by Nestor Torre covers Mary's beginnings epitomising the meek, virginal woman of Nazareth, the story of how she came to be Jesus Christ's mother, Christ's passion, resurrection, and ends with her assumption.
This is not your Jesus Christ Superstar or even your Godspell. This is a pretty straightforward and uninventive telling of the same story you hear at Sunday mass. Torre chooses vignettes that are the most familiar. There's an attempt to make it as though it was the story of Jesus in the eyes of his mother, but the play doesn't truly commit to it for the most part. Save for the tail end of the second act, you don't get the sense that this is supposed to be her story as much as his. 
In fact, there's no real sense of a female angle to this story, despite being marketed as such. They make it a point to show that Eve is at fault for the downfall of man in the eyes of god and the pain of childbirth to later on show how Mary is different and chosen, but other than that, Jesus is still front and center.
It bears the same emotional impact as hearing the gospel read to you by a priest. On paper, Jesus's (and therefore, Mary's) story is one of extremes; the Passion alone involves graphic torture coexisting with godlike endurance and mercy. The love of the mother for the son ought to be the impossible standard of which parents loved their children. I suppose these themes exist in the show 'in spirit', but in actuality it's a bland and forgettable exercise coated in beige.
The set (Leslie Centeno is production designer) is almost a monochrome of white and brown and blues that does recall soft desert aesthetics of the Middle East, with neutral robe costumes by designer Erwin Flores that is often associated when you imagine stories of the New Testament. The angels are faceless in pure white, as though in ghost costumes that are little more than white blankets draped over people. The demons are the same, but in black which only made it look as though Jesus was being haunted by dementors. It has an overall barren feel to it, with real color only emerging through Joey Nombres's lights that change when there's a supposed dramatic song happening on stage. 
It does go by very quickly, and being staged in the Music Museum where you can eat and drink alcohol (and not the communion kind) while watching a show adds a fun layer to the experience. Newcomer Alyssa Evangelista's angelic aura makes her look as though she was born to play a young Mary, and Ryan Cayabyab's music—because it isn't particularly gospel or churchy—could be striking in parts but only because it's what sets his musical apart from millions of other iterations of this story.
Director Laurice Guillen put together a show that is emblematic of your most generic idea of how Bible stories would look, or would be told. Perhaps I have been desensitised by a lifetime of consuming this same story thousands of other ways that Magnificat strikes me as a particularly sterile blur that doesn't hit at all too hard, doesn't at all tell too much, doesn't at all show anything new or different or indeed, special. It's the Bible come to life, and not in an interesting way. But if you prefer Mary and Jesus's story to remain sacrosanct and unquestioned, then this might be the musical for you.
Tickets:

 Php 1,000.00 - Php 2,000.00


Show Dates:

 Sep 27 '19, Sep 28 '19, Oct 4 '19, Oct 5 '19, Oct 11 '19, Oct 12 '19


Venue:

 Music Museum, Greenhills Shopping Centre, San Juan City


Running Time:

 approx. 1 hour and 50 mins (w/ 10-minute intermission)


Credits:

 Nestor Torre (playwright), Ryan Cayabyab (composer), Laurice Guillen (director), Joey Nombres (lighting designer), Leslie Centeno (production designer), Erwin Flores (costume designer), Jomelle "Pipay" Era (movement designer), Randy Gilongo (musical director)


Cast:

 Alyssa Evangelista, Al Gatmaitan, Ana Feleo, Pinky Marquez-Cancio,


Company:

 Lyric Opera of the Philippine
Comments