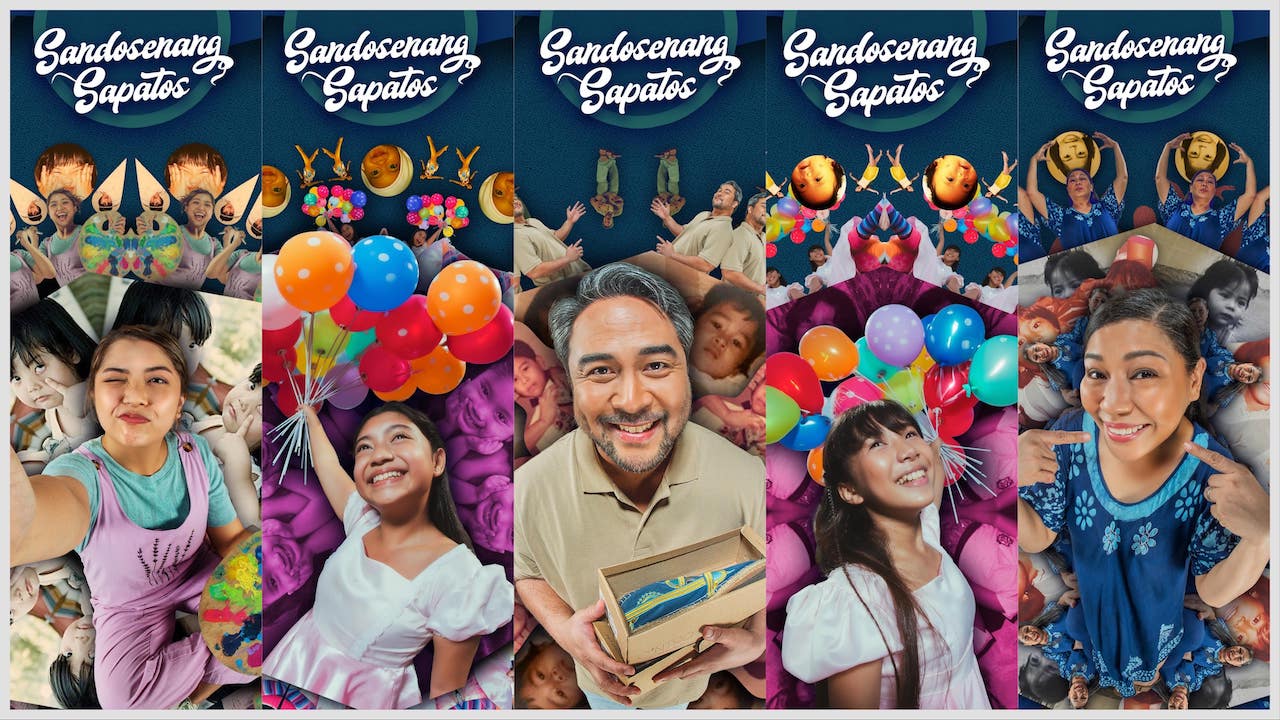 'Sandosenang Sapatos' 2023 Full Cast Announced
Tanghalang Pilipino's 2023 staging of Sandosenang Sapatos, starring Felicity Kyle Napuli and Wincess Jem Yana alternating as Susie, is set to open on November 17 at the CCP Black Box Theater.
Today, the company has revealed the full cast for the upcoming production. Joining Napuli and Yana are Floyd Tena as Tatay, Tex Ordoñez-De Leon as Nanay, and Mica Fajardo as Ate Karina.
Also in the cast are Marynor Madamesila as Diwata, Natasha Cabrera as Yellowy, Lance Soliman as Red, MC Dela Cruz as Bluey, Mark Grantos as Sandals, Bea Remollo as Maong, Steven Hotchkiss as Pinky, Patricia Rolda as Sequins, Sarah Monay as Whitey, Mark Lorenz as One, Lhorvie Nuevo-Tadioan as Two, Francis Gatmaytan as Three, and Paula Espinola as Ballerina.
Sandosenang Sapatos is a musical that follows Susie, a child who wishes to fulfill her shoemaker father's dream of having a ballerina for a daughter. Unfortunately, the child was born without feet.
Each year, on her birthday, the child enters the world of enchanting shoes, where the Shoe Fairy gives her a pair of feet, allowing her to dance to her heart's desire. However, every time she leaves the enchanting world, she loses her feet and faces her father's disappointment. It takes a tragedy for her to truly understand the depths of her father's love.
Sandosenang Sapatos was last staged by the company in 2014. Written by Layeta Bucoy based on the short story by Dr. Luis Gatmaitan, with music by Joed Balsamo (who also serves as musical director and music arranger) and Noel Cabangon, this staging welcomes new members of the artistic team. Jonathan Tadioan now serves as the show's director, with Stephen Viñas as choreographer, Marco Viaña and Paw Castillo as production designers, and Gabo Tolentino as lighting designer. TJ Ramos returns as the production's sound designer.
Musicians for the show are Joed Balsamo (piano), TJ Ramos (guitar), and RJ Alfafara (beatbox).
Sandosenang Sapatos is the second production in Tanghalang Pilipino's 37th season, preceded by Anak Datu which closed on October 15, 2023. It will run from November 17 to December 2 at the CCP Black Box Theater. You can buy tickets through Ticket2Me.
You can watch Felicity Kyle Napuli and Wincess Jem Yana perform a few numbers from the show below.
Comments