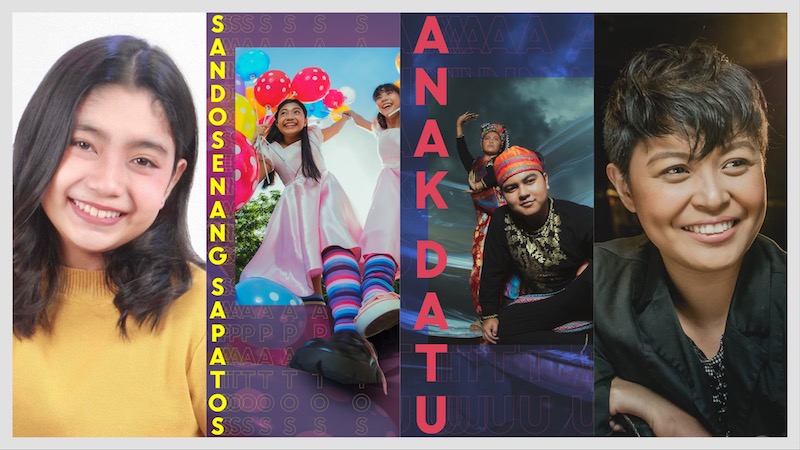 'Anak Datu', 'Sandosenang Sapatos' Announce Their Leads
Tanghalang Pilipino has announced two of the leads of Anak Datu and Sandosenang Sapatos, the first two productions of the company's upcoming 37th season. They will be succeeded by Pingkian: Isang Musikal in 2024, the final production of the season.
Anak Datu, which was staged last September 16 to October 9, 2022, is set to return to the CCP Black Box Theater starting this September. The company has announced that Carlos Dala will be reprising his role as Toym Imao/ Binatang Karim and Lhorvie Nuevo-Tadioan will be reprising her role as Putli Loling. The rest of the cast members have yet to be announced.
Written by Rody Vera, with music by Josefino Chino Toledo (who also serves as musical director), Anak Datu is a multiverse, post-pandemic production that banners peace through the intertwining of conflicts in a folk tale, a stark social realism, and an all-too-familiar family drama. It is directed by Chris Millado.
Based on the original story of the same name by National Artist Abdulmari Imao, Anak Datu revolves around a son of a village chieftain in Muslim Mindanao during pre-colonial Philippines. Before he is born, the village is raided by pirates, and his mother gives birth in captivity. Hence, he grows up believing that his father is a former pirate. Only upon the death of the old man does the son discover the truth about his real father. This short story gave birth to Rody Vera's stage adaptation adjacent to other events in the history of Mindanao and the personal lives of Abdulmari Imao's family. 
The show will run from September 29 to October 15 at the CCP Black Box Theater. Tickets are available through Ticket2Me.

Meanwhile, Sandosenang Sapatos, which was last staged by the company in 2014, is set to be restaged this November at the CCP Black Box Theater.
Written by Layeta Bucoy based on the short story by Dr. Luis Gatmaitan, with music and arrangement by Joed Balsamo (who also serves as musical director) and Noel Cabangon, Sandosenang Sapatos is a musical that follows Susie, a child who wishes to fulfill her shoemaker father's dream of having a ballerina for a daughter. Unfortunately, the child was born without feet.
Each year, on her birthday, the child enters the world of enchanting shoes, where the Shoe Fairy gives her a pair of feet, allowing her to dance to her heart's desire. However, every time she leaves the enchanting world, she loses her feet and faces her father's disappointment. It takes a tragedy for her to truly understand the depths of her father's love.
Alternating for the role of Susie is Felicity Kyle Napuli and Wincess Jem Yana. The full cast has yet to be announced. The show is directed by Jonathan Tadioan.
Sandosenang Sapatos will run from November 17 to December 2 at the CCP Black Box Theater. You can buy tickets through Ticket2Me.
Comments