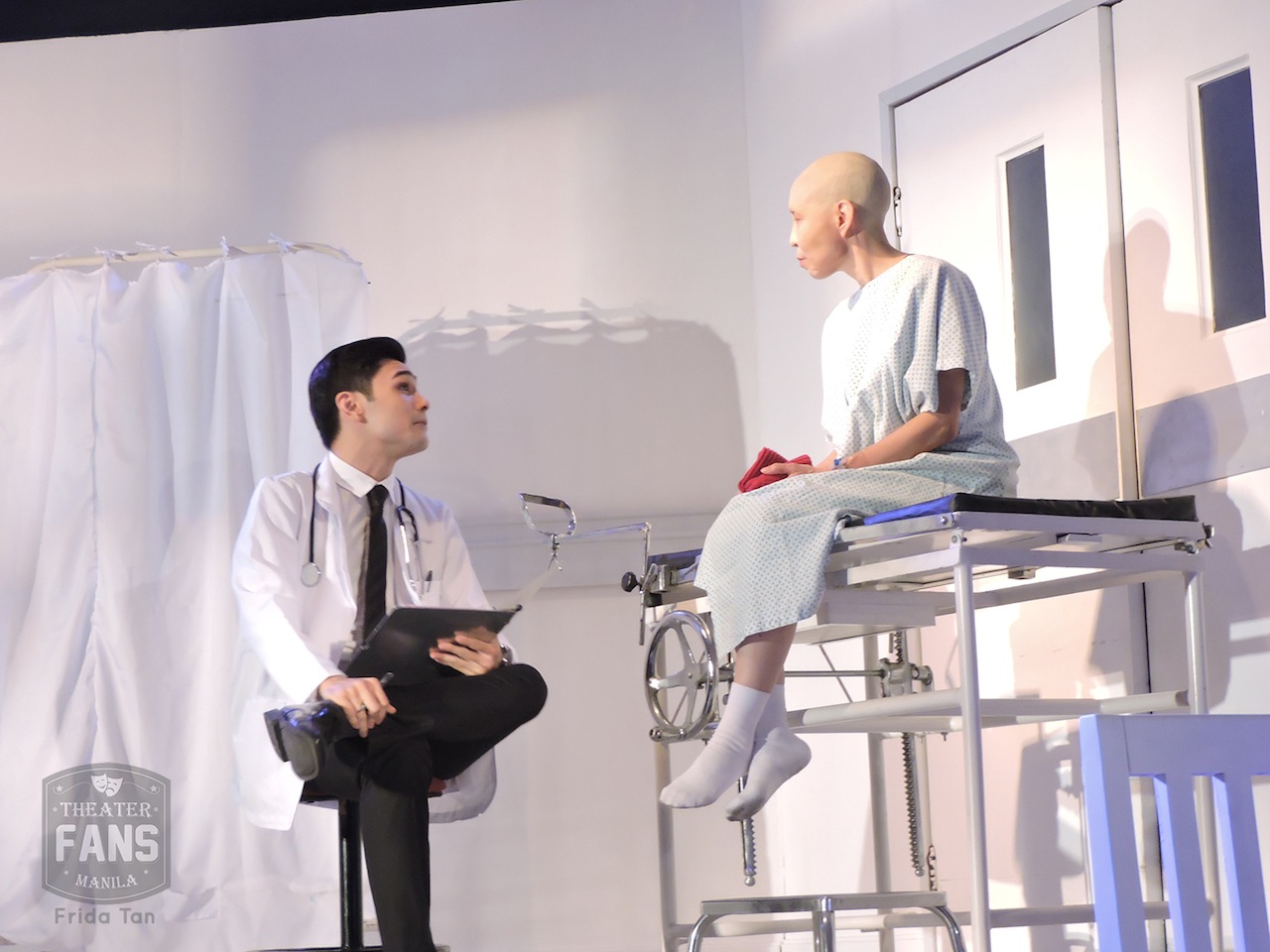 REVIEW: Twin Bill Theater's "Wit"
"A semicolon should not separate death from life; just a comma, a pause."
Talking about one of John Donne 's Holy Sonnets, Margaret Edson's play Wit is filled with insights, such as the one mentioned above, which immediately captures the attention of the listener. Edson's central character is Dr. Vivian Bearing, a university professor and a scholar, particularly obsessed with the work of the metaphysical poet. Having had such an accomplished career as a literary scholar, she makes very keen observations as to whether a greeting is appropriate or if a certain medical phrase actually makes sense – things we usually take for granted.
The premise of the play is straightforward. This woman is diagnosed with stage 4 metastatic ovarian cancer and, as she undergoes treatment in the hospital, she recounts some milestones in her life such as the time her father taught her the meaning of a particular word she read in a book and the time she spoke to her mentor about the wit in Donne's punctuation. From the get-go, because of the central character's seemingly uncharismatic profile, and with a subject matter this serious, the play demands full attention from its audience.
The main stage resembles a hospital room, complete with real-life apparatus. There are also two platforms set up on each side of the main stage. These were utilized in only two occasions, those conversations she had with her father and her mentor. Not much action happens on stage as scenes simply hop from one medical procedure to another. The excitement of the material is stimulated by the text itself. The phrasing of dialogue and the argumentation between characters are the beautiful aspects of this piece.
The success of this production rests on three things, namely: the director (Steven Conde)'s interpretation of the piece, sustaining the audience's interest, and the performance of the actor playing Bearing (Tami Monsod).
Directorial Interpretation
While Edson's writing can be bent to favor different interpretations, Conde navigates the play as a sad realization of an accomplished academic. Conde doesn't deviate from this direction that, even in scenes which could be funny, he kept the staging very simple. He also ended the play differently, giving the character much needed respect and reverence. When this play was revived on Broadway in 2012, the actor playing Bearing had to be naked.
Sustaining Attention
Although not entirely up to the creative and production team, things can be done to keep the audience's full attention. For example, they could have done the entire show at the main stage. If a pretend classroom scene was pulled off really well, even without changing the hospital room backdrop, we do not see why the two smaller stages were necessary. With less-than-ideal acoustics of the auditorium, taking out those two side stages would result to a more engaging experience, as audiences would be seated closer to the main stage. This writer also noticed that some audience members sitting at the far left of the venue were distracted by the colored lights that were set-up quite close to where they were seated.
This production was partly set-up to elicit curiosity among would-be medical or nursing students. Some shows were even booked by a university whose flagship courses are in the said discipline. As such, the accuracy of what transpires in a real-life hospital room or laboratory is very important.
In one scene, the IV pole was accidentally starting to detach from the bed. While in a scene with Monsod, Mikkie Bradshaw-Volante, who plays a nurse, did not bother to fix it even when it was pointed out by Monsod. Bibo Reyes, playing medical research fellow Jason Posner, lacks the maturity of supposedly someone who has been in training in a hospital for years.
Inspired Performance
Monsod, seasoned theatre artist for 30 years with recent outings in Repertory Philippines' "August: Osage County" and "The Vibrator Play", is finally given a role that showcases her acting calibre. Her performance, quite frankly, is what makes this production worth your time. For her to even sustain that energy given the physical and mental requirements of the role is already a treat.
Imagine the amount of dialogue she has to juggle, shifting between 17th-century English parlance and medical jargon, and sometimes even transitioning between reality and imagination – all this without ever leaving the stage. Monsod gave such an inspired performance, it is something that can only come from a place of truth; hence, worthy of exclamation— bravo!
You can catch the show on its limited run until May 2 at the Trinity University of Asia. You can buy tickets here.
Comments