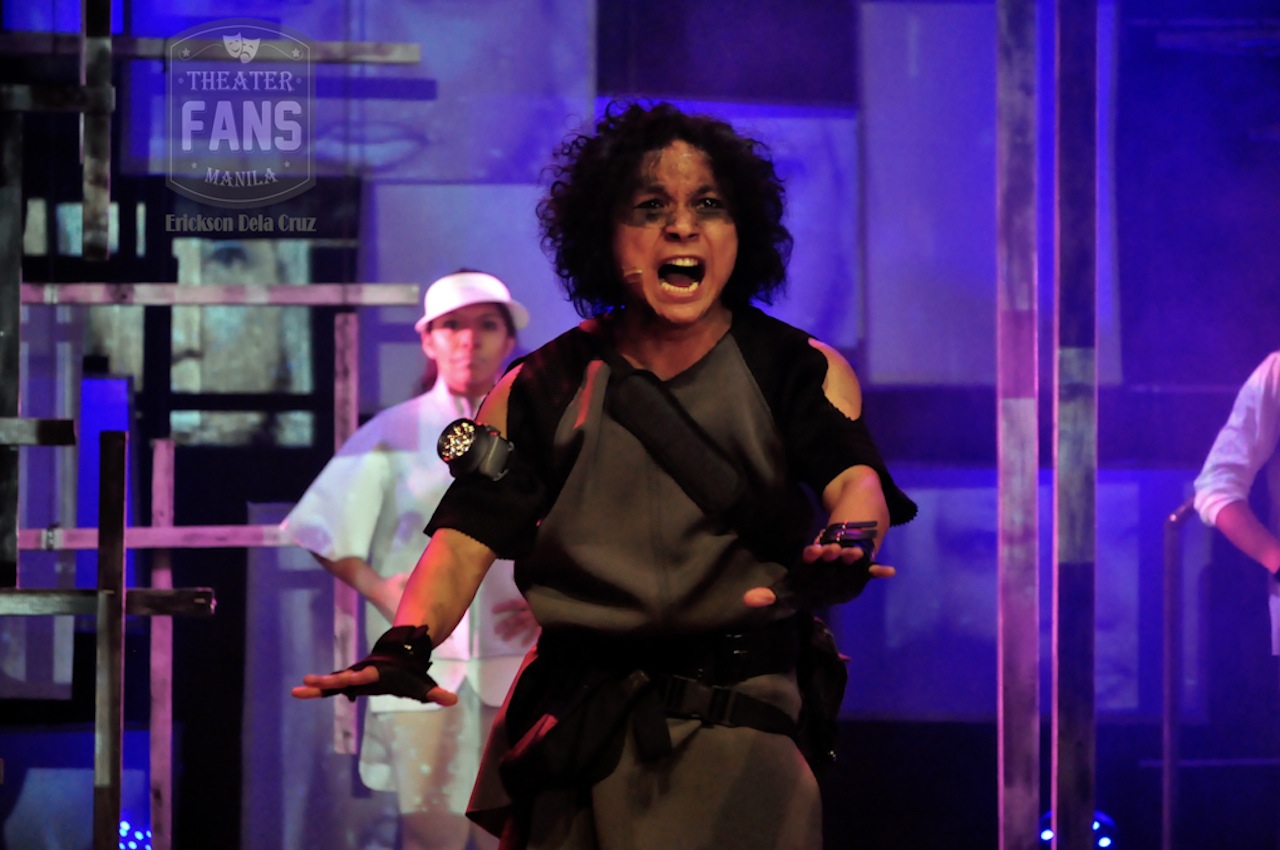 Gawad Buhay 2016 Nominations Announced!
The Philippine Educational Theater Association's "3 Stars and a Sun," an original Filipino musical that featured the music of the late rap artist Francis Magalona in a story about youthful hope and rebellion in a dystopian Philippine setting, grabbed 13 nods to lead the 2016 nominations for Gawad Buhay, the Philstage Awards for the Performing Arts.
Following closely with 12 nominations is Ballet Philippines' "Firebird and Other Ballets," with new choreography by George Birkadze for the Act 1 "Firebird" section, and a suite of modern works by several Filipino choreographers in Act 2. Another BP production, "Awitin Mo at Isasayaw Ko," which employed the music of the '70s band VST & Co in a hybrid dance-musical show, garnered 11 nominations.
Sharing 10 nominations each are Red Turnip Theater's production of Nina Raine's "Tribes," a play about a young deaf man and his unconventional family; and Full House Theater Company's production of the Broadway musical "Annie." (Full House is the resident theater company of Resorts World Manila.)
The nominations, chosen by an independent jury, were announced via a Facebook Live session this Friday evening, hosted by Philstage president Audie Gemora and VP Maribel Legarda (also the Peta artistic director). The awarding ceremonies will be on May 10, Wednesday, 7 p.m., at CCP's Tanghalang Aurelio Tolentino (Little Theater).
You can watch the entire video below.
(See complete list of nominations below.)
Now on its ninth year, Gawad Buhay is the first-ever industry awards exclusively for the performing arts.
It is juried by an independent panel of critics, scholars, artists and theater enthusiasts. Outstanding individual and group achievements in various artistic and technical aspects of play, musical and dance productions and performances are honored based on quarterly citations deliberated by the members of the jury, who are required to watch all productions of Philstage member-companies for the entire year.
From the four quarterly citations (the first and second quarters are merged into the midyear citations), the jury selects the final nominees qualified to win the awards by the end of the performance season.
Philstage is the only alliance of professional performing arts organizations in the Philippines. Its members include 9 Works Theatrical, Actor's Actors Inc., Ballet Manila, Ballet Philippines, Full House Theater Company (Resorts World Manila), Gantimpala Theater Foundation, Peta, Philippine Ballet Theatre, Philippine Opera Company, Repertory Philippines, Red Turnip Theater, Stages, Tanghalang Pilipino and Trumpets.
[Visit Facebook.com/gawadbuhay]
COMPLETE LIST OF 2016 NOMINATIONS IN VARIOUS CATEGORIES:
Outstanding Original Script
No nomination
Outstanding Original Libretto
Mixkaela Villalon and Rody Vera, "3 Stars and a Sun" (Peta)
Outstanding Translation or Adaptation
Rolando Tinio, "Pangarap sa Isang Gabi ng Gitnang Tag-araw" (Tanghalang Pilipino)
Outstanding Musical Direction
Myke Salomon, "3 Stars and a Sun" (Peta)
Daniel Bartolome and Onyl Torres, "American Idiot" (9 Works Theatrical)
Gerard Salonga, "Rebel" (Ballet Manila)
Rodel Colmenar, "Annie" (Full House Theater Company)
Jed Balsamo, "Awitin Mo at Isasayaw Ko" (Ballet Philippines)
Outstanding Original Musical Composition
Malek Lopez, "Opera" (Ballet Philippines)
Outstanding Choreography for a Dance Production
Redha, "Opera" (Ballet Philippines)
George Birkadze, "Firebird"/from "Firebird and Other Ballets" (Ballet Philippines)
Carlo Pacis, "Weighted Whispers"/from "Firebird and Other Ballets" (Ballet Philippines)
James Laforteza, PJ Rebullida, Carissa Adea, Paul Alexander Morales and Gia Gequinto, "Awitin Mo at Isasayaw Ko" (Ballet Philippines)
Outstanding Choreography for a Play or Musical
PJ Rebullida, "American Idiot" (9 Works Theatrical)
Rose Borromeo, "Stepping Out" (Repertory Philippines)
Nancy Crowe, "Annie" (Full House Theater Company)
Dexter Santos, "A Little Princess" (Repertory Philippines)
PJ Rebullida and Yek Barlongay, "A Christmas Carol" (9 Works Theatrical)
Outstanding Costume Design
Gino Gonzales, "3 Stars and a Sun" (Peta)
Mickey Hirai, "American Idiot" (9 Works Theatrical)
Mark Higgins, "Firebird and Other Ballets" (Ballet Philippines)
Gino Gonzales, "Annie" (Full House Theater Company)
Marsha Roddy, "The Tempest Reimagined" (Peta)
Outstanding Lighting Design
John Batalla, "Constellations" (Red Turnip Theater)
John Batalla, "Almost, Maine" (Repertory Philippines)
Ian Torqueza, "3 Stars and a Sun" (Peta)
John Batalla, "Opera" (Ballet Philippines)
Tsuguo Izumi, "The Tempest Reimagined" (Peta)
Outstanding Sound Design
Teresa Barrozo, "Constellations" (Red Turnip Theater)
Teresa Barrozo, "3 Stars and a Sun" (PETA)
Teresa Barrozo, "Tribes" (Red Turnip Theater)
Rards Corpus, "Annie" (Full House Theater Company)
Rards Corpus and Jaime Godinez, "A Christmas Carol" (9 Works Theatrical)
Outstanding Set Design
Coco Anne and Baby Imperial, "Almost, Maine" (Repertory Philippines)
Gino Gonzales, "3 Stars and a Sun" (Peta)
Mio Infante, "American Idiot" (9 Works Theatrical)
Ed Lacson Jr., "Tribes" (Red Turnip Theater)
Marsha Roddy, "The Tempest Reimagined" (Peta)
Female Lead Performance in a Play
Cris Villonco, "Constellations" (Red Turnip Theater)
Natalie Everett, "Almost, Maine" (Repertory Philippines)
Caisa Borromeo, "Almost, Maine" (Repertory Philippines)
Blanche Buhia, "The Wong Kids in the Secret of the Space Chupacabra Go!" (Tanghalang Pilipino)
Liesl Batucan, "Pangarap sa Isang Gabi ng Gitnang Tag-araw" (Tanghalang Pilipino)
Male Lead Performance in a Play
JC Santos, "Constellations" (Red Turnip Theater)
Reb Atadero, "Almost, Maine" (Repertory Philippines)
Jamie Wilson, "Almost, Maine" (Repertory Philippines)
Kalil Almonte, "Tribes" (Red Turnip Theater)
Aldo Vencilao, "The Wong Kids in the Secret of the Space Chupacabra Go!" (Tanghalang Pilipino)
Female Featured Performance in a Play
Pinky Amador, "The Game's Afoot" (Repertory Philippines)
Angela Padilla, "Tribes" (Red Turnip Theater)
Dolly de Leon, "Tribes" (Red Turnip Theater)
Thea Yrastorza, "Tribes" (Red Turnip Theater)
Antonette Go, "Pangarap sa Isang Gabi ng Gitnang Tag-araw" (Tanghalang Pilipino)
Male Featured Performance in a Play
Teroy Guzman, "Tribes" (Red Turnip Theater)
Jonathan Tadioan, "Pangarap sa Isang Gabi ng Gitnang Tag-araw" (Tanghalang Pilipino)
Marco Viana, "Pangarap sa Isang Gabi ng Gitnang Tag-araw" (Tanghalang Pilipino)
Bodjie Pascua, "The Tempest Reimagined" (Peta)
Norbs Portales, "The Tempest Reimagined" (Peta)
Female Lead Performance in a Musical
Angela Padilla, "Stepping Out" (Repertory Philippines)
Krystal Brimner, "Annie" (Full House Theater Company)
Isabeli Elizalde, "Annie" (Full House Theater Company)
Male Lead Performance in a Musical
Nicco Manalo, "3 Stars and a Sun" (Peta)
Nel Gomez, "American Idiot" (9 Works Theatrical)
Jef Flores, "Tick, Tick…Boom" (9 Works Theatrical)
Miguel Faustmann, "A Christmas Carol" (9 Works Theatrical)
Female Featured Performance in a Musical
Carla Guevara-Laforteza, "3 Stars and a Sun" (Peta)
Joy Virata, "Stepping Out" (Repertory Philippines)
Ela Lisondra, "American Idiot" (9 Works Theatrical)
Menchu Lauchengco-Yulo, "Annie" (Full House Theater Company)
Tanya Manalang, "Tick, Tick…Boom" (9 Works Theatrical)
Male Featured Performance in a Musical
Nar Cabico, "3 Stars and a Sun" (Peta)
Bodjie Pascua, "3 Stars and a Sun" (Peta)
Ariel Reonal, "Tick, Tick…Boom" (9 Works Theatrical)
Jef Flores, "Awitin Mo at Isasayaw Ko" (Ballet Philippines)
Sandino Martin, "Awitin Mo at Isasayaw Ko" (Ballet Philippines)
Female Lead Performance in Modern Dance
Rita Winder, "Awitin Mo at Isasayaw Ko" (Ballet Philippines)
Male Lead Performance in Modern Dance
JM Cordero, "Simoun" (Ballet Philippines)
JM Cordero, "Awitin Mo at Isasayaw Ko" (Ballet Philippines)
Garry Corpuz, "Awitin Mo at Isasayaw Ko" (Ballet Philippines)
Female Featured Performance in Modern Dance
Denise Parungao, "Opera" (Ballet Philippines)
Gia Gequinto, "Simoun" (Ballet Philippines)
Denise Parungao, "Simoun" (Ballet Philippines)
Rita Winder, "Simoun" (Ballet Philippines)
Edna Vida, "Awitin Mo at Isasayaw Ko" (Ballet Philippines)
Male Featured Performance in Modern Dance
Erl Sorilla, "Simoun" (Ballet Philippines)
Nonoy Froilan, "Awitin Mo at Isasayaw Ko" (Ballet Philippines)
Female Lead Performance in Classical Dance
Rita Winder, "Firebird"/from "Firebird and Other Ballets" (Ballet Philippines)
Irene Kim Abrojena, "The Great Classics" (Philippine Ballet Theatre)
Regina Magbitang, "The Great Classics" (Philippine Ballet Theatre)
Dawna Mangahas, "Cinderella" (Ballet Manila)
Abigail Oliveiro "The Swan, The Fairy, and the Princess" (Ballet Manila)
Male Lead Performance in Classical Dance
Garry Corpuz, "Firebird"/from "Firebird and Other Ballets" (Ballet Philippines)
Jimmy Lumba, "The Great Classics" (Philippine Ballet Theater)
Rudy de Dios, "Cinderella" (Ballet Manila)
Female Featured Performance in Classical Dance
Monica Gana, "Firebird"/from "Firebird and Other Ballets" (Ballet Philippines)
Denise Parungao, "Firebird"/from "Firebird and Other Ballets" (Ballet Philippines)
Tiffany Chan, "Cinderella" (Ballet Manila)
Violet Hong, "Cinderella" (Ballet Manila)
Male Featured Performance in Classical Dance
Cyril Fallar, "Firebird"/from "Firebird and Other Ballets" (Ballet Philippines)
Victor Maguad, "Firebird"/from "Firebird and Other Ballets" (Ballet Philippines)
Outstanding Modern Dance Production
"Weighted Whispers"/from "Firebird and Other Ballets" (Ballet Philippines)
"Simoun" (Ballet Philippines)
"Awitin Mo at Isasayaw Ko" (Ballet Philippines)
Outstanding Classical Dance Production
"Firebird"/from "Firebird and Other Ballets" (Ballet Philippines)
Outstanding Stage Direction for a Play
Rem Zamora, "Constellations" (Red Turnip Theater)
Bart Guingona, "Almost, Maine" (Repertory Philippines)
Topper Fabregas, "Tribes" (Red Turnip Theater)
Ralph Peña, "The Wong Kids in the Secret of the Space Chupacabra Go!" (Tanghalang Pilipino)
Outstanding Stage Direction for a Musical
Nor Domingo, "3 Stars and a Sun" (Peta)
Robbie Guevara, "American Idiot" (9 Works Theatrical)
Michael Williams, "Annie" (Full House Theater Company)
Robbie Guevara, "Tick, Tick…Boom" (9 Works Theatrical)
Outstanding Ensemble Performance for a Play
"Almost, Maine" (Repertory Philippines)
"Tribes" (Red Turnip Theater)
"The Wong Kids in the Secret of the Space Chupacabra Go!" (Tanghalang Pilipino)
"The Tempest Reimagined" (Peta)
Outstanding Ensemble Performance for a Musical
"3 Stars and a Sun" (Peta)
"American Idiot" (9 Works Theatrical)
"Annie" (Full House Theater Company)
"Tick, Tick…Boom" (9 Works Theatrical)
Outstanding Ensemble Performance for Modern Dance
"Weighted Whispers"/from "Firebird and Other Ballets" (Ballet Philippines)
"Awitin Mo at Isasayaw Ko" (Ballet Philippines)
Outstanding Ensemble Performance for Classical Dance
No nomination
Outstanding Production of Existing Material for a Play
"Constellations" (Red Turnip Theater)
"Almost, Maine" (Repertory Philippines)
"Tribes" (Red Turnip Theater)
"The Wong Kids in the Secret of the Space Chupacabra Go!" (Tanghalang Pilipino)
Outstanding Production of Existing Material for a Musical
"American Idiot" (9 Works Theatrical)
"Annie" (Full House Theater Company)
"Tick, Tick…Boom" (9 Works Theatrical)
Outstanding Play—Original or Translation/Adaptation
No nomination
Outstanding Musical—Original or Translation/Adaptation
"3 Stars and a Sun" (Peta)
Comments