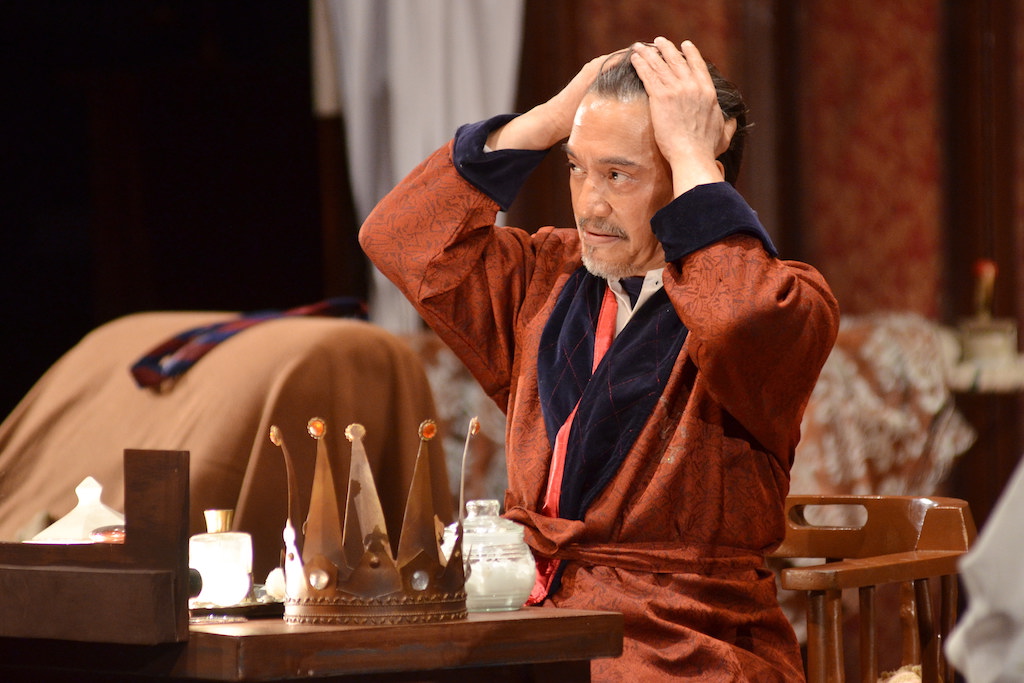 REVIEW: "The Dresser" is showcase of artistry
It's called 'The Dresser', but Teroy Guzman's Sir takes center stage in this Repertory Philippines production. He gives such an alluring take on an ailing, self-important thespian, it turned Ronald Harwood's play about a loyal dresser's attempts to get his boss on stage into a story of the egoistic Shakespearean actor orbited by an ensemble of loyal (though sometimes begrudging) admirers.
War's afoot, with frequent air raid sirens adding to the background noise, but a touring Shakespeare company's biggest problem is their leading actor (Guzman), who is too ill to take on the mantle as Lear, but too stubborn to sit one performance out. His loyal dresser, Norman, (Audie Gemora) makes valiant attempts to get him stage ready, despite frequent interruptions from company members, confronting the star for some reason or other.
There's also Sir's eccentricity to contend with, and Gemora's Norman handles him as though a babysitter tricking his petulant charge. He is garrulous and at times condescending and snarky, but devoted and genuinely caring. Gemora, despite playing the eponymous character, didn't strike as equal to Guzman's engrossing vainglory. He gives Guzman a wide berth to play up the erratic, narcissistic artiste. 
Sir's relationship with the rest of the people surrounding him isn't any better. He seems to be disinterested with his lover and leading lady (Missy Maramara), lechering after the company's ingenue (Justine Narciso), and yet shows surprising gentility towards the stage manager (Tami Monsod). It does feel predominately as though it's Guzman's show, with his riveting take on this mad talent who can essay Lear one night, Richard III the next. 
This Loy Arcenas-directed production leans into theater artistry more than perhaps telling a story of relationships, or of the purpose of art when missiles are raining from above. The performances are impeccable, the staging detailed; from Sir putting on his own Lear make-up, to the ensemble conjuring up a storm. 
Ed Lacson Jr.'s gutted set of a theater's backstage and a dressing room that's lived-in and crumbling from war and age is exceptional, aided by Barbie Tantioco's lighting and Jethro Joaquin's sound design, and Tata Tuviera's era and context-appropriate costumes as well as Ely Maalat's hair & make-up design add to the distinct, detailed complexity of what Arcenas put together on stage. Nothing short of clear artistic vision can display on stage so clearly that this is a struggling touring company, playing at some undisclosed regional theater during WWII.
And yet, for all its excellence, it feels more like an assemblage; displays of theatrical prowess that don't add up to an impactful whole.
Tickets: Php 1,200.00 - Php 1,500.00
Show Dates: May 3 '19, May 4 '19, May 5 '19, May 10 '19, May 11 '19, May 12 '19, May 17 '19, May 18 '19, May 19 '19, May 24 '19, May 25 '19, May 26 '19
Running Time: approx. 2 hours and 20 minutes with a 15-minute intermission
Venue: Onstage Theater, 2/F Greenbelt 1, Paseo de Roxas, Makati
Credits: Ronald Harwood (playwright), Loy Arcenas (director), Ed Lacson Jr. (set designer), Tata Tuviera (costume designer), Barbie Tantioco (lighting designer), Jethro Joaquin (sound designer), Adolfo Lasin (scenic designer), Ely Maalat (hair & makeup), Robert Abelinde (triple crown prop execution)
Cast: Audie Gemora, Teroy Guzman, Missy Maramara, Tami Monsod, Justine Narciso, Jaime Del Mundo, Jeremy Domingo
Company: Repertory Philippines
Comments