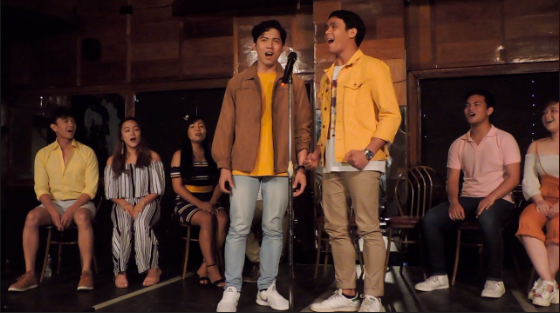 FIRST LOOK: "Roses for Ben", New OPM Musical about HIV
Artist Playground is staging a new musical entitled "Roses for Ben" at Arts Above this June. The production is an original OPM musical about HIV written by Rayne Jarabao (book and lyrics), with musical direction by Jesse Lucas, assistant musical direction by Arnold Bacsal, choreography by Lezlie Dailisan, and direction by the company's Artistic Director Roeder Camañag.
When Camañag knew that he wanted to stage a production with this subject matter, he immediately thought of the 21-year old Jarabao. Jarabao had previously written a play for Artist Playground entitled "On Wednesday," which dealt with the topic of mental health awareness. "I wanted sana mas bata iyung utak." says Camañag. "Sabi ko parang iyun iyung energy for this musical na ineenvision ko na ipalabas."
The show centers on 21-year old, closeted, gender-fluid Ben who works as a personal assistant in an entertainment company. He contracts HIV as soon as he finds out that his late ex-boyfriend died of AIDS. The role is played by Jude Matthew Servilla who alternates with Benj Espina. Other cast members include Beulah Mae Saycon, Mirriam Reyes, Kim Delas Alas, Bobby Martino who alternates with Jerome Fugoso, Dene Gomez, Ken del Prado who alternates with Christian Silang, Nikki Herrera, and April Jasmine Rosales.
In his first foray into writing a musical, Jarabao says that he did not follow any genre when it came to conceptualizing the music.
"We were eyeing kung ano iyung tunog now 'nung mga bata…," says Camañag. "It's not the typical musical. It's not 'Les Miserables', it's not 'The Phantom of the Opera', but it's very now. It's very pop." Lucas adds that the accompaniment, which will include acoustics and percussions, will be performed live every evening.
The musical will have 21 songs, with an approximate running time of 1 hour and 20 minutes. After the limited run in June, the creative team is set to take the show on tour. "Gusto namin siyang dalhin hanggang sa grassroots," says Camañag, who ensures that their staging can be brought to basketball courts and other provinces outside Metro Manila.
"Roses for Ben" will be running from June 15-16 and June 22-23, 7pm at Arts Above (112 West Avenue, QC). You can buy tickets at http://Ticket2Me.net.
You can watch the cast performing excerpts from the show in the video below.
Comments