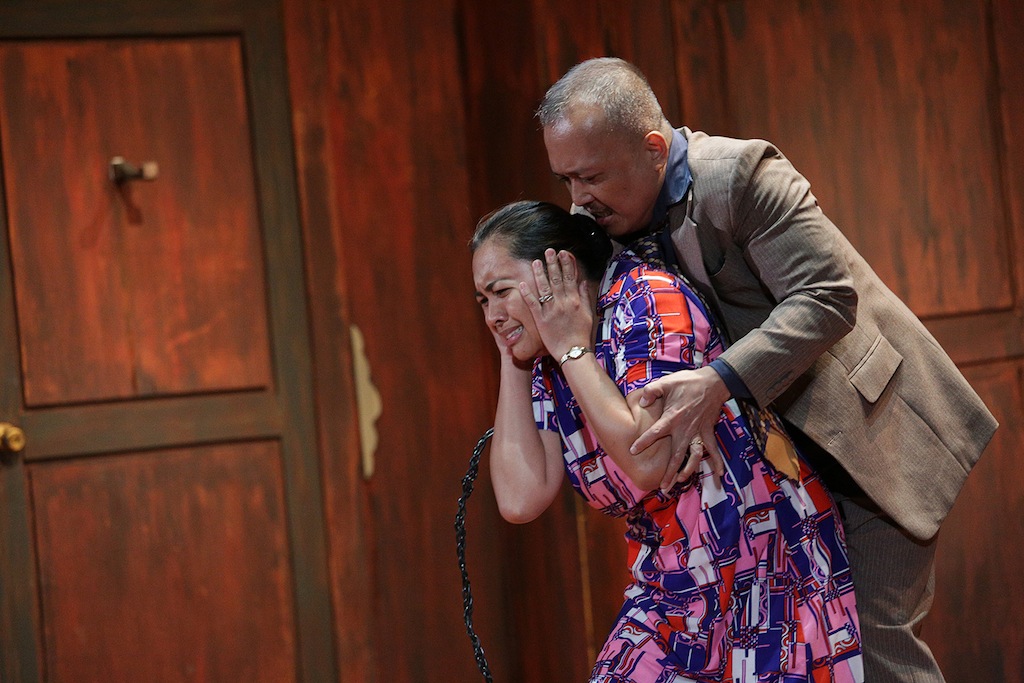 REVIEW: The cycle of brutality in "Mga Ama, Mga Anak"
In a different time, "Mga Ama, Mga Anak" might have felt archaic. All-powerful patriarchs like Zacarias Monzon would've been a relic of his time, going much the same way as the 'karitelas' that gave him power and money. But, the UP Playwrights Theatre's (UPPT) restaging of this Nick Joaquin classic in 2017 is more of a reminder that the brutalizing strongman archetype still exists in our midst.
Tony Mabesa directs both "Fathers & Sons" and the Jose F. Lacaba and Virgilio Almario translation, "Mga Ama, Mga Anak", with a directness that allows Joaquin's resonant words to bear new relevance decades after its writing.
Once a rich and influential "Caritela King" who ruled with an iron fist—or, in this case, a leather whip— Zacarias Monzon (Menggie Cobarrubias) is a man fallen from grace. His once illustrious house (Ohm David's living room set looked very much like an ancestral house withering away) has been stripped of its former old-money accoutrements and his physical deterioration has rendered him in a wheel chair and dependent of others. The many women he housed and illegitimate children he sired has left him, with only his spinster daughter (Banaue Miclat-Janssen as Nena) and newest mistress (Chloe Tandez as Bessie) for company.
Undeterred by the change in his status, Zacarias remains proud, recounting his greed, womanizing, and brutalizing of everyone from employees to his own children. The only object he speaks of with fondness is a large dining table—the biggest in the world, he recalls—that symbolized his rise from poverty to money and power.
He clashed with his son, Celo (George De Jesus III) the most. Both disapproving of each other, their actions are often to spite the other. Zacarias thinks his son and grandson (Carlo Tarobal as Chitong) are softened by their money, Celo thinks his father brutish and deplorable from the beginning. This is the story's central conflict, where both men refuse to succumb; Zacarias as a dependent of his son, and Celo, as a son to a father like Zacarias.
Heavy in exposition, "Mga Ama, Mga Anak" lays bare the damage of a violent father, a passive mother, and a society that enables both. It is perhaps fortunate that Joaquin's piece explains itself often, as most of the actors lacked the nuance that ought to have made their characters more than the stereotypes they're portraying.
Belen Calingacion's Mrs. Paulo (a Caritela King fangirl) was one-note and hysterical, leading one to wonder if there was a purpose to her character at all. The audiences didn't connect with Tandez's Bessie from the beginning. They didn't laugh at her comedic crassness, nor were they moved to her moment of self-actualization towards the end.
Issa Litton, on the other hand, shines as the socialite wife of Celo, Sofia. Where money rendered the Monzon's to be traditional and prudish, her stature made her modern and cosmopolitan. Litton's performance injected the natural humor existing within the piece, and was a lively counterpoint to her scene partners every time she's on stage.
These days, "Mga Ama, Mga Anak" almost feels allegorical. Unchecked and enabled, a strongman's brutal whip can reverberate across generations, damaging the present and future in his wake.
The show will run until September 24 at the Wilfrido Ma. Guerrero Theater of UP Diliman.
Comments