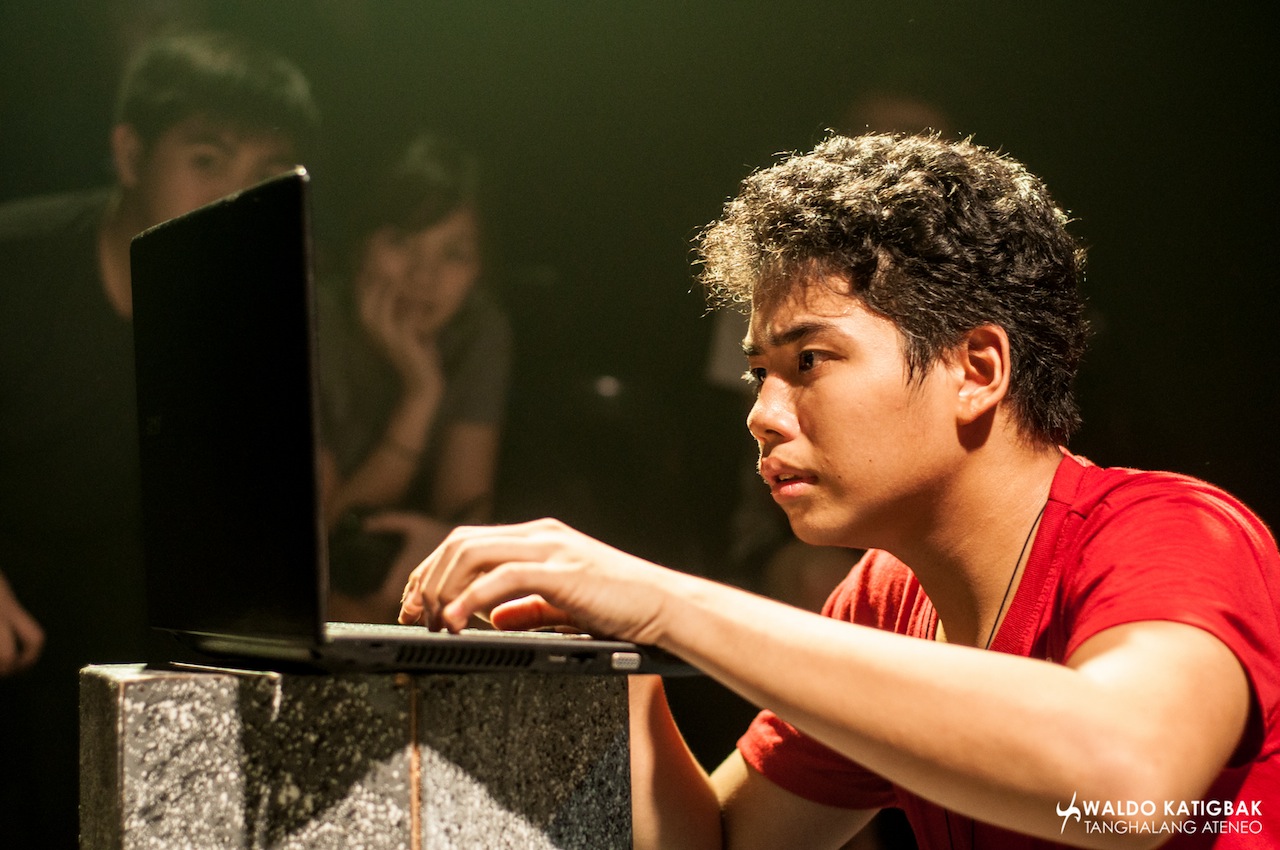 REVIEW: Juxtaposed realms in Tanghalang Ateneo's new 'Janus Silang'
Generations of curious Filipino youth have seen iteration upon iteration of the mythical hero archetype, and at first glance, Janus Silang seemingly fits this mold. Taking on Filipino lore may be a worn-out record, but Edgar Calabia Samar, author of the Janus Silang series, always spun a different way—and this sequel is not an exception.
Janus Silang at ang Labanang Manananggal-Mambabarang is the sophomore production on Tanghalang Ateneo's venture into the mystical worlds of the eponymous teenager. Just like the crossing between realms, this sequel takes its audience to a stylistically-different dimension—from the viewpoint of Charles Yee (director of TA's Janus Silang at ang Tiyanak ng Tabon) to the inner workings of director and Palanca Award-winning playwright Guelan Varela-Luarca.
Luarca ushers the audience into this new production with a tighter focus on dialogue in order to deliver the complex narrative as loyally as possible. Where Yee's Tiyanak ng Tabon was choreography-heavy, Labanang Manananggal-Mambabarang was scene after scene of elaborate storytelling. The only remnant from Tiyanak was the ingenious utilization of the ensemble, whose choreography (also by Tiyanak ng Tabon choreographer Delphine Buencamino) formed backbone to backstories and dream sequences.
Intricate storylines
Beginning with a breaking of the fourth wall, two of the characters closest to Janus—Mang Isyo (Xander Soriano) and Renzo (Quiel Quiwa provides a healthy dose of humor)—proceed to recall the previous novel's timeline. They go on about how the Tiyanak claimed both of Janus's parents, forcing him to live under the care of Mang Joey (Renante Bustamante) and Mang Isyo. As it turns out, Janus (Earvin Estioco reprises his role) might be from a legendary bloodline of Pusong, the only people endowed with the ability to find Tala—the Tiyanak's long-lost twin and the only one who could put an end to the Tiyanak once and for all.
Labanang Manananggal-Mambabarang officially starts with Janus in one of his recurring nightmares about a winged woman—a Manananggal (Bina Basilio)—who often appears to torment him. Estioco perfectly renders the scene with a palpable fear, immediately transcending his portrayal in Tiyanak ng Tabon. While his boyish charm is still present, his more evolved approach to the role paralleled his character development.
With the telepathic power Bagani—keepers of the Pusong bloodline—are known for, Mang Isyo and his brother Mang Joey sense a brainwave pattern eerily similar to that of Janus's father. But the brainwave pattern was only a creation of Bino (Miguel Morales)—a Mambabarang, a sorcerer and cohort of the Tiyanak. He had previously deceived Mang Joey when they both programmed TALA Online, a video game they developed to look for Pusong outside the Bagani's protection.
Bustamante' stern fatherly figure is usually a stark contrast to Soriano's more comical Mang Isyo. There is a believable sincerity on Bustamante's part, nuanced with fear bubbling just beneath the surface. It fortunately doesn't discount Soriano of his convincing portrayal, easily shifting from humorous to staid whenever required.
Twins Miro (Shawn Landayan plays for laughs, which works most of the time) and Mira (AJ Umali oozes teenage angst), who are also under the care of Mang Joey, discover the Kalibutan, a magical realm parallel to the human world. Here, they meet Ester, the Manananggal who frequents Janus's dreams. It is revealed that the Manananggals have rebelled against the Tiyanak who had created them, inciting the war between them and the Mambabarangs.
Ester had all along implanted a dilang karayom in Janus's heart, culprit in preventing Janus from unleashing the Paraluman within him. The Paraluman, a power only a Pusong could possess, is the only thing that will finally lead them to Tala's whereabouts.
Archaic but advanced
The modular set pieces, painted a cobblestone motif, transformed the black box into a bahay na bato, complete with archaic windowpanes and accents. Set Designer Gwyn Guanzon's movable set paved way for most of the second act's visually poetic antics (like the folding doors which doubled as a portal to Kalibutan and—spoiler alert—Miro's gory splitting in half between the two realms). Circuit board furnishings and hexagon blocks from the first Janus Silang show still remained, in a quite literal mixing of the old and the new.
This amalgam of folkloric and modern is also seen—or heard, rather—in Sound Designer Arvy Dimaculangan's use of (slightly offsetting) ethnic music and digitally-rendered video game sounds. While Varela-Luarca relied heavily on old-school theatricals with his more acting-based illusions, Lighting Designer D Cortezano took a step further to make them more convincing (though a slight mishap– an unintended blackout– easily ruined a scene).
When a novel gets adapted for the screen or stage, most fans clamor over details getting left out. Undeniably, Samar's Janus Silang series is phenomenal (just look at its ever-growing cult following), but this adaptation seemed to have let the pages bleed freely all over the stage. There are characters (like the girl in black accompanying Mrs. Ludinia) and minor arcs which peppered the play, serving little to no discernible purpose—at least for now.
This story is only part of an ongoing series (with its third book released just this September) and Varela-Luarca, after luring audiences into an increasingly convoluted web of threaded narrative, leaves them engrossed, entangled—perhaps until the next adaptation.
The show will run until October 21 at the Ateneo de Manila Black Box Theater.
Comments