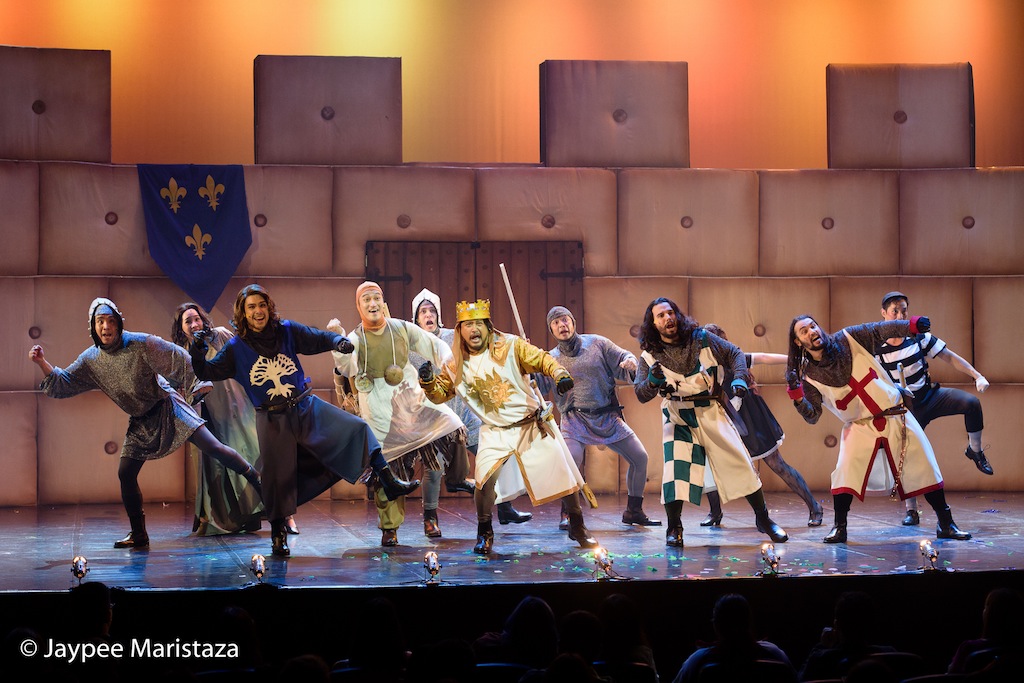 REVIEW: "Spamalot" shows the bright side of silly
It's quite rare these days to encounter a show that isn't pushing its own agenda, preaching its own values, or commentating on societal ills. Sometimes, you just want to escape and laugh. Irreverent, inane "Spamalot" becomes almost a breath of fresh air from all the thought-provocation.
"Spamalot", a musical by Monty Python member Eric Idle based on their film Monty Python and the Holy Grail, follows the Arthurian story just enough to be recognized. There's a King Arthur-character and he's setting off to a Camelot-type place, recruiting knights for his roundtable along the way. This adaptation has him encountering a plethora of increasingly bizarre characters more than the Lady of the Lake— from an uncannily astute English guard asking him where he got coconut halves in Britain, to woodland creatures telling him to mount a musical.
It's a very specific kind of comedy: the situations are surreal, the humor is dry, and the delivery is often deadpan. Joel Trinidad and Nicky Trivino co-direct this production with a clear understanding of the specificity, and has assembled a strong cast who are their own kind of triple threat: they act, they sing, and they're hilarious.
The show is very much an ensemble piece, with everyone performing with such impeccable comedic timing that audience laughter is constant, even when the material is at its most nonsensical. Lorenz Martinez is ever-reliably funny as King Arthur, always flanked by Domi Espejo's very sympathetic appropriately-named Patsy. Noel Rayos again exhibits not only his strong comedic chops, but his chameleon-like ability to handily play distinct characters, no matter how absurd. It takes a certain genius to have the theater crowd guffawing with laughter as an Ent-like creature bleating "Ni! Ni! Ni!". Reb Atadero, enters strong as the Historian, and infuses his many characters with a natural playful energy that makes him a perfect fit for this show.
It's a very British show, and everyone was at perfect ease performing in their various European accents. The Monty Python brand of rapid-fire verbiage just rolls of their tongue, most notably for George Schulze and theater newcomer Dean Rosen. They, along with Bibo Reyes played dashing knights, among other characters.
The material is frequently self-aware, and is most successfully so for Lady of the Lake's scenes. Songs like "The Song that Goes Like This" and "The Diva's Lament", performed by the delightfully hammy Carla Guevara-Laforteza are some of the show's most memorable moments. Of course, it helps that she's in a new Francis Libiran creation every time she enters a scene.
Some of the fourth wall-breaking ad-libs teetered on the verge of awkward, but even that is its own kind of funny, isn't it? There is a moment of—spoiler alert—audience participation, too. By stroke of random luck, opening weekend's Sunday matinee's audience sacrifice was Nyoy Volante. The levels of accidental irony made it a highlight of that particular show.
The set is another Ed Lacson Jr. creation, and he once again shows his knack for building sets that transform so much with so little. The backdrop is made of detachable squares that starts out as an asylum's padded room and later becomes the cartoonish stone walls of castles.
Fans of Monty Python will be glad to know that Mr. Trinidad and Ms. Trivino have put together an exuberant homage. For those unfamiliar with the cultural comedy phenomenon, Upstart Productions' "Spamalot" is a damn fine introduction.
You can buy tickets HERE.
Comments