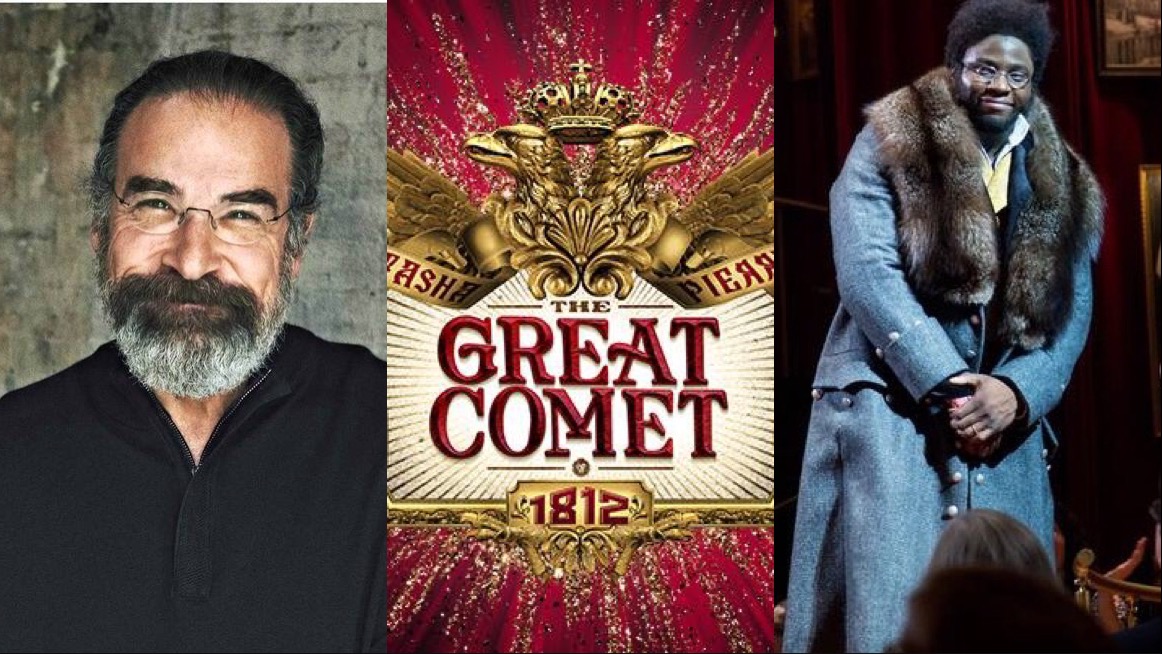 NEWS: Natasha, Pierre, and the Great Casting Controversy of 2017
Andrey isn't here—and neither is Mandy Patinkin.
Just a few days ago, on July 26, The Great Comet producer Howard Kagan announced that Tony Award-winning Broadway legend Mandy Patinkin will be joining the cast of Natasha, Pierre and the Great Comet of 1812. This would have marked his return after a 17-year Broadway hiatus.
Even Patinkin himself wore his excitement on his sleeve, "I can't talk now, I'm too busy learning the words and music of this amazing piece! Hope to see you all at the theater," he told Broadway.com.
In spite of this, on Friday afternoon, July 28, Patinkin withdrew from the eponymous lead role of The Great Comet after outburst on social media over diversity issues with his replacement of Okieriete "Oak" Onaodowan.
Kagan revealed in a statement Patinkin's casting comes after "great actors and singers see the show as audience members, only to tell us they are inspired to join the cast!" and that this abrupt replacement of Onaodowan is to "make room" for Patinkin and his schedule:
"This continues our show's remarkable history of having great actors and singers see the show as audience members, only to tell us they are inspired to join the cast! Whenever possible, we will accommodate them as we did here with Mandy and his Homeland TV schedule. Oak, who was scheduled to appear as Pierre for this period graciously agreed to make room for Mandy."

Oak, known for originating Hercules Mulligan and James Madison in the Broadway mega-musical Hamilton, had just recently taken over 'Pierre', after the departure of Tony nominee Josh Groban earlier this July. Originally booked through September 4, his Great Comet stint was cut short, as revealed in an Instagram post.
In response to the social media uproar, Patinkin told The New York Times, "My understanding of the show's request that I step into the show is not as it has been portrayed and I would never accept a role knowing it would harm another actor."

Despite initial excitement on his return, the Broadway community soon erupted in dismay, interpreting the casting as disrespect for an African-American actor just gaining traction, in favor of a seasoned white thespian.
"I hear what members of the community have said and I agree with them. I am a huge fan of Oak and I will, therefore, not be appearing in the show," Patinkin added.

Since Groban's July 2 departure, The Great Comet had consistently been unable to break through the 1-million USD mark in weekly gross earnings. In what can be viewed as a desperate attempt to bolster the show's finances, the spur-of-the-moment announcement of Patinkin taking on 'Pierre' was the perfect recipe to draw criticism from the theater community, especially since it was carried out with no consideration whatsoever on its potential racial implications.

This casting controversy seemingly contradicts what The Great Comet director Rachel Chavkin said in an an earlier interview: "There is a commitment to color-conscious casting, to ensuring diversity at all levels." She even added, "If a show is not about race, then I don't think there's an excuse any more for having an all-white company."
In fact, even Actor's Equity recently named The Great Comet as a recipient of the Extraordinary Excellence in Broadway Diversity Award for the 2016-17 theatrical season.

Because of the incessant flak they've been receiving online, The Great Comet producers, headed by Howard and Janet Kagan, resolved to issue a public apology on the show's Facebook page. They stated that they decided to cast Patinkin, as an effort to keep the show running for the benefit of everyone involved.
"However," they added, "we had the wrong impression of how Oak felt about the casting announcement and how it would be received by members of the theater community, which we appreciate is deeply invested in the success of actors of color – as are we – and to whom we are grateful for bringing this to our attention. We regret our mistake deeply, and wish to express our apologies to everyone who felt hurt and betrayed by these actions."

Dave Malloy confirmed in a tweet that the show is on the verge of closing, with sales "catastrophically low" after Ingrid Michaelson's August 13 departure from the show.
the show was in desperate shape; sales after ingrid leaving Aug 13 were catastrophically low. show would have closed 2/

— dave malloy (@dave_malloy) July 28, 2017
He then apologized for having missed the "racial optics" of the issue, explaining that the news of Michaelson replacing Brittain Ashford wasn't received then with similar criticism.
so sorry to have missed the racial optics of it. we had to do same thing with dear beloved brittain so in my head it was no different. 5/

— dave malloy (@dave_malloy) July 28, 2017
Howard Kagan, in behalf of all the other producers, said in a statement that they "sincerely hope that Oak will return to us in the fall or winter."
However, Oak had already said in his Instagram post that he won't be returning to reprise his role as 'Pierre', after his last show on August 13.
With Oak and Patinkin out of the equation, The Great Comet finds itself at a tighter juncture, further jeopardizing and potentially shortening its about-to-end run.
please don't give mandy grief, he's devastated.
i am not sure that the show has a future now. 6/

— dave malloy (@dave_malloy) July 28, 2017
In a grim tweet, Malloy said, "I'm not sure that the show has a future now."
Comments