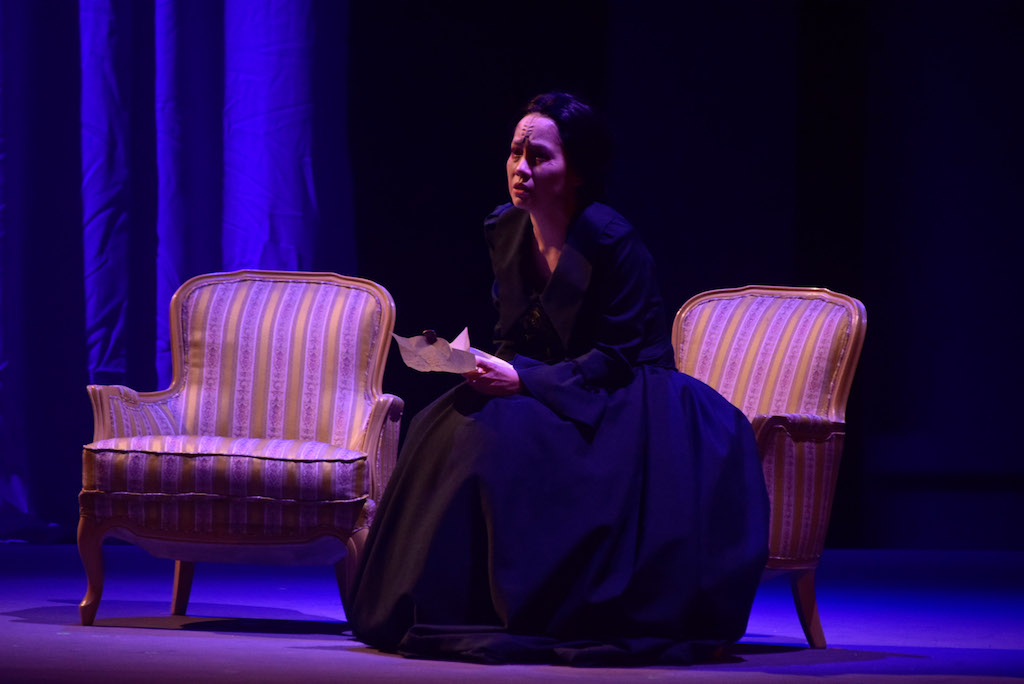 REVIEW: "Passion" is Sondheim unrestrained and emotional
Touted to be Sondheim's most challenging and controversial to stage is his 'Passion', which is, put simply, Eros distilled into an operetta. Telling this darkly absurd fever dream on love and the human psyche is an admirable feat—and Philippine Opera Company (through Robbie Guevara's opulent direction) did it justice, vividly and forcefully so. 
It was more than unlikely that Giorgio (Vien King, who shone with a very calculated nuance), a young charismatic soldier in 19th century Italy, would ever fall for someone like Fosca (Shiela Valderrama-Martinez). Especially since he's head over heels for Clara (Jasmine Fitzgerald), an older woman he has an affair with. 
When Giorgio chanced upon Fosca, his commanding officer's cousin, he was nothing short of clueless (and understandably so) of what's to come: that something as intensely fervid could ever emanate from a timid, ailing Fosca.

For starters, Fosca is textbook repulsive—from her sickly unattractive person to her overly obsessive tendencies. To be fair, no one in this gloriously dark Sondheim drama has any ascendancy, with the other two in this illicit trio adulterers themselves. 
Valderrama-Martinez, who herself admits that she is "usually typecast as the ingénue or the princess", transformed into someone very visceral, caught in the throes of unbridled, palpable passion. Her very dynamic Fosca is undeniably one of the best performances this year—progressing from a spark, to a raging fire, to dying ember. 
In this Sondheim drama, whose evocative music is as emotion-laden as its title suggests, everyone sings from the heart. Musical director Daniel Bartolome perfectly set the achingly dramatic tone, with painfully exacting vocals from the leads. 
Thoroughly commendable among the supporting cast were Lorenz Martinez (as Doctor Tambourri) and Raul Montesa (as Colonel Ricci), who provided powerful, grounded performances which solidified their world further. 
Martinez and Montesa completely felt more a part of their narrative realm than ours, but at the same time felt as much a spectator as the immersed audience—though the same can't be said for the rest of the ensemble whose performances felt relatively half-baked. 
All of these took place in a visually cohesive mise-en-scene: a grandiose proscenium adorned with period-appropriate fashion. Save for occasionally spotty lighting and sluggish transitions between scenes, 'Passion' is no doubt a spectacle. 
Like a moth to a flame, audiences were left engrossed throughout the entire act, less because of any semblance of romance but more of its innate intensity: of pure, saturated emotion. And it's that similar intensity that drew Giorgio to Fosca, as unlikely as it played out to be. 
Sondheim is no stranger to dark, affecting musicals (Into The Woods, Sweeney Todd, among others), but Passion may just be his most perfect example, with all its unrestrained emotion. If putting on a sublime, stirring show is unlawful, Guevara's guilty of this very crime of "Passion".

Tickets

: Php 900.00 - Php 3500.00 


Show Dates

: Sep 13 '19, Sep 14 '19, Sep 15 '19, Sep 20 '19, Sep 21 '19, Sep 22 '19, Sep 27 '19, Sep 28 '19, Sep 29 '19


Venue

: Carlos P. Romulo Auditorium, RCBC Plaza, Makati City


Running Time

: approx. 2 hours with no intermission


Credits

: Robbie Guevara (Director), Karla Gutierrez (Artistic Director, POC), Daniel Bartolome (Musical Director and Conductor), Jason Tecson (Set Designer), Shakira Villa Sykes (Lighting Director), Zenaida Gutierrez (Costume Designer), Venger Marquez (Vocal Coach), Myrene Santos (Hair and Make-Up Designer), Sunshine Domine (Production Manager), Benjor Catindig (Graphic Designer) and Jojit Lorenzo (Photographer)


Cast

: Shiela Valderrama-Martinez, Vien King, Jasmine Fitzgerald, Lorenz Martinez, Raul Montesa, Noel Rayos, Jonel Mojica, Vyen Villanueva, Lorenzo Mendoza, Jos Jalbuena, Timothy Racho, Joshua Cheng, Lorraine Lisen, and Jasmin Salvo 


Company

: Philippine Opera Company
Comments