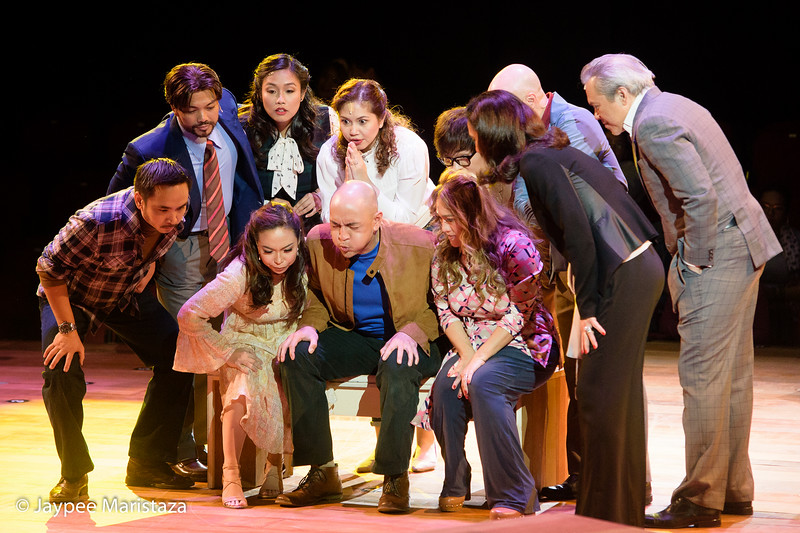 REVIEW: In "Company", it's style over Sondheim
In the 70s, Stephen Sondheim wrote a musical that perfectly encapsulated what it felt to be on the wrong side of thirty, seeing your friends disappear off into marriages until you seem like the last woman or man left standing. "Company", forty years later, remains a prescient look at the phenomenon of being thirty-something and still willfully unmarried.
The plot revolves around Bobby, newly thirty-five and that last single friend to a host of rather overbearing married couples who alternately urge him to settle down and stay single. Bobby himself is intrigued at the prospect of marrying someone, but with misgivings over what it entails. It's intensely relatable, with songs anthemic to the dichotomy of being married (Sorry-Grateful), to longing for companionship but being petrified of vulnerability (Marry Me a Little), to women and their choices (Ladies Who Lunch). This Sondheim and George Furth work is sharp, clever, funny, and deliciously musical theater.
The local production, directed by Topper Fabregas, is in the round, with a bare platform stage and movable benches (Joey Mendoza is set designer) by way of the set. It's a bit of a gamble for the audience to choose which sides to sit if they want the best view of the show. Fabregas does his best to play to all sides of the audience surrounding the stage, but it's hard not to imagine if the experience was any other way, where I would've been able to see the entirety of the show's big numbers without the cast's back to me for verses at a time.
Why it had to be in the round at all was personally confounding, making it seem too experimental when no such risk was taken in staging any of its scenes. It was almost distracting, taking away from Sondheim's oft insightful and even searing lyrics. 
It does pay off in first act's "Getting Married Today", with Cathy Azanza-Dy's memorably charming take as a frazzled bride with a serious case of cold feet. The song transitions to the ensemble as church guests, the choreography (Nancy Crowe) matching the number's dynamic energy. It's one of the show's two highlights, with the other being Menchu Lauchengco-Yulo's take on Ladies Who Lunch. In one scene and one number, she was able to craft an indelible, alluring woman of the world that's been around the block a few times.
As for OJ Mariano's Bobby, we are told more than shown, with songs singing his values as a dependable friend but a bit of a serial dater. He is the least dominant presence in a show that's supposed to be about him.  Perhaps Bobby is designed to be a sort of everyman archetype from which the audiences can project themselves on. In any case, he sings beautifully but doesn't exude the bro-ish air of someone with casual dalliances with ditzy flight attendants.
Tickets: Php 1,500.00 - Php 3,500.00


Show Dates: Sep 13 '19, Sep 14 '19, Sep 15 '19, Sep 20 '19, Sep 21 '19, Sep 22 '19


Venue: Globe Auditorium, BGC Arts Center, 26

th

 cor. 9

th

 Ave., Bonifacio Global City, Taguig


Running Time: approx. 2 hours and 40 mins (w/ 15-minute intermission)


Credits: Stephen Sondheim (music & lyrics), George Furth (book), Topper Fabregas (director), Rony Fortich (musical director), Nancy Crowe (choreography), Joey Mendoza (costume & set design), Meliton Roxas (lighting design), Jethro Joaquin (sound design)


Cast: OJ Mariano, Sweet Plantado, Joel Trinidad, Nicky Triviño, Ariel Reonal, Bianca Lopez, Chino Veguillas, Cathy Azanza-Dy, James Uy, Caisa Borromeo, Jill Peña, Maronne Cruz, Menchu Lauchengco-Yulo, Michael Williams


Company: Upstart Productions
Comments