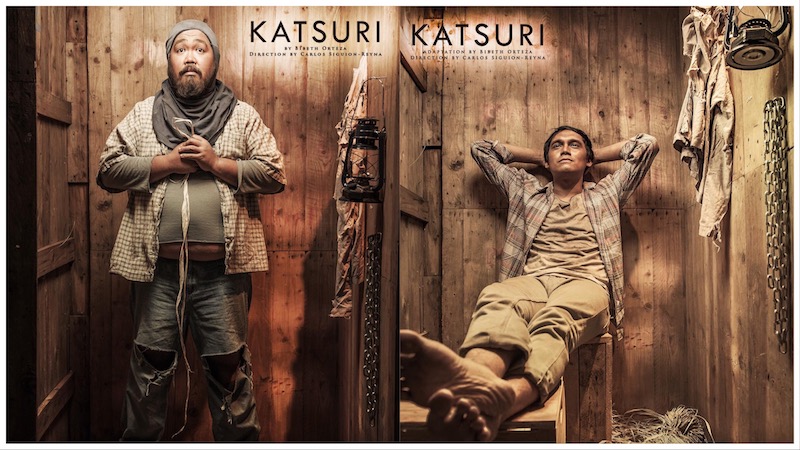 "Katsuri" Resonates Anew with Harsh Conditions in Negros
Tanghalang Pilipino is set to stage an adaptation of John Steinbeck's "Of Mice and Men". Entitled "Katsuri", the play is adapted by Bibeth Orteza and directed by her husband Carlos Siguion-Reyna, who comes back to direct his fourth production for the company. 
While "Of Mice and Men" is set in California during the Great Depression, "Katsuri" is set in present day Bacolod. It follows the story of George and Toto (originally Lennie), two best friends who operate as sugarcane workers. They go from one job to another, with dreams of one day owning a piece of land to build a small house on.
This story of economic oppression gains new relevance with the recent killings of the farmers in Negros. According to reporter Inday Espina Varona, by the end of March this year, there have been 50 killings on the island, including the massacre of nine sugar workers in Sagay, Negros Occidental. The death toll of civilian targets since then has risen to 67.
 Because of the rampant and prevailing injustices, Orteza says the Filipino adaptation, which will have a few lines in Hiligaynon to help situate the scenes, is a story that was begging to be told. "Dahil sa nangyayari ngayon sa Bacolod, truth had no choice. Truth begged that the adaptation be written in such manner."
Instead of Steinbeck's original character Lennie, Orteza decided to rename the character "Toto" as a tribute to a slain human rights activist in Negros. "Iyung sanang magiging point person ng Tanghalang Pilipino papuntang Bacolod for research was assassinated just before the elections," she shares. His name is Bernardo Patigas. Ang palayaw niya, 'Toto'." Patigas was also a Bayan Muna candidate for Escalante City councilor in the last elections.
 "He was on a motorbike, tapos binaril iyung motorsiklo.  Gulong muna para tumigil yung motorsiklo, tapos nilapitan siya at rinatrat pa ng ilang bala hanggang mamatay."
"[He] was shot in front of a school. His murder was seen by the students in the area. We cannot just let these things happen."
Orteza also explains that "Katsuri" doesn't necessarily mean "rat." "It's more like the shrew, not quite rodent, not quite mouse. Pero ang mga sakada (sugarcane workers) rin kasi, they're also not quite human anymore."
Marco Viaña, who plays the quick-witted George, recalls how the Tanghalang Pilipino Actors Company has been reading and studying the original English script for the past 7 years. "Iyung English iyung inaaral namin, at iyung sensibilities 'nun, American, kasi nakaset siya sa Depression sa America. Ito, sinet sa Negros, at ibang-iba iyung sensibilities ng mga tao."
"For example, for George, sa 'Of Mice and Men', alam niya iyung mga karapatan niya, he says. "Alam niya kung ano iyung dapat niyang ipaglaban niya bilang farmer. Versus here, base sa research, iyung mga farmers natin sa Negros, hindi nila alam kung ano ang dapat at nararapat na meron sila."
 Eunice Pacia, who plays the role of Monang, says that the experience of the sakadas can be likened to the difficulties experienced by our rice and vegetable farmers today.
"Iba man iyung produkto na rinerepresenta dito, hindi naman magkaiba iyung nararanasan nila. Kasi kung malalaman po natin iyung mga kwento ng sakada doon, ganun din, iyung products nila. Ang taas ng value sa market ngayon, pero iyung binibigay pa rin sa kanila, mas maliit doon sa dapat na natatanggap nila."
Siguion-Reyna also shares that besides the political and economic injustice, what also makes the story resonate are the themes of unity and empathy."…iyung halaga ng pakikipag-isang loob sa isa't isa, iyung pinaglalaban natin ang isa't isa, versus iyung kanya-kanyahang nature ng mga taong nahihirapan sa mga realidad."
"[George and Toto] are unique in the story in the sense na meron silang relationship, hindi sila kanya-kanyahan. The rest of the farming community doon, parang self-protection. They'll do what they can to survive."
"Kung Ilonggo ka, you'll know, 'Toto' is a pet name. It actually means señorito, but not señorito always na señoritong mayaman, adds Orteza. "Kung ikaw ang 'Toto' ng bahay niyo, ikaw ang spoiled sa bahay mo. And that is also the relationship that Toto in 'Katsuri' has with George. Siya ang 'Toto' ni George."
Siguion-Reyna continues, "It's a very human story.  It's very political din of course, but at the core of it, meron siyang humanity of iyung mga relationships ng mga tao sa isa't isa na mahalaga sa mga ganitong panahon na maraming division at pagkawatak-watak sa ating lipunan."
"It speaks to everybody because itong issues of kanya-kanyang self-protection versus empathizing with other people, finding the common things among us instead of the things that divide us, that still resonates with everybody."
The cast is led by Jonathan Tadioan, who plays the mentally-challenged Toto, and Marco Viaña, who plays his best friend and guardian George. They are joined by Michael Williams, who plays the Boss, Fitz Bitana, who plays Kulot/ Ensemble, and Nanding Josef, who plays Tatang. 
Also in the cast are the rest of the Tanghalang Pilipino Actors Company—Antonette Go as Inday/ Ensemble, Lhorvie Nuevo as Carling/ Ensemble, JV Ibesate as Payat/ Ensemble, Doray Dayao as Atornie/ Ensemble, Eunice Pacia as Monang/ Ensemble, Monique Nellas as Woman/ Ensemble, and Ybes Bagadiong as Nognog/ Ensemble. 
Joining Orteza and Siguion-Reyna in the creative team are set designer Ohm David, lighting designer Dennis Marasigan, sound designer TJ Ramos, and costume designer Daniel Gregorio.
"Katsuri" will run from October 4-27 at the CCP Studio Theater.
You can buy tickets HERE.
Comments