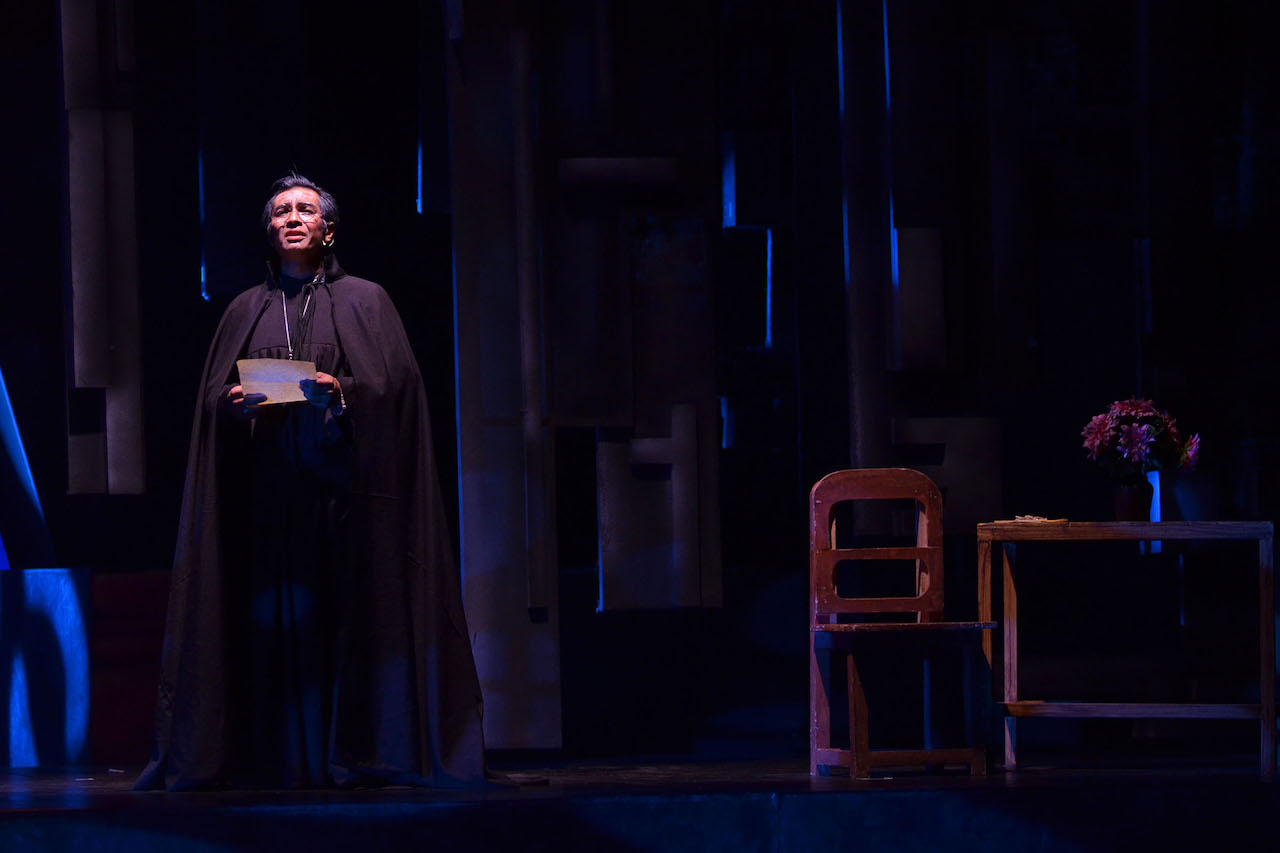 REVIEW: Miracles and multiplicity in "Guadalupe"
Despite being a seemingly religious musical, Guadalupe almost completely veers away from the obvious narrative. It takes several directions at the same time, from politics of the Spanish inquisition to unnecessary romances, getting lost in itself in the process.

It starts with an Aztec ritual. A large ensemble spiritedly danced and chanted in what may have been Nahuatl, the language of the empire in central Mexico. Their indigenous garb, notably ostentatious, matched the heavily stylized Aztec-inspired set.
As the ensemble concluded, the show goes back to present, as tourists were taken inside the famed Basilica of Our Lady of Guadalupe. The set actually draws geometric elements—randomly sized squares and rectangles—from the actual altar wall of the Basilica. Over the altar hung an image of the Virgin Mary that was said to have miraculously appeared on a tilma, a piece of garment worn by Aztec men.
When varying skepticism erupted among the tourists, the tour guide (Shiela Valderrama-Martinez) began to tell them about the miracle in Guadalupe and how it ushered change almost half a millennium ago.
But it's not quite what one would have imagined.

Overtly Disney-esque, the Joel Trinidad musical had almost too much to tell about the events leading to the miracle in Guadalupe. The expansive libretto is testament to this: a production number after another, with ballads peppered throughout. Good thing is that Ejay Yatco's music is remarkable at the very least, reminiscent of Spanish music with a Broadway sensibility.
  
The story follows Juan Diego (Cocoy Laurel), a humble mat-weaver, who lives with his sick uncle Juan Bernardino (Onyl Torres). But not entirely. It frequently shifts focus towards subplots involving a skeptical bishop (Noel Rayos), his niece Clara (Kyla Rivera) and her lover Luis (Arman Ferrer). Director Baby Barredo had to have dynamic set pieces in place for this purpose, with a distinct vignette corresponding to each story arc.
After the Virgin Mary, in her apparition, told Juan Diego to inform the bishop about what happened,  Juan Diego promptly did so as a devout neophyte. The bishop, despite his personal doubts, eventually supported Juan Diego's claims. This is because he thought it would put an end to the continuing persecution of natives if a miracle like this happened with someone like Juan Diego.

The musical could have started and ended with the bishop and Juan Diego, but it chose not to. It took liberties to insert a romantic narrative arc, which seemingly only serves to increase the material's appeal. Clara and Luis had more than one scene to themselves and even numerous duets while the show failed to show enough depth for the bishop or even Juan Diego and his uncle.
Trinidad attempted to provide necessary exposition of the protagonists by giving them lengthy ballads, but ballads work best if both the writing and execution strike a perfect chord. However, the songs, written too purposively, remained unremarkable with performances that were far from notable. In the end, even supposedly overwhelming moments (like when Juan Diego's uncle was miraculously healed) felt unearned.


After the climax (when the image had appeared on the now-sacred tilma), everyone broke out into an inevitable finale. And by 'everyone', this means including the once-skeptical tourists who now found themselves believers. It was a glorious conclusion, what with the choir-like ensemble which is definitely one of the better elements of the show.
The musical unabashedly tried to be many things at once: a history lesson at one point, religious material at another, and even a love story somewhere in between. Built to please its audience, it literally had something in it for everyone—leaving little room for needed nuance and character development.
Comments