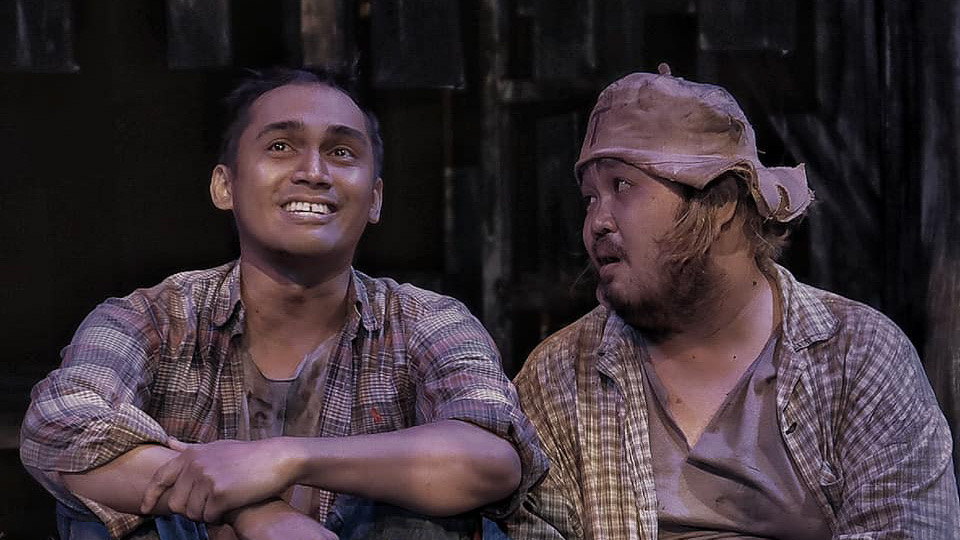 REVIEW: "Katsuri" is a theatrical feat
Bibeth Orteza's adaptation of Steinbeck's 'Of Mice and Men' sets a standard for adaptations, local plays, and theater-as-advocacy.
Hope can be a gutting thing to witness, as evidenced in Bibeth Orteza's adaptation of John Steinbeck's "Of Mice and Men". Three ordinary men—this time, laborers in a sugar plantation in Negros—dream about the modest plot of land they want to own, the rabbits they're going to raise, the vegetables they're going to plant. Ambition, here, isn't our idea of it; what they long for boils down to the human dignity of ownership, and a life far from brutalization and modern servitude.
The quaint life they envision might as well be a pipe dream. This is the wrenching state of the nation that Orteza and director Carlos Siguion-Reyna has laid out so clearly and compellingly in Katsuri. What's more is that this story–originally about two migrant farm workers in America during the Great Depression–is retold in present day, about the current brutal and inhuman labor practices in sugar plantations in Negros. They do excruciating work for a pittance, only to be slaughtered seemingly on the whim of their bosses.
To adapt the indelible literary friendship of George and Lennie to tell this story humanizes the plight of these workers, showing that the innocents, the most vulnerable people in our society don't look like how we would picture them to be. In Orteza's version, Lennie is now Toto (Jonathan Tadioan)–an homage to fallen labor activist Bernardo Patigas–though still the fiercely loyal gentle giant. George (Marco Viaña) is his street smart and capable counterpoint, acting as brother and friend.
As in the original text, the story begins as the pair is about to head off to new work, taking a night of quiet before embarking on a month of crushing labor for bad pay. George laments over how easy his life would be if he didn't have Toto to carry and worry about, but it's the empty frustration of one who considers the other family. It's what sets them apart from the others, their sense of belongingness to each other.
They are told that work is hard as is expected, but their boss (Michael Williams) is better than most. The other workers take to the newcomers quickly enough, respecting their work ethic despite Toto's eccentricities. Narratively–the real conflict begins with the boss's son Kulot, (Fitz Bitana) who is a textbook warmonger and his wife Inday (Antonette Go), who is clearly trouble long before she steps on stage–enter the picture. If you're familiar with the source novella, you know what transpires within this tiny community of workers: an unfortunate accident involving Toto and Inday that lead to an even bigger tragedy.
This main plot is only part of why this Katsuri is a powerful thing. Sure, it's emotional, but the way we are taken through George and Toto's story and brought into their life is so expertly contextualized and actualized that there is no doubt, no moral quandary as to who the victims are, and the pure injustice of it all. The Big Bad aren't the people or what they're driven to, it isn't even the boss's insecure son, or the vaguely provocative temptress, or what Toto and George end up doing–it's the system. They are no better nor different than the mice scurrying around in the field, delaying their inevitable death by people who don't consider their life as valuable as theirs.
The metaphor is deliberate. Katsuri itself is not quite mice, according to Orteza, as the characters in this show are not quite people. This deliberate hand, from adaptation to Siguion-Reyna's direction contributes to how nothing goes over the viewer's heads. The harshness of it is unflinching, the pain and hope and injustice of it is nanunuot; permeates the psyche, telling audiences not just to watch but listen to the message it is screaming to impart.
It's an achievement accomplished through the detailed work not just by the playwright and the performers, but the rest of the artistic team that created this world; Ohm David's set design of bare-bones wood and panels that shift from fields to the inside of worker's quarters, Dennis Marasigan's lighting that worked to heighten emotions of scenes from simmering tension to cathartic release, TJ Ramos's soundscape of the quiet and catastrophe you hear outside of concrete jungles, and Daniel Gregorio's exemplary costumes of tattered and dirty clothes that can only be created by years of toiling in the ground. It's all staggering work, and that it is staged in CCP's Studio Theater means that you see every detail so clearly, every distinct emotion.
The players of Tanghalang Pilipino's Actors Company astound in this show, as they had in Ang Pag-uusig. Guest artist Michael Williams's docile demeanor was almost a smokescreen to drive the point that abusive people in power, however nice up-close, can still perpetuate the abuse. Nanding Josef, playing the helpless old man with one hand, is terribly heartbreaking to watch. 
But the central performances of Viaña and Tadioan ups the ante of the story. Tadioan gives a masterclass transformation as the lubberly but kind Toto so well that you root for him from the jump. Viaña, too, has crafted George as one who may not be perfect, but always tries to do the right thing. Their chemistry as inseparable brothers reminds you the very real and very human cost of regional atrocities you only hear from the news.
Katsuri is truly astonishing work that is no mere exercise of artistic endeavor. It's purposeful and Filipino in a way few shows rarely are. It's so well-crafted, they may have set a new theatrical standard. Go. Watch. Learn.
Tickets:

 Php 800.00 - Php 1,000.00


Show Dates:

 Oct 4 '19, Oct 5 '19, Oct 6 '19, Oct 11 '19, Oct 12 '19, Oct 13 '19, Oct 18 '19, Oct 19 '19, Oct 20 '19, Oct 25 '19, Oct 26 '19, Oct 27 '19


Venue:

 Tanghalang Huseng Batute, Roxas Blvd., Pasay City


Running Time:

 approx. 2 hours and 30 mins (w/ 15-minute intermission)


Credits:

 Bibeth Orteza (playwright), Carlos Siguion-Reyna (director), Dennis Marasigan (lighting design) Ohm David (set design), Daniel Gregorio (costume design), TJ Ramos (sound design)


Cast:

 Jonathan Tadioan, Marco Viaña, Michael Williams, Nanding Josef, Fitz Bitana, Antonette Go, Lhorvie Nuevo, JV Ibesate, Doray Dayao, Eunice Pacia, Manok Nellas, Ybes Bagadiong


Company:

 Tanghalang Pilipino
Comments