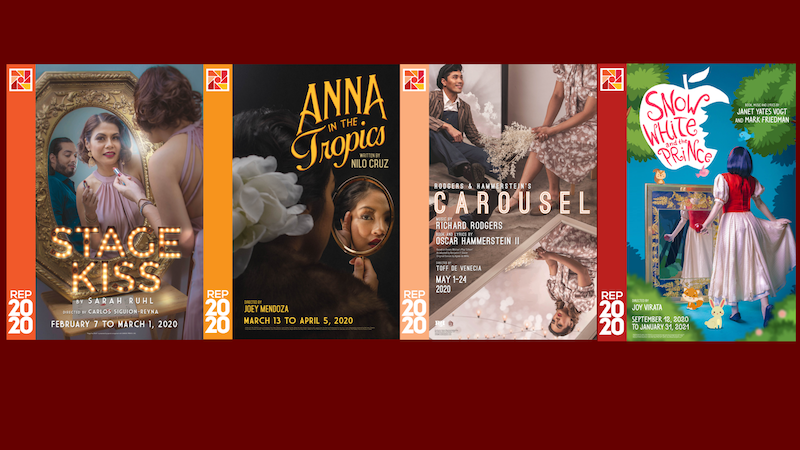 "Carousel", "Snow White and the Prince", and More Comprise REP's 2020 Season
Repertory Philippines, now going on its 53rd year and 83rd season in 2020, is shaking things up. REP veteran Liesl Batucan, who previously served as Managing Director, will officially be on her first full year as Artistic Director next year.
REP's president and CEO Mindy Perez-Rubio says,  "[Liesl] brings with her a vibrancy and new young blood into Repertory, something that we really needed. And at the same time, Liesl will carry on the mission and vision that Bibot Amador and Baby Barredo started."
All chosen directors, except Joy Virata, who returns as the director for the company's Theater For Young Audiences offering, as well as a number of cast members, will be celebrating their respective debuts with the company.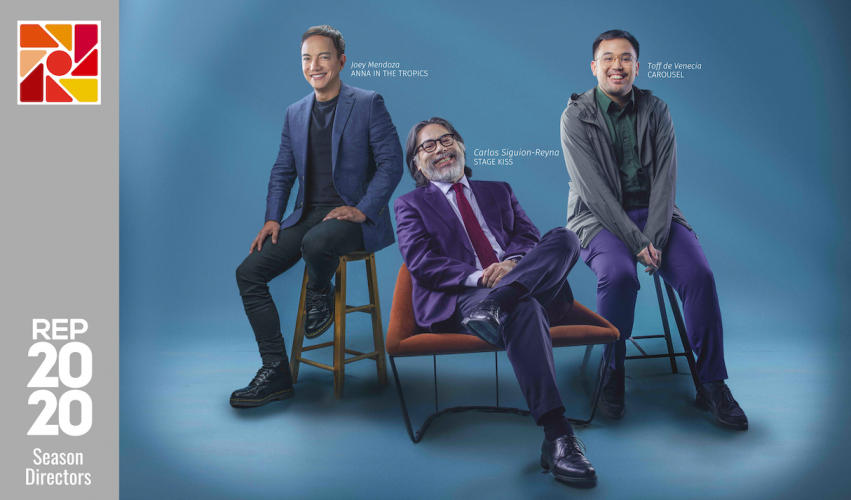 The first show of the season is Sarah Ruhl's "Stage Kiss", directed by Carlos Siguion-Reyna. It is a romantic comedy about He and She, two stage actors who find themselves cast as lovers in a 1930's melodrama. But She and He have a romantic history together, and after sharing several stage kisses as their characters, they unintentionally rekindle their love. The play stars Missy Maramara and Tarek El Tayech, with Andres Borromeo, Justine Narciso, and Mica Pineda, among others. It will run from February 7 to March 1 at the Onstage Theater of Greenbelt 1.
The second play is the Pulitzer Prize-winning "Anna in the Tropics", written by Cuban-American playwright Nilo Cruz. It follows Juan Julian, who is employed as a lector in a Cuban cigar factory in Tampa, Florida in 1929. When he reads aloud from Leo Tolstoy's 'Anna Karenina', the workers soon find the story creeping into their lives and informing their decisions. Marriages collapse and tensions run high as the workers are confronted with the threat of automation. Directed by Joey Mendoza, the cast features Gab Pangilinan, Ana Abad Santos, Jake Macapagal, Paolo O' Hara, Brian Sy, Gie Onida, and Madeleine Nicolas. It will run from March 13 to April 5 at the Onstage Theater of Greenbelt 1. 
The first musical and the third production of their 2020 season is Rodgers and Hammerstein's "Carousel." It stars Nikki Gil and Gian Magdangal, both making their REP debuts, as Julie Jordan and Billy Bigelow.
Toff de Venecia, a director who's known for his contemporary stagings of 'Dani Girl', 'No Filter' and 'No Filter 2.0', will be directing the Rodgers and Hammerstein classic.
"It's always been a dream to be able to reimagine a classic for a contemporary audience," says de Venecia. "I'm very excited to be able to excavate its embedded themes, to be able to move it forward to the 21st century."
The musical follows a poor young couple, millhouse worker Julie Jordan and carousel barker Billy Bigelow. When they both lose their jobs because of their love affair, Billy is pressured into committing theft to provide for their unborn child. After everything goes tragically wrong, he is given a chance to make things right.
"Ultimately, Carousel is a story about love. It's a story about redemption, and it's a story about the rapture of life," shares de Venecia. "It's one of Rodgers and Hammerstein's most enduring epic masterpieces."
"Like with what's happening in Broadway now, especially with the recent production of 'Oklahoma', it's reexamining the tradition of Broadway musicals for a contemporary audience. That's something that audiences here in Manila should be able to check out and experience in this production of 'Carousel'." The musical will run from May 1 to 24 at the Onstage Theater of Greenbelt 1.
The company's fourth offering is entitled "REP Unplugged", a new concept independent from the rest of the season. "It's going to be very alternative theater," says Batucan. "It's going to be staged in unconventional performance spaces." The idea was inspired from a performance of "Father's Day", the company's second play from 2019, where the cast had to perform without electricity due to a power outage.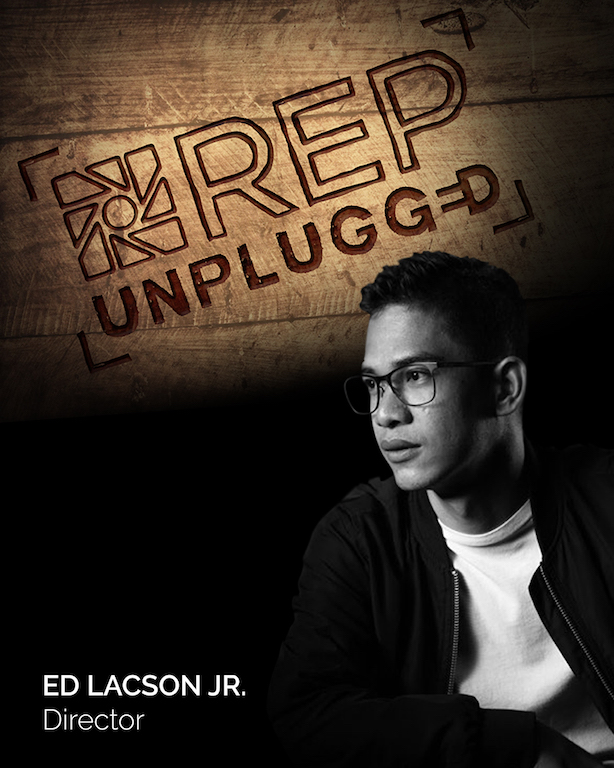 "It's an idea in progress," shares Ed Lacson Jr., who will be directing the new concept. "It came from a story of Liesl of one of the performances here, where a technical problem occurred and they turned it into a wonderful performance instead of becoming a problem. So we are taking that inspiration into doing this."
Lacson Jr. describes it as a "…fully realized production, but in an unconventional, site-specific space." "I think it brings REP outside of a certain comfort zone, and it's a very admirable thing to do for a company who's been around for a very long time, to try something new," he adds. "And the material, whatever it is, it's going to be staged outside Onstage, which is the home of Repertory, so that one again is outside of their comfort zone. We're looking for a warehouse or a bar, together with the material."
REP Unplugged will be launched in June 2020 during the interim between the first 3 productions and the children's production.
The second musical and the last show for the company's upcoming season is Janet Yates Vogt and Mark Friedman's "Show White and the Prince," which Batucan describes as "a quirky and fresh retelling of a beloved classic." The show will run from September 12, 2020 to January 31, 2021 at the Onstage Theater of Greenbelt 1.
Auditions for "Carousel" and "Snow White and the Prince" will be announced soon.
You can catch a first look at "Carousel" and at "Snow white and the Prince" in the video below.
Season passes are now available for purchase. The Gold Year Pass (includes 3 season shows and REP's Theater For Young Audiences) costs P4,900, the Silver Year Pass (includes 3 season shows and REP's Theater For Young Audiences) costs P3,700, the Gold Season Pass (includes 3 season shows) costs P4,200, and the Silver Season Pass (includes 3 season shows) costs P3,150. You can call REP at 8451-1474 or 0966-9054013 or contact Ticketworld at 891-9999.
Comments