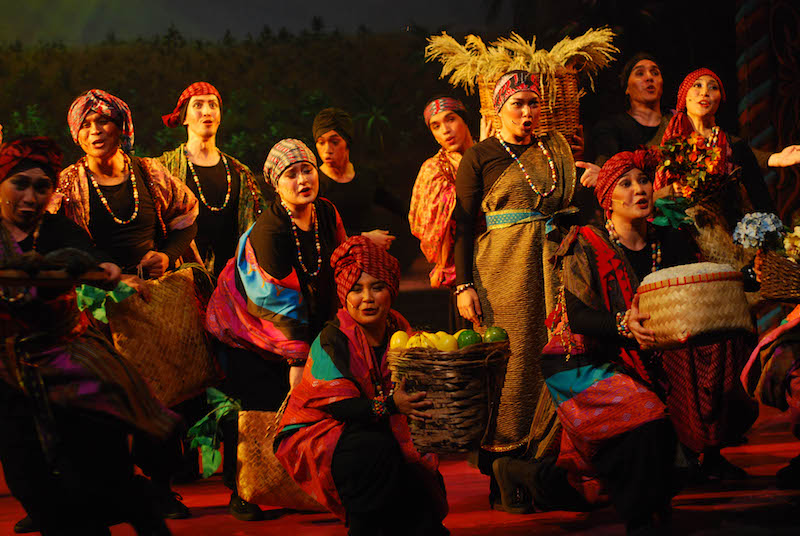 REVIEW: "The Quest for the Adarna" is a dazzling display of Filipino ingenuity
Playwright Luna Griño-Inocian's retelling is a kid-relevant, mesmerizing modern take on the Pinoy epic.
Like capturing a mythical bird and triumphing over a seven-headed serpent as well as your brothers' treachery on the way back to your ailing father who ought to be healed by the bird's song (whew!), adapting "Ibong Adarna" to children's theater was no easy feat – an epic undertaking that the REP Theater for Young Audiences under the direction of Joy Virata (with co-directors Jamie Wilson and Naths Everett) managed to pull off quite marvelously.
Imagine having to pick scenes from over 1,700 stanzas and putting together a show that caters to the attention span of kids born half a millennium after those lines were written. Also, that show is a musical and must be written in English. Not easy!
So while Wilson mentioned that their intent was to highlight positive Filipino values such as strong family ties, it's Pinoy creativity that really shines through. 
Using shadow play, puppetry (Otto Hernandez), ballet, spectacle, songs (composed by Rony Fortich) that span genres, delightful choreography (PJ Rebullida), even audience participation, "The Quest for Adarna" showcases massive Pinoy talent as it wakes a legend from slumber and plumes it to a wider, current audience.
Though the show isn't perfect – with a somewhat underwhelming opening number that doesn't quite set the tone for the rest of the show, shaky performances here and there, and too many Asian elements mixed in to faithfully represent its origins – it is grand, adventurous, original in more ways than one, and has the makings of a modern classic.
Bounty
The show aptly begins by introducing the fictional land of Berbania as one that is full of bounty. This echoes the overall theme of the setting – a stage (Joey Mendoza) so abundant, filled with dancers in vibrant costumes (Tata Tuviera) and layered scenery, that it overflows to the side walls of the theater. Eerie shadows of tree branches remind us that no great adventure is ever without adversity.
It is at this point that lighting design (John Batalla) must be lauded, as it significantly contributes to making the show both a feast for the senses and an emotional ride.
We then meet the three potential heroes of the story, the Princes: haughty Pedro, (Arion Sanchez), wisdom-challenged hunk Diego (Luis Marcelo), and kind-hearted Juan (Neo Rivera).
The three must travel to Mt. Tabor, where the legendary Adarna is perched. It is said that her song will cure their father's nightmare-induced grave illness.
Only Juan is successful in showing kindness (to the old man who in turn teaches him how to avoid the Adarna's trap) and fulfilling the mission, which earns the ire of his brothers. They betray him and claim his achievement for their own. 
In the end, the rightful hero is revealed and proves to be a righteous one, when their father orders exile (or death) as punishment, but Juan instead chooses forgiveness.
The happy ending is complete, when he reunites with and is to wed the brave Princess Maria Blanca (Cara Barredo) who both saved him from danger and put him smack in it, all while cheesily falling in love with him.
Mesmerizing
As performances go, Sanchez's portrayal of the devious Pedro is just shy of hinog, like a mango that needs bagoong to be fully appreciated. That bagoong is Marcelo, who plays the dimwit Diego to satisfaction and has great comedic timing.
Rivera as Juan is a perfect match; and it is both believable and satisfying to see him transform from likeable bunso to valiant hero.
But, what will take your breath away is the moment you lay eyes on the Adarna (Carla Guevara Laforteza). Sparkly dramatic scene and splendid costume complementing, Guevara Laforteza's Adarna is graceful and playful; and her song puts the real audience in a trance along with its intended audience, the princes.  
Modern
The two performances responsible for the korido time-traveling to the 21st century belong to the Hermit (Hans Eckstein) and to Princess Maria Blanca.
Eckstein is effective and so entertaining as the narrator and catalyst of the story. He runs the range from shaman to rapper, as he goes full Batibot in enlisting the help of audience youngsters to be Juan's mnemonic sidekicks.  
And Barredo's Maria Blanca is badass, literally wearing the pants in the relationship at some point in their rushed romance. Spunky and fearless, she could very well be a modern-day Pinoy Disney princess.
A tiny detail that encapsulates the show is that the princes wear silver sneakers – an odd thing to see, especially beside the more practical and predictable sandals of other characters. Whether intentional or frivolous, it's an indication of the fun audiences are in for and that this modern take on 'Adarna' espouses how great storytelling knows no bounds – not time, not age, not language.
Tickets:

 Php 500.00 - Php 800.00 


Show Dates:

 Sep 20 '19, Sep 21 '19, Sep 22 '19, Sep 28 '19, Oct 5 '19, Oct 6 ' 19, Oct 20 '19, Oct 27 '19, Nov 10 '19, Nov 15 '19, Nov 24 '19, Dec 15 '19, Jan 12 '20


Venue:

 Onstage Theatre, Greenbelt 1


Running Time: 

approx. 1 hour 30 minutes


Credits:

 Luna Griño-Inocian (book and lyrics), Rony Fortich (musical direction/ composition), Joy Virata (direction), Jamie Wilson and Naths Everett (co -direction), Joey Mendoza (set design), Tata Tuviera (costumes),  




PJ Rebullida (choreography), John Batalla (lighting design), Winter David (video design), Otto Hernandez (puppets)


Cast:

 Carla Guevara Laforteza, Shiela Valderrama-Martinez, Andrea Monique Alvarado, Cara Barredo, Arion Sanchez, Jim Andrew Ferrer, Ade Valenzona, Luis Marcelo, Andres Borromeo, Sean Nolasco, Vinni Todd, Neo Rivera, Diego Aranda, Leo John Guinid, Justine Narciso, Jillian Ita-as, Alex Reyes, Arnel Carrion, Raymund Concepcion, Hans Eckstein, Naths Everett, Ayam Eckstein, Noel Rayos, Jay Barrameda


Company:

 Repertory Philippines
Comments