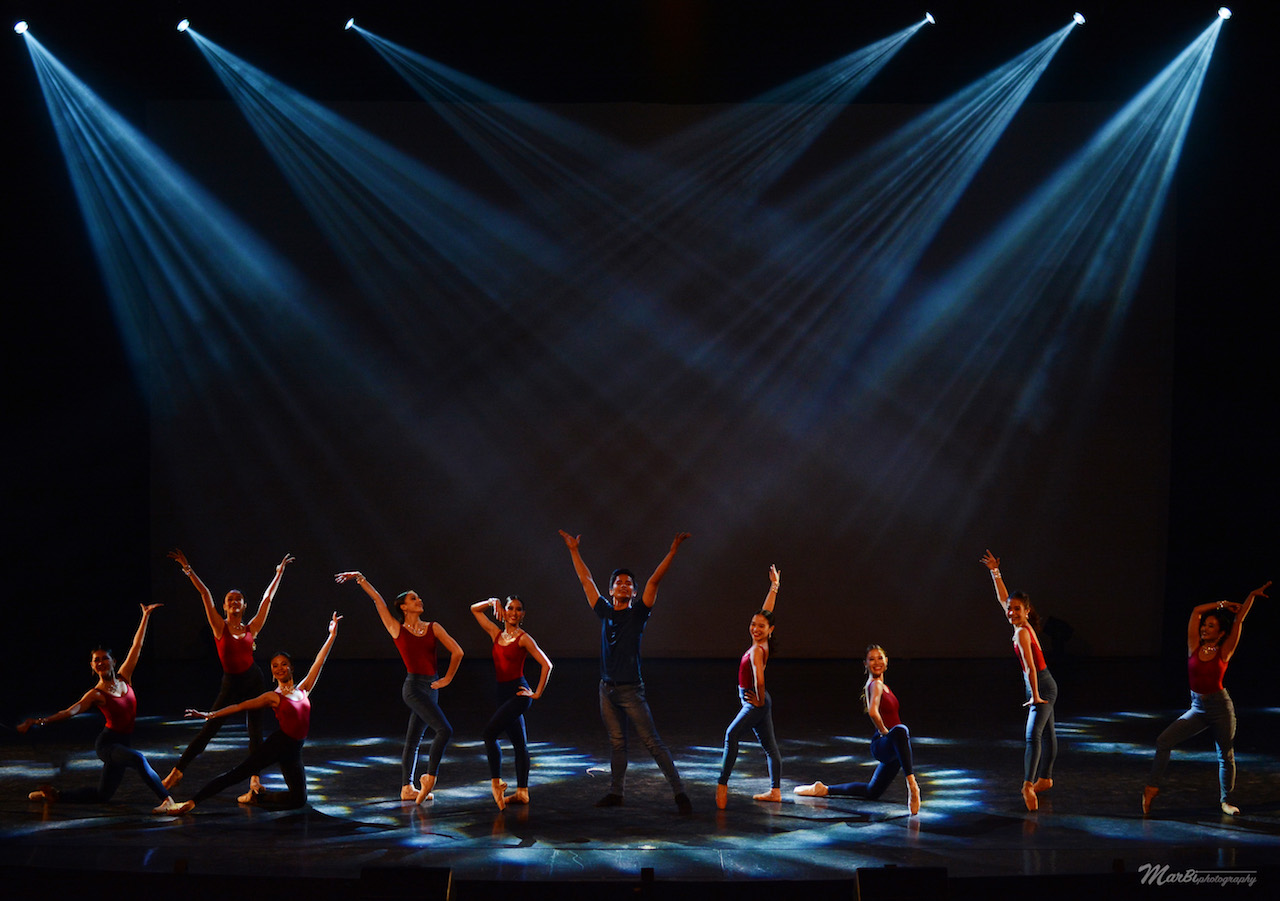 REVIEW: Ballet Manila's "Ballet & Ballads" offers a little bit of everything
In their season-closing production Ballet & Ballads, Ballet Manila aims to merge pop, opera, musical theater, and ballet in a concert celebrating love. It sets itself a lofty goal, but doesn't entirely get there.
Presented as a series of alternating song and dance segments, Ballet & Ballads features collaborations with opera singers from the Klassikal Music Foundation and pop singer and theater performer Christian Bautista. Selections from the OPM songbook (a Rey Valera medley, Gines Tan's "Magsimula Ka") alternate with pieces from Tchaikovsky's Swan Lake and Adolphe Adam's Giselle, and musical theater numbers such as Leonard Bernstein's "Maria" from West Side Story.  
As the show is essentially a series of vignettes, the pacing is uneven, especially in the first act. A dramatic number like "You Raise Me Up" (one of Bautista's solos) segues to a campy and literal take on "Can't Take My Eyes Off You". A particularly strong and romantic piece like "Ilsa-Dyur", featuring choreography by Augustus Damian III, is inexplicably followed by a propulsive contemporary number exploring the dilemmas of combat.
The ABS-CBN Philharmonic Orchestra (conducted by Joshua Dos Santos) are given their chance to shine, performing Vehnee Saturno's "Be My Lady", Valera's "Kahit Maputi Na Ang Buhok Ko", and George Canseco's "Tubig at Langis" with no dancers or singers. As they are off stage in the pit, it means several extended periods of the audience staring at the curtain or at an empty stage. A voice-over explains the different kinds of love in between performances ("Love is new beginnings, Love is I do"), but even with this device, the pieces still lack a coherent connection and it's not really clear what the vision is.
In the matinee show we watched last Sunday, some numbers seemed heavily stacked with stronger dancers, and even within segments there was an inconsistency in the skill level of the company. In "Magsimula Ka", which featured the corps de ballet, soloist Abigail Oliveiro stood out with her fluid and controlled movements. Principal Dancer Katherine Barkman did not get a solo, but even as a member of the company, she commanded attention with her fluid extensions and arms that are both graceful and fragile. Tiffany Chiang and Romeo Peralta, who danced the leads in Damian's "El Adwa", were also completely mesmerizing. They executed the driving and muscular choreography with such power and athleticism, they were easily the highlight of the entire production. This is one unexpected benefit of the lack of balance; the ease with which the high points are recognized.
It's an admirable effort to showcase Filipino classics like "Umagang Kay Ganda", which is arranged beautifully and delivered to perfection by classical artists Andrew Fernando, Leo Angelo Lanuza, Jade Riccio, Stephanie Aguilar, and Kriss Tan, together with Bautista. There is a wealth of Filipino music to celebrate, and this production shows that it should be done more often.
In the end, though, it's not clear what Ballet & Ballads wants to be. There are so many components that are trying to come together – the songs, the wonderful guest artists, Ballet Manila's corps de ballet, and the orchestra. But sadly, they all seem like disparate elements competing for your attention that don't coalesce. It's a concert with a set list that doesn't quite flow, a ballet with interludes that don't quite mesh. It's a bit difficult to find the real heart of the show, and often the ballet becomes a supporting act in its own production, in favor of the ballad. Ballet & Ballads ends up more as a sampler than a main course: it offers a little bit of everything, but somehow still leaves you unsatisfied.
'Ballet & Ballads' will play two more shows at the Aliw Theater on February 17, 2018 at 6:00 p.m. and February 18, 2018 at 3:00 p.m.
Comments