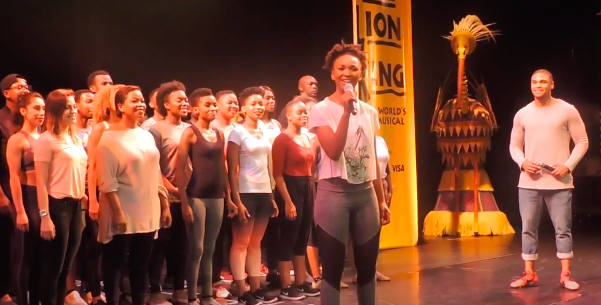 FIRST LOOK: The Lion King's 'Circle of Life', 'Can You Feel the Love Tonight'
The Michael Cassel Group, in association with Disney Theatrical Productions, is producing the first international tour of Disney's The Lion King, which will premiere in Manila on March 18, 2018, with engagements in Singapore, Korea, and Taiwan to follow.
This company is composed of 51 actors, which includes 6 local Filipino talents who will be playing Young Simba (Omar Uddin, Julien Joshua Dolor, Juan Gabriel Tiongson) and Young Nala (Felicity Kyle Napuli, Uma Martin, Sheena Bentoy), and 150 people working on and off stage, representing 18 different countries worldwide.
You can buy tickets HERE.
The show celebrated its 20th anniversary last November, having first opened on Broadway in 1997. It has played over 100 cities in 19 countries, on every continent except Antarctica, and has been seen by over 90 million people. It currently has 8 productions running in 5 different languages. It has won 70 awards, including the 1998 Tony Award for Best Musical, and Best Director of a Musical for Julie Taymor, making her the first woman in history to win the coveted award.
Director of International Strategy for Disney Theatrical Group, Felipe Gamba, says that it is impossible to imagine The Lion King without Taymor and her vision. He notes that Taymor actually spent a lot of her formative years as an artist in Southeast Asia. Associate Director Anthony Lyn, who has been proud to represent Taymor's work on the musical since 1999, said that Taymor actually hadn't seen the animated feature when she was approached to do the musical.
"The thing that struck her in the animated feature was the humanity of the story," said Lyn. "What struck her was it was about love. What struck her was it was about conflict. That it was about a prodigal son story, about somebody going away and having to come back and come to terms with things in their life that were unresolved."
Lyn goes on to say that Taymor was deeply touched by the film's humanity, "It was about grief, and a very sort of grown-up concept for an animated feature film that goes across so many age ranges. Of the loss of a parent for young Simba, which is enormous for a young child. Seeing the animated feature to be seen by many of them before that concept has ever been spoken to them by their parents."
He also adds that the show's revolutionary concept is by Taymor herself, mostly inspired by her years in Southeast Asia.
The costumes and the puppets are representations of the animals, but the human actors are visible the whole time. It accentuates the idea, the movement, and the style of the animal while showing the human side of the animal with human feelings and emotions.
What makes it such an enduring story? Felipe Gamba explains, "I think the success of The Lion King really has to do with how universal it is and how multi-cultural it is." He adds, "If you think about it, the team that created The Lion King had a very diverse background themselves. You have Julie Taymor, who trained and spent so many years in this part of the world in Southeast Asia. You have Garth Fagan, the choreographer who was originally from Jamaica. And then you have a set designer [Richard Hudson] who has born in Zimbabwe. And you have a composer [Lebo M], who's from South Africa. Adding to the fact that the story itself is very universal, that team elevated it to a place that connects across cultures."
Noxolo Dlamini, who plays Nala, says, "I would like the audience members to take away firstly being able to empathize with someone else who's been through something. But also, learning to firstly remember where you come from.  Because I think sometimes when you get so successful in your life, you begin forgetting where you come from. And a lot of people, we have small beginnings, and once we do make it in our lives, we forget our small beginnings."
Calvyn Grandling, who plays Simba, adds, "I feel like, what a great time for The Lion King to come to Manila. I mean if you look at the world right now, it's a good thing that people are reminded about values, about family, about love, and about enjoying life, and about the color of life."
The best part of the show? Antony Lawrence, who just joined the company to play Scar, said,  "I always say 'Circle of Life' as an opening number. Without a doubt, it's one of the best things an audience will ever see in a theater; the way it introduces the audience to what's about to happen, the combination of humans and animals and puppetry, not hiding the fact that we are actors on stage with puppets, and all the different types of puppets [200 puppets with 25 different animal species] that you're about to see for the next 2 hours of the show."
"And iust how much it touches people as well in that opening number," adds Ntsepa Pitjing, who plays Rafiki. "When those birds come down on stage, to see all the animals on stage. It's quite incredible."
Watch full videos of the cast's performance of 'Circle of Life' and 'Can You Feel the Love Tonight' below!
You can buy tickets HERE.
Comments