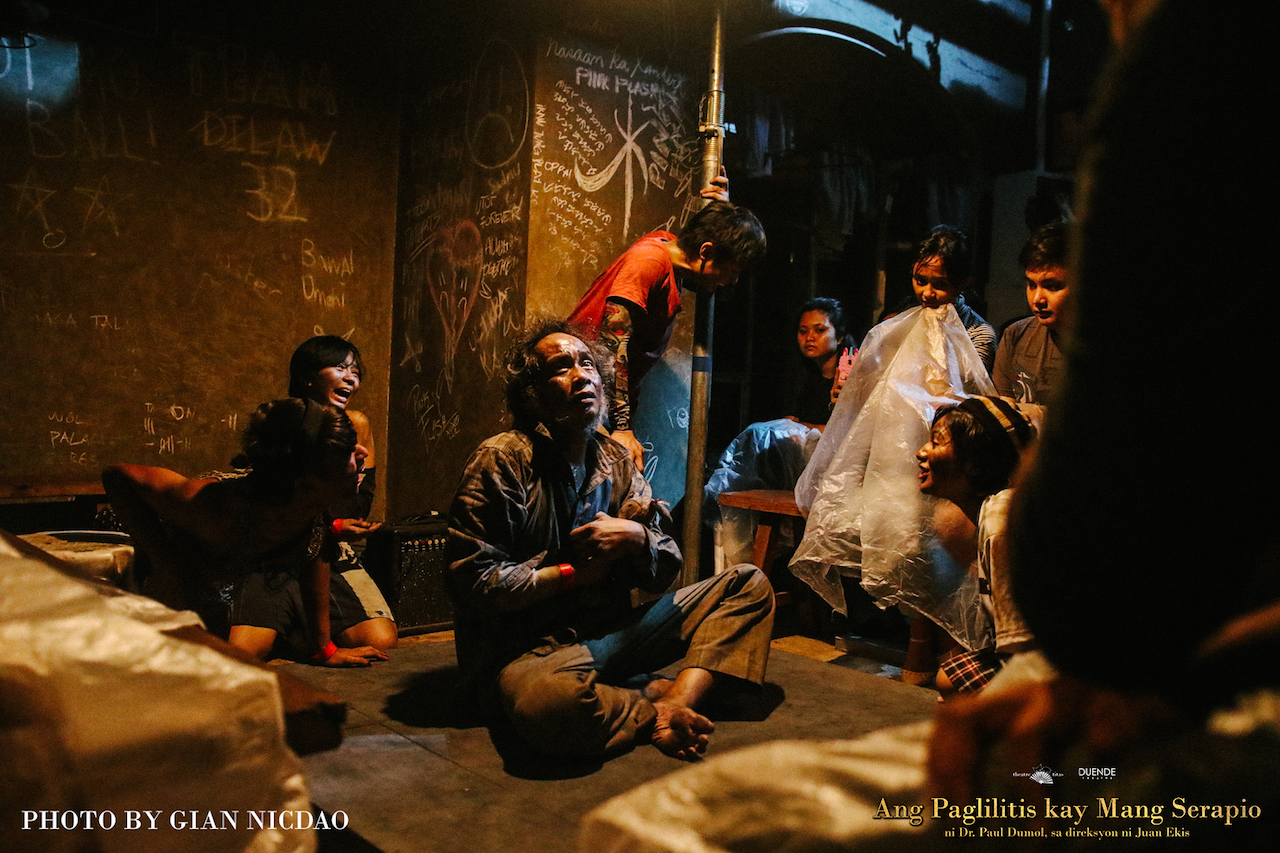 REVIEW: "Ang Paglilitis ni Mang Serapio" is excessive, experiential theater
Despite being a play about a syndicate of beggars who have almost nothing, Ang Paglilitis seems like an exercise in excessiveness. Its brand of experiential theater is very in-your-face in every identifiable aspect. However, its allegory to corruption in its very essence (tired and clichéd as it is) became muddled by the noise of its own experimentation.
It begins with a pack of young street urchins: some needlessly taunting people, all begging for spare change. This experience starts way before the play does, in the waiting area outside the venue, The Ruins at Poblacion, usually a bar, converted into a makeshift theater space for this run. It attempts to prime audiences of the eponymous trial, which is just as crude and boorish.
The actual trial happens in what seems like an abandoned house, from old wooden panels to the oft vulgar wall graffiti.  This is the headquarters for the Federacion, a syndicate of beggars eager to convict the pitiful Mang Serapio (Jacques Borlaza). His crime? He is being accused of caring for a child which, for the Federacion, is an illegal allocation of the syndicate's money.
Ideally, the material is supposed to be dense with allegories to oppression, hope (or the lack of it), and a crumbling judiciary. In fact, director Juan Ekis even attempted to incorporate Dante's Inferno as another layer of symbolism for this production. But too much only proved so little, as each metaphor was drowned by his constantly fiery, chaotic direction.  
The trial proceeds furiously, with unnuanced anger and heckling from everyone in the Federacion. Case in point, Andrea Fe Padilla lacked nuance as a too-aggressive Ikalawang Tagapagtanong. The production tried to operate at a visceral level; and it was, at the very least, effectively unsettling. The helpless Mang Serapio gets sullied by his fellow beggars, and his pleas are inevitably to no avail.
As it approached a palpably tense climax, everything became anchored on one thing: their plan to gouge Mang Serapio's eyes out. Without any solid proof, the beggar is all too predictably blinded. He loses both his eyes (or three—the third being a metaphor for his hope which the Federacion crushed).
But perhaps, there's still some hope left. The ensemble of young beggars, for the most part, were adept enough at method acting (especially Alyana Dalisay as Pilay). They gave body to the entire experience, effectively completing the atmosphere with their consistency in mannerisms all throughout the act.
Lacking in subtleties, the piece doesn't end with the inevitable demise of Mang Serapio.
After they carried away a lifeless Mang Serapio off the stage, the Unang Tagapagtanong (Lian Silverio) took to center. Albeit poetically, he explicitly justified what the Federacion did to the old beggar.
The final monologue came across as a last-minute attempt to salvage the message the show failed to solidly deliver. As the adage goes, more is not necessarily better. And this production just isn't an exception.
Comments