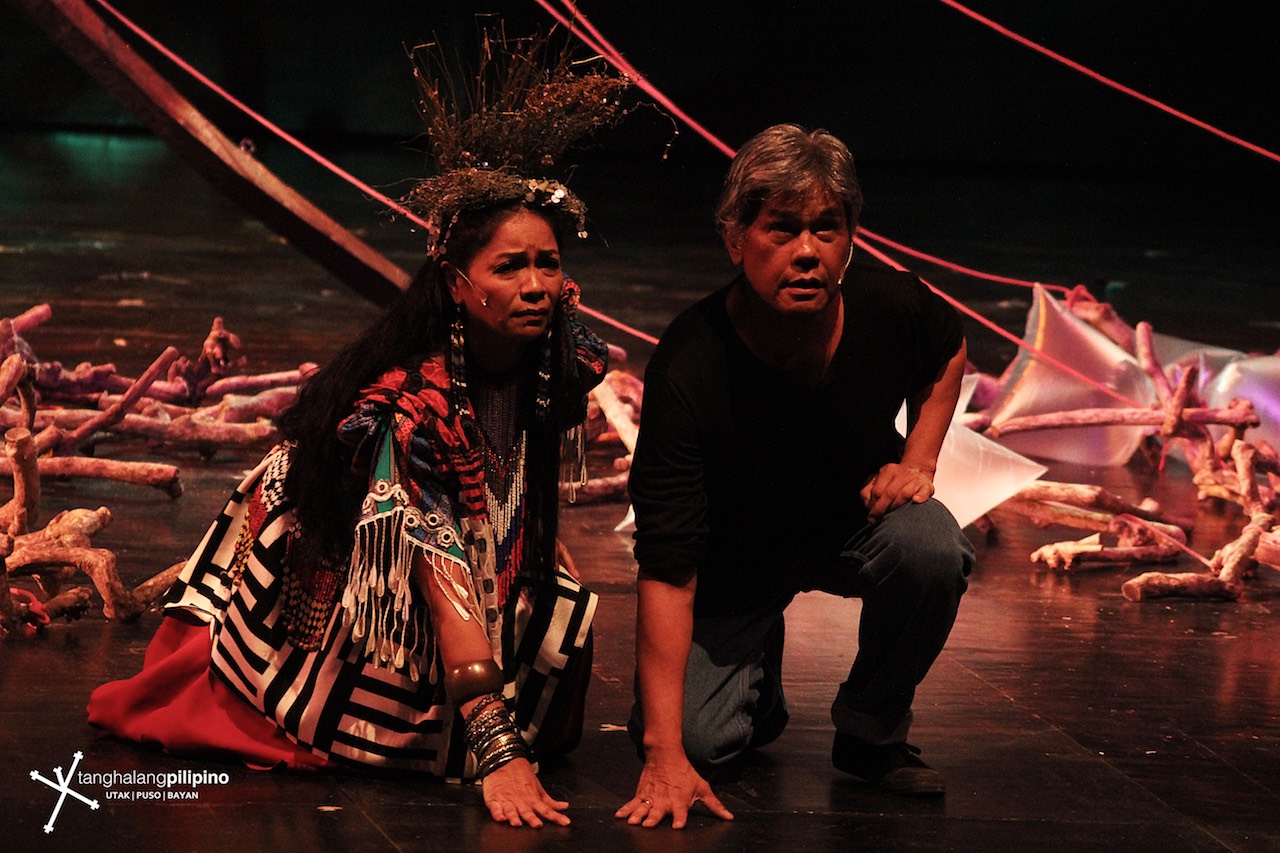 REVIEW: "Balag at Angud" is a visually engaging tribute to Junyee
Junyee is considered a pioneer of installation art in Southeast Asia, and Tanghalang Pilipino, the people behind "Balag at Angud", thought he's worth another accolade: a biographical musical. The Audie Gemora-directed production currently being staged at CCP's Little Theater is fittingly highly visual. As Junyee was ever inspired and influenced by the Filipino culture, that same purity well manifests within the show.
Toym Imao's set made use of materials Junyee frequently used himself. Suspended on stage is an installation: bamboo sticks arranged in a chaotic inverted triangle. Five moving archways made of wire and wood form part of the show's main pieces, along with sculptures that later on would enter scenes. John Batalla's lights and Datu Arellano's projections would complement these elements, as does James Reyes' costume for the Muse (Bayang Barrios),  giving the show a look and feel that calls to mind nature and indigenous Filipino art. Even Dodjie Fernandez and Upeng Fernandez's music has the same effect, especially for songs sang by Barrios.
The show (written by Layeta Bucoy) paints Junyee as an uncompromising artistic soul. It begins with Junyee falling to his apparent death, just as he unveils his latest work. Always winning art awards since childhood, he was set to live the life of an artist, despite a business-minded father who wanted him to run the family business (a seedy hotel frequented by prostitutes and their patrons). Paw Castillo's teenage Junyee is an unflappable idealist, even when his disapproving father (Jonathan Tadioan) referred to his art as garbage.
He sets off for Cebu, meager possessions and his Muse in tow. Wanting to make art and unwilling to do anything else, he takes a job as a make-up artist for the deceased. His father's disapproval catches up with him, as do his childhood sweetheart who, in one conversation said that firstly, his father had died, and secondly, she was already seeing a different man.
Junyee eventually gets a scholarship to study art in UP Diliman, becoming an apprentice to Napoleon Abueva who takes him under his wing. In UP, he finds another purpose for his art–as protest to the Marcos regime. During this time, he puts together his work, "Balag", a trellis made of bamboo where students attached their symbols of resistance.
Art was Junyee's priority and purpose. He didn't care about riches, or even comfort. By the second act, he is older (now played by Rody Vera) but continues to have a one-track mind. Even with numerous awards and a wife, he still lives in poverty. The second act revolves around the creation of "Angud", his installation in front of the CCP made with thousands of tree stumps made for Earth Day. Bucoy crafts a climax around this creation, forcing urgency with an Earth Day deadline and imagined baddies in the DENR that would hinder him from delivering 10,000 anguds to the CCP grounds. Towards the end, Junyee snaps back from the near-death experience, vindicated with another masterpiece despite being haunted all his life by the disapproval of his father.
Despite stakes that don't seem high enough, Gemora directs the show with creativity commensurate to the artist, like how the actors on stage recreate Junyee's artwork or the comings and goings of the mystical muse. "Balag and Angud" is an entertaining introduction to Junyee, and gives interesting insight to the creative mind.
Comments