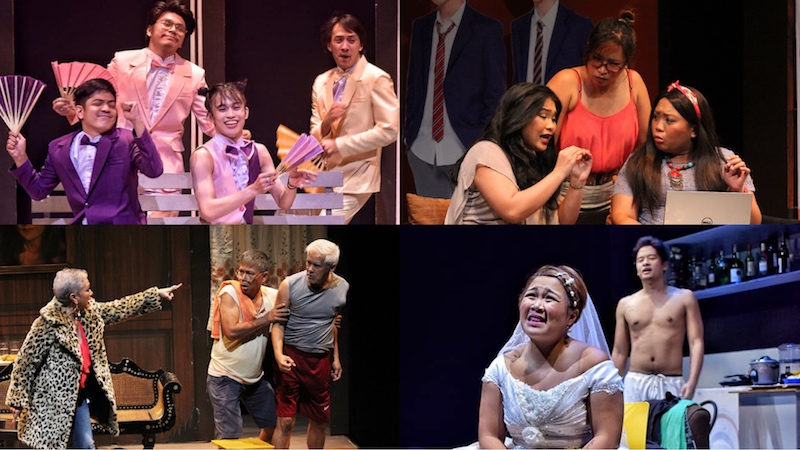 REVIEW: 12 Virgin Labfest "Titibok-tibok" Plays, Ranked
The Virgin Labfest is 15 years strong this year, with its organizers having a pick of over 200 submissions vying for a dozen slots. Of the 12 chosen, only two playwrights are women (same as last year). Personally, I wish there were more female playwrights writing females for the stage, because some of these one-acts paint portraits of women as caricature with little complexity, or are largely stereotypical. 
We are the big sisters who are holier-than-thou hypocrites (A Family Reunion), the meek Asian woman with hidden sexual proclivities (A Family Reunion, again), 30-year-old singletons who crave for husbands and children (The Bride and the Bachelor), ageing spinsters who want a taste of their gay crushes (Surrogare), transgender for plot twist purposes (Ang Pag-uulyanin ni Olivia Mendoza), or a la Fantine from Les Miserables in our tragedy and desperation (Wala Nang Bata Dito).
But there are diamonds in this rough, such as the very true and caring depiction of fangirls in Herlyn Alegre's Fangirl, the combating mother and daughter dynamic in U Z Eliserio's Anak Ka Ng, and the grieving and frustrated mother and sister in Raymund Barcelon's Huling Hiling ni Darling.
This year was uneven for me, with plenty of the one-acts relying on twists as though they were written to pulsate to explosion. Well, there's always next year. But for right now, here are this year's crop of untried, untested, unstaged plays:
#12. Isang Gabing ang Buwan ay Hila-hila ng Gula-gulanit na Ulap
by Ryan Machado
The title should tell you everything about this new Ryan Machado one-act: that it sounds like it means something, but it doesn't really. The play was a confounding dialogue that attempted eerie mystery between two men who weren't all that interesting to follow. Was it an allegory of the drug war? Of the secrets of small towns? Maybe of vaguely homoerotic male friendships? Is it actually just about a man and his maybe-aswang friend? Your guess is as good as mine.
#11. Surrogare
by J. Dennis Teodosio
This play will make you laugh—but at what cost? It's a story of a gay couple exploring their options to have children, but taken to such extremes it is plainly ridiculous and frankly, more than a little offensive. The playwright, J. Dennis Teodosio, seems to think very little of his female character, giving her a sob story and yet with a singular goal of fulfilling a girlhood fantasy as though incapable of learning from her past.
#10. Ang Pag-Uulyanin ni Olivia Mendoza
by Rolin Migyuel Cadallo Obina
The sheer force of Celeste Legaspi barreling downstage in a fur coat and serving up comedy gold after comedy gold would make this show very popular. But not even such an iconic performance could mask how playwright Rolin Migyuel Obina crafted a shaky depiction of Alzheimer's Disease and used someone's gender identity for the sake of a twist and played for maximum laughs by director Phil Noble. Shouldn't we, in 2019, be better than this by now?
#9. Larong Demonyo
by Nicolas Pichay
Perhaps in the hands of more effective performers this Nicolas Pichay play would be gripping. As it stands, it feels laborious and overwritten, packed with motifs and themes that's both vague and somehow also too on the nose. An Eichmann-esque general (Leo Rialp) going toe-to-toe with a victim of his duty (Johnny Maglinao) playing chess, trying to outwit each other, tussling for weapons, unmasking themselves. It has so much going for it—perhaps too much—but I was left thinking the show was better in theory than in execution.
#8. Wala Nang Bata Dito
by Sari Saysay
This play might have also benefited from a better actress, although Venise Buenaflor does well enough. It's Sari Saysay's portrait of this fisherman's wife with a dead husband and a child in trouble that's the real issue. The woman's story unravels in a monologue that's so stagey, it doesn't feel new or particularly truthful. It also dips into the usual tropes of tragedies that poor women must have done to get by, being that they are poor, and that they are women.
#7. A Family Reunion
by Anthony Kim Vergara
This Anthony Kim Vergara play, like last year's Harold and Napoleon starts off strong. The way he writes dialogue makes you want to see where he's going, until he gets there and it's suddenly melodramatic and preachy. A Family Reunion has more than a few of its own twists, salvaged with much finesse from Gie Onida, who breathtakingly elevates the material he's given, and Sabrina Basilio who charms from start to finish.
#6. The Bride and the Bachelor
by Dingdong Novenario
The issue I take with Dingdong Novenario's The Bride and the Bachelor is that his female character seems to think that all women want what she does, that we must all want marriage and family and are ruled primarily by our biological clocks. It's another regressive take on the modern woman from Novenario (he wrote Ang Huling El Bimbo) as we see the Bride pine after her ex, tidying up his condo, aghast over condoms in his drawer, airing out frustrations that he never proposed, never got a 'real' job to be a suitable 'provider'—as though she had no clue that she could've taken matter into her own hands, and not just marry someone else who ticks all her outdated boxes.
#5. The Unreachable Star
by Layeta Bucoy
An exploration of parental pressure, small town mindedness, and mental health that could have done with some fine-tuning. Layeta Bucoy gives it a good go, but the actors playing the children (Lorrie Figueroa and Reynald Santos) lacked the nuance demanded of their characters. As a result, it seemed as though some parts of the story felt like unnecessary add-ons.
#4. Huling Hiling ni Darling
by Raymund Barcelon
The blatant soapiness in Raymund Barcelon's play is nothing you haven't seen before. It's a straightforward family drama with a small family gathering around a loved one's deathbed and confronting their relationships to her and to each other. Performed with depth and vivid detail by Sherry Lara, Skyzx Labastilla (crafting the meek bunso always with a quiver in her voice is a stroke of brilliance), and Renante Bustamante, they brought out the absurd hilarity and realism of experiencing such a situation. It felt very human and real.
#3. Wanted: Male Boarders
by Rick Patriarca
Rick Patriarca questions toxic masculinity and homophobia by writing a play about characters who are toxic masculines and homophobes. There's value in that, I suppose, but the magic of this show really is in its direction. George De Jesus III had all the fun he could with Patriarca's script, hamming it up everywhere possible—and the result is just a fun time. I've never seen Ross Pesigan and Vincent Pajara with such strong stage presence before, and Lance Reblando gives one of the festival's most unforgettable performances. It's the sort of break-out that will make you ask yourself, "Who is this actor, where has he been this entire time, and where do I see him next?"
#2. Anak Ka Ng
by U Z Eliserio
The broken relationship between mother and daughter that U Z Eliserio wrote in this play isn't what you'd expect. They're angry and they're grieving, but they're not in the sort of hysterics you'd assume. Skyzx Labastilla and Krystle Valentino show a dynamic and chemistry that shows more than tells: the sort of people they're portraying, the sort of relationship they have to each other and to the man they both lost. It's riveting from start to finish, a perfect confluence of writer, director (Maynard Manansala), and actors.
#1. Fangirl
by Herlyn Alegre
Fandom as a subculture is denigrated, relegated to crazed and obsessed (usually girls and women) when all they are really, is enthusiastic. Herlyn Alegre's Fangirl (with direction by Charles Yee) gives fangirling a safe space among kindred spirits where they don't have to temper their feelings or control their enthusiasm. There's so much warmth and heart in it, and hilarity, and absurdity, and joy, and nary an air of judgment. Also, Mayen Estanero, Marj Lorico, and Meann Espinosa are usually incredible by themselves, but together? They're golden.
Tickets

: Php 400.00 - Php 600.00


Show Dates:

 June 19 '19, June 20 '19, June 21 '19, June 22 '19, June 23 '19, June 26 '19, June 27 '19, June 28 '19, June 29 '19, June 30 '19, July 2 '19, July 3 '19, July 4 '19, July 5 '19, July 6 '19, July 7 '19


Venue:

 Cultural Center of the Philippines


Company:

 Tanghalang Pilipino / The Writer's Bloc
Comments