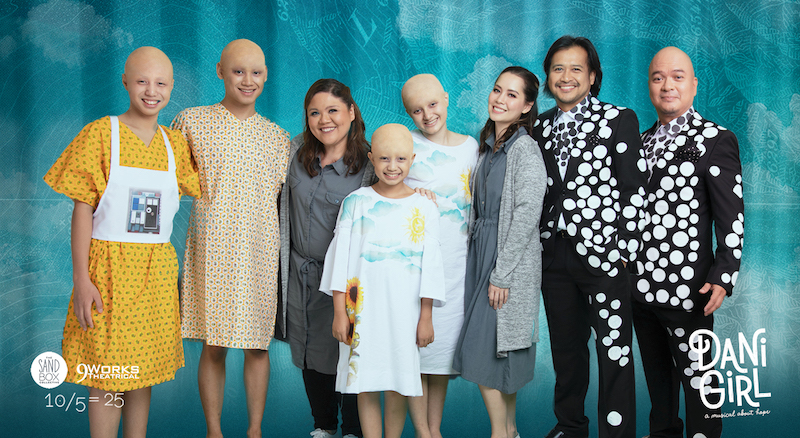 FIRST LOOK: "Dani Girl" 2019 Cast Sings "My Hair", "The Sun Still Rose", and More!
The Sandbox Collective, which is currently celebrating its 5th year, comes full circle as it re-stages its maiden production, "Dani Girl." 
"This musical is very special to us because it is ultimately what launched our theater company," says Artistic Director and returning director Toff de Venecia. "It is a privilege to be able to revisit it again 5 years later."
De Venecia mentions that the material is the same, but their treatment is not. "It used to be a musical for the soul, but this time, we rebranded it as a musical about hope. There's so much sadness and divisiveness happening around the world and we sort of need that today, sort of like an energy, or a reboot, or just sort of like a guiding light in this tunnel that we're all collectively walking in right now."
Returning to the cast are original cast members Rebecca Coates (Dani Lyons), Luigi Quesada (Marty), Lorenz Martinez (Raph), Shiela Valderrama-Martinez, and Pam Imperial (both alternating as Dani's mom Katharine Lyons). They are joined by Felicity Kyle Napuli, who alternates with Coates for the titular role, Daniel Drilon, who alternates with Quesada, and Juliene Mendoza, who alternates with Martinez.
Unique to this staging are the two sets of cast members, led by Coates and Quesada, who are in their early 20's, and Napuli and Drilon, who are in their tween and teen years. "Having actual kids alternating as Dani and Marty adds a new, vibrant, creative energy to the show," says de Venecia. "It also invigorates with a wondrous perspective from actors who are closer to the age of the characters they're playing."
The show will also hold after-show talkbacks that will tackle pop culture, pediatric cancer, mental health, and more.
Joining de Venecia (who also serves as executive producer) in the creative team are Sab Jose (assistant director), Ejay Yatco (musical director), Stephen Viñas (choreographer), Faust Peneyra (scenographer and costume designer), Miggy Panganiban (lighting designer), Jose Mejias (projection and video designer), and Myrene Santos (hair and make-up designer).
"Dani Girl" will run from August 10-September 1 at the Carlos P. Romulo Auditorium of the RCBC Plaza. You can watch the cast sing excerpts from the show in the video below.
You can buy tickets
HERE
.
Comments