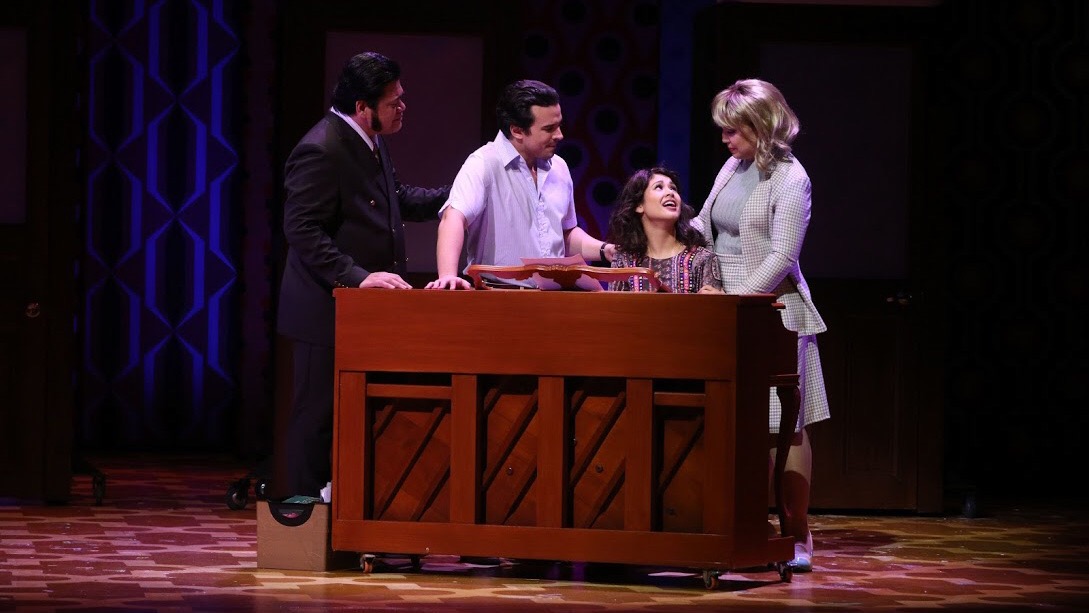 REVIEW: "Beautiful" is some kind of wonderful
Director Bobby Garcia shows once again that his true metier is staging musicals. Whether it's bringing out star-making performances like Markki Stroem in Jersey Boys and Nyoy Volante in Kinky Boots, or conjuring up stage magic as seen in Matilda and last year's Waitress, Garcia seems to be on an upward streak with the musicals. In his capable hands, Broadway seems to have found steady ground in Manila.
Beautiful, the musical based on Carole King and featuring her music, is no different.
Right away the set (Faust Peneyra)—arches of patterns reminiscent of the 60s and 70s—is vibrant and true to the time period. When the overture begins, an orchestration of 'I Feel the Earth Move', you just know you're in for quite a time.
It's the music that makes this musical, and Garcia makes sure each song gets to shine: from the rollicking "1650 Broadway Medley" where Aaron Porter's lighting starts to come alive (only to impress and astound as the rest of the show goes along) to song and dance numbers in the in between featuring The Shirelles and the Drifters. Cecile Martinez's choreography is so dynamic, it might as well also be a dance musical. Even the costumes (Raven Ong) shows the era at its best and its most-alluring, and featured an impressive on-stage quick-change by one of the characters played by Teetin Villanueva.
It might even be the best all of the performers on stage have ever sang or danced (Josh Millican is sound designer and Farley Asuncion is musical director). It was such a great show, you might even wonder if the theater itself got a systems upgrade. The music also sounds so current, it's unfair to consider this a musical only titas and titos would appreciate.
Garcia seemed to have brought out and focused on the very best things about the show—the music, the era, the genius comedic combination of George Schulze and Mikkie Bradshaw-Volante as Barry Mann and Cynthia Weil–that you leave the theater remembering only what's great about it, as though you had just been to a pretty fun party.
It isn't a particularly good book (Douglas McGrath). Much as the musical tried to gloss over how Carole King had been cornered into motherhood and marriage obscenely early in life, it is kind of a pitiful thing to witness, especially with Rivera's meek characterisation and playing up King being quite old-fashioned. I understand she's supposed to be playing a real person, but jukebox musicals are allowed more artistic freedom than biopics. She was also laden with wigs and costumes that were comparably less magnetic than everybody else. I may be nitpicking, and Rivera does turn it out well enough for "Will You Love Me Tomorrow", "One Fine Day", "(You Make Me Feel Like) A Natural Woman", and "Beautiful" complete with a piano that moved downstage with her as she was singing.
Beautiful dazzles from start to finish with Garcia at the helm. It feels celebratory– of music, and musicals, and jukebox, and triple threats, and flashy stage work, and even of a theater company at an all-time high.
Tickets: 

Php 1,500.00 - Php 5,000.00


Show Dates: 

June 14 '19, June 15 '19, June 16 '19, June 21 '19, June 22 '19, June 23 '19, June 28 '19, June 29 '19, June 30 '19, July 05 '19, July 06 '19, July 07 '19


Venue: 

Meralco Theater, Pasig City


Running Time:

 approx. 2 hours and 25 minutes (w/ 15 minute intermission)


Credits: 

Carole King (words and music), Douglas McGrath (book), Gerry Goffin (words and music), Barry Mann (words and music), Cynthia Weil (words and music), Bobby Garcia (director), Aaron Porter (lighting design), Josh Millican (sound design), Faust Peneyra (set design), Raven Ong (costume design), Cecile Martinez (choreographer), Leslie Espinosa (hair and makeup design), Farley Asuncion (musical director), Manman Angsico (vocal director),


Cast: 

Kayla Rivera, Nick Varricchio, George Schulze, Mikkie Bradshaw-Volante, Carla Guevara Laforteza, Jamie Wilson, Tim Pavino, Markus Mann, Arman Ferrer, Jep Go, Rhenwyn Gabalonzo, Gabby Padilla, Jill Pena, Teetin Villanueva, Gabriella Pangilinan, Maronne Cruz, Dean Rosen, Nelsito Gomez, Alex Reyes


Company: 

Atlantis Theatrical Entertainment Group
Comments